SUMMARY
"To feel the day you have to have the intention to feel the day. "

Do you feel like you're going through the motions in life, with no purpose? In this episode, you'll learn small, but practical ways to enrich your life with intention first, so you can remember you have a purpose in life.

"The more daily intention you have, the more you sense your life is purposeful."

Do you consider other people's needs before yours? That one shift in mindset can transform your relationships with your spouse, your kids, and your friends. Time to learn more about the people you care about!

Watch the video to get the full training.
Already have the High Performance Planner and CRUSHING each and every day? Let's celebrate you! Take a photo with your planner and use #GrowthDay so we can find you on social media!
HOT NEWS & DEALS!
Stop letting limiting beliefs and lack of confidence hold you back! Learn the SKILLS of confidence from 9 of the world's best personal development experts in the most comprehensive Confidence training ever created! $400 worth of training – just $7.99 today! Get the Confidence Masterclass!

Make self-improvement a way of life and get the GrowthDay app! GrowthDay features all your personal development tools, coaching and community in one place. Write your journal, track your habits, take wellness challenges, watch live influencers teaching new life strategies, and join a global community of positive and supportive high achievers excited to improve their lives! Get the app on Apple app store here. Get on Android here. Get desktop here.
DID YOU KNOW?
I give weekly prizes, gratitude and shout-outs to our students, so post a screenshot or video on Instagram and use #TheBrendonShow! I can't wait to hear your thoughts about this episode!
RELATED POSTS

Find Purpose Through Relationships
How to Rekindle Your Relationships
Tips for Developing Close Relationships
The Friendship Masterclass
Nurturing Great Relationships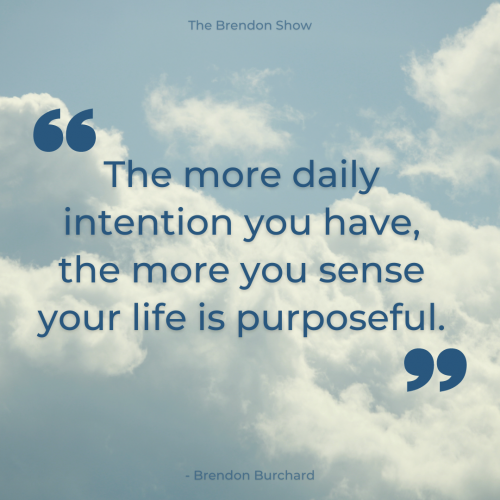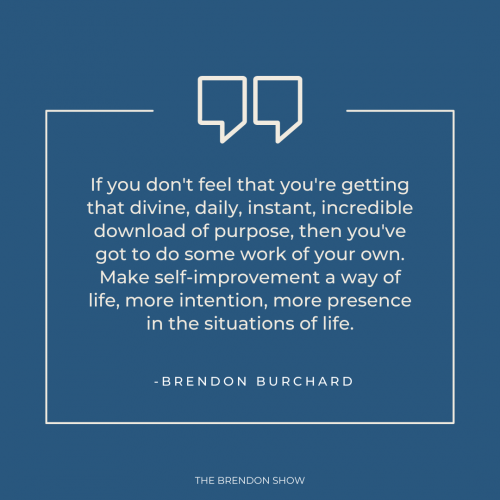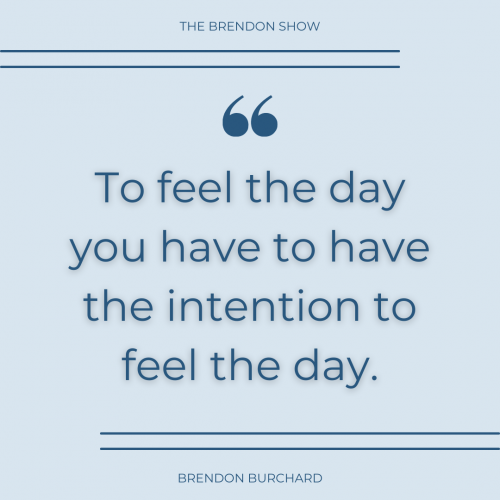 FULL TRANSCRIPT
[The following is the full transcript of this episode of The Brendon Show. Please note that this episode, like all TBS episodes, features Brendon speaking extemporaneously–he is unscripted and unedited. Filmed in one take, The Brendon Show has become one of the most viewed unscripted, direct-to-camera self-help series in the history of YouTube. It has also been the #1 Podcast in all of iTunes and is regularly in the top podcasts in the Self-Help and Health categories around the globe. Subscribe to the free motivational podcast on iTunes or Stitcher.)
1. Think Ahead Before You Engage 

If you don't feel this day, it's very likely tomorrow you can be like, I don't feel purpose. And you forgot that feeling the moments of life, that's presence, is part of purpose. And to feel them even more, you bring an intention to it, right?
To feel the day you have to have the intention to feel the day. Right? Intention precedes feeling, but most people don't know that; they have a feeling, then set an intention.
I don't like this feeling I'm going to change. But when you become more conscious you say, Oh, I'm going to enter this next situation intentionally. It asks, What is it that I would love to experience or make happen in this next moment?

Oh, I'm going to go play with the kids, or I'm going to go teach my kids math. Ok. I'm going to teach my kids math. Let me not just show up, plop the book down, look at them and go, "what are we doing?" But instead, say for yourself, ok, I'm about to go teach my kid math. How would I like to do that as a parent? How would I like to show up? What would I like that learning experience to feel like between us, father and son, mother and daughter.  What would… What do I want that to feel like? Even if they don't learn well today, what do I want the end of our learning session to feel like for them? What association do I want them to create with learning math today? Now, notice that took me, I think I clocked it right, just under 30 seconds to ask those questions of myself. Intentional living doesn't take that much longer. It's like a beat before going into a situation. You know, let me take a second here to enter the situation more intentionally. 
2. Bring Purpose to Situations
That is the process of bringing purpose to a situation. Right now I'm using and replacing the word intention with the purpose for a specific reason because people get all lost in airy-fairy land when they talk about purpose. But ultimately, purpose looks a lot like daily intention.
And the more daily intention you have, research shows, the more you say you have a purposeful life.
Notice, it doesn't say you earned more, built more, did more. It says the more daily intention you have, the more you sense your life is purposeful. That's pretty profound, isn't it?
3. Keep Other People's Needs in Mind
You know, you're going to go on date night with your spouse, your partner, the person who you're, you know, having a great time with or who you need to repair with.  Before you go,  go, ok, we're going to have dinner tonight. What would be a purposeful experience there? You know, we haven't laughed a lot lately. Let me… let me lighten the air a little bit. Let me make some jokes. You know, we haven't been getting along lately, so let me take them to their favorite place tonight. You know what? It's been a little bit difficult with the finances lately. Let me find an inexpensive way that we can go out and have a picnic and make it incredible. It's about, and see, you're going about life anyway, right? You're going to teach the math anyway. You can go to dinner anyway. One experience is showing up, going through the motions reactionary. And the other is purposeful. 
I'm going to make this session of learning math purposeful to our relationship and to this young child's experience of learning. We're going to go to dinner anyway. What I'm going to do is make sure that the dinner feels like something, so that we can have a better quality relationship, so that maybe I can take the stress off my spouse's day, maybe I can make her laugh. Maybe we can go somewhere and have more variety. You know, we have to think of the way that we're going to do things in advance, that's purposeful being. More intention into each situation of life, more presence while you're there. Repeat. Ok.  After I… probably you'll be stunned. You'll be stunned. That will make you better at everything that you do, but also have the added benefit of increasing the odds that you feel that your life has purpose.
4. Be Present in the Moment
So please get that. That means you're cultivating purpose, you're choosing purpose, you're imbuing moments with purpose. That's what I love about that is it puts "who" in the driver's seat a little bit here. It puts yourself back in the driver's seat so you can cultivate the feelings you want to experience in life. You know, if you don't feel that you're getting that divine, daily, instant, incredible download of purpose then you've got to do some work of your own. Make self-improvement a way of life, more intention, more presence in the situations of life. And I want you to do that at your work, too. I know many of you are high performers. You're out there just crushing it, but a lot of it turns to reaction if you're not thoughtful.
5. Pre-Frame Your Mind
Ok, for me, example, I'm not a person who loves email at all, so I literally have to pre- frame my mind with intention and presence to do email. So when I go to do email before I sit down, I set a clock. How long do I have to do email? Usually it's on my calendar, tells me where to go, but if not, I'll be like, "Ok, I'm going to do 45 minutes right now." I'll clear the desk. I'll put on the headphones. I'll go through my music album and I'll pick something that might land around 45 minutes. I'll hit play, I'll hit that timer and I will do that 45 minute power session of email. Now by telling myself  I'm going to keep it simple, I'm going to focus, I'm going to enjoy the process by listening to music, and I'm only going do it for 45 minutes. By doing that for 20 years, you don't hear me complain about doing email very often. That makes sense because I just taught myself it's going to get done. I'm going to make myself enjoy the process. I'm going to put it …this is an intentional way of doing it. When I was miserable doing email, it was when that was random, and I was just like "Oh, I don't know what I'm doing. Oh, I'm working on this project. Let me just click over to answer some emails." When I was randomly doing it, there was misery there. Higher intention, less misery.

And I really want you all to think about that. Your next call, your next meeting with your team, entering with a little bit more energy of intention. I promise it, just like, you feel like you take the reins back of life. It's a really incredible experience, and I'd love for you to have even more of that. I know being strivers here in GrowthDay, you tend to be people who are already more intentional statistically than the average population. But again, we got to make it a way of life. So, I know we can all deepen there, myself included.