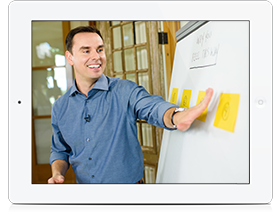 Free Access to Brendon's Sunday Growth newsletter:
Join 2 million subscribers! Get new strategies every week on how to make self-improvement a way of life!
Meet Brendon
Brendon Burchard is the world's #1 high performance coach, a 3-time New York Times bestselling author, and one of the most-watched, quoted, and followed motivational speakers in history. Success Magazine and O, The Oprah Magazine, named him one of the most influential leaders in personal growth. Forbes named him the world's leading high performance coach. Larry King named him the world's top motivational trainer.
An early pioneer in online education, Brendon's personal development teaching have more than 300 million views. Over 2 million students have completed his online courses and video series. He's created 20 blockbuster online courses, including the most popular motivation, confidence, habits, leadership, and high performance courses of all time. For these results, Oprah.com named him "one of the most successful online trainers in history." Success Magazine profiled him on its cover, twice.
A #1 New York Times, #1 Amazon, $1 Wall Street Journal, and #1 USA Today bestselling author, Brendon's books include High Performance Habits, The Motivation Manifesto, The Charge, The Millionaire Messenger and Life's Golden Ticket. His most recent book, High Performance Habits, was a multiple week Wall Street Journal bestseller and Amazon editors named it one of the "Top 3 Best Business & Leadership Books."
Brendon's podcast the THE BRENDON SHOW debuted at #1  across all categories worldwide in its first season and now has over 100 million downloads.
Brendon is one the most requested high performance trainers and motivational speakers of all time. He has shared the stage with the Dalai Lama, Sir Richard Branson, Tim Ferriss, Tony Robbins, and many of the leading influencers of this era. His live seminar events – named as "must-attends" by Entrepreneur Magazine – sell out to audiences from around the world.
Today, Brendon is mentor to many of today's most followed influencers and continues creating personal growth content everyday… just as he has for the last 25 years. He is founder and CEO of GrowthDay, the world's #1 personal development platform, and investor in Kajabi, Circle, Community, VidApp, and more.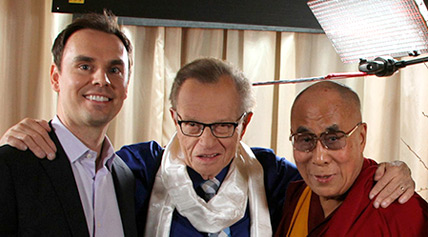 Brendon Burchard is the top motivation and marketing trainer in the world.
– LARRY KING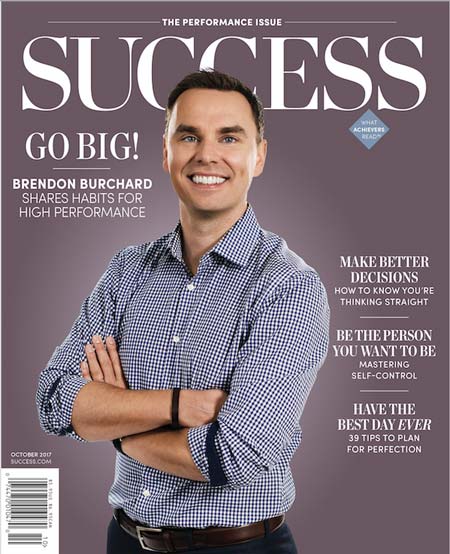 He's a constant student of life and business, which is at the heart of his seemingly jet-fueled success.
– SUCCESS Magazine, September 2017 cover story on Brendon.
Featured Posts by Brendon Burchard
GrowthDay App!
Your New Home for Personal Development
GrowthDay app combines all your personal development journaling, habit tracking, goal setting, wellness challenges, and online courses and personal growth coaching in one place. It also features Brendon and the world's leading personal growth teachers LIVE every week! Click here.
Click Here
for Course Library
InfluencerPro
Join the creator economy and monetize what you know.
Join Brendon Burchard and the world's most experienced influencers as they share their business models, audience growth strategies, social media campaigns, and modern monetization strategies for book deals, online sales, sponsorships, brand deals, documentaries, appearances, and partnerships.
Click Here
To Learn More
Certified High Performance Coaching
Get rigorously trained by Brendon Burchard, the world's leading high performance coach
This is your opportunity to receive the highest-level coaching certification in the world. Certified High Performance Coaches gain the transformation and marketing tools needed to build their own highly successful coaching brand. Spots are limited.
Click Here
To Learn More
High Performance Habits
How Extraordinary People Become That Way
"High Performance Habits shows you what you need to do to achieve your highest potential. It is research-based, immensely practical, and will make a big difference in your life. Brendon Burchard is my high performance coach and I know he can help you." — Daniel G. Amen, MD, 10-Time New York Times Bestselling Author, including Change Your Brain, Change Your Life High Performance Habits is a science-backed, heart-centered plan to living a better quality of life. After extensive original research and a decade as the world's highest-paid performance coach, Brendon Burchard finally reveals the most effective habits for reaching long-term success. It turns out that just six habits move the needle the most in helping you succeed.
Get Your Copy
And Learn More
The Motivation Manifesto
9 Declarations to Claim Your Personal Power
"The Motivation Manifesto is a poetic and powerful call to reclaim our lives and find our own personal freedom. It's a triumphant work that transcends the title, lifting the reader from mere motivation into a soaringly purposeful and meaningful life. I love this book" — Paulo Coelho, author of THE ALCHEMIST The Motivation Manifesto is a pulsing, articulate, ferocious call to claim our personal power. World-renowned high performance trainer Brendon Burchard reveals that the main motive of humankind is the pursuit of greater Personal Freedom. We desire the grand liberties of choice—time freedom, emotional freedom, social freedom, financial freedom, spiritual freedom. Only two enemies stand in our way: an external enemy, defined as the social oppression of who we are by the mediocre masses, and an internal enemy, a sort of self-oppression caused by our own doubt and fear.
Get Your Copy
And Learn More
The Charge
Activating the 10 Human Drives that Make You Feel Alive
This book reveals how you can feel more alive, productive and fulfilled in a chaotic world by mastering the very drives that make you most human and happy.
Get Your Copy
And Learn More
The Millionaire Messenger
Make a Difference and a Fortune Sharing Your Advice
The Millionaire Messenger reveals how everyday people can share their life's lessons and advice with others and earn a fortune in the process. Author Brendon Burchard reveals a 10-step plan for making an impact and an income with what you know.
Get Your Copy
And Learn More
Life's Golden Ticket
A Parable of Life, Loss and Redemption
This book is an inspirational novel about second chances in life and in love. It's the story of a troubled man who visits an abandoned amusement park searching for clues into his fiancee's disappearance.
Get Your Copy
And Learn More
The High Performance Planner
The first-ever science-backed Planner for reaching high performance in all you do.
Introducing the High Performance Planner, the 2-in-1 planner and journal achievers use to win the day and accelerate long-term success. You'll never feel so upbeat, organized, and on-track to achieving your dreams.
Get Your Planner
And Learn More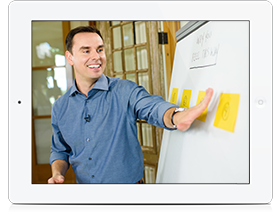 Free Access to Brendon's Sunday Growth newsletter:
Join 2 million subscribers! Get new strategies every week on how to make self-improvement a way of life!