No matter how small you start,
start something that matters.
Brendon Burchard
Brendon Burchard is one of the top motivation and marketing trainers in the world.
–Larry King
Top 25 Most Influential Leaders in Personal Growth and Achievement.
–Success Magazine
Top 100 Most Followed Public Figure in the World.
–Facebook Insights
One of the most influential leaders in the field of personal growth.
–O, The Oprah Magazine
The world's leading high performance coach.
–Oprah.com
100,000,000+ video views
5,100,000+ fans on his Facebook page (another 7MM branded)
2,000,000+ graduates of his online courses or video series
#1 Podcast debut on iTunes, 100+ weeks Top 10 Self-Help
3-Time NYT Best-Selling Author, #1 WSJ, #1 USA Today, #1 Amazon
6 years of sold out seminars at $1,000+ tickets
After suffering depression and surviving a car accident at the age of 19, Brendon faced what he felt were life's last questions: "Did I live fully? Did I love openly? Did I make a difference?" His intention to be happy with the answers led to his own personal breakthroughs, and ultimately to his life's purpose of helping others live, love and matter. He spent his 20s researching psychology and leadership, and consulting at Accenture. By age 32, he had struck out on his own and became a #1 best-selling author, an in-demand high performance coach, a sought-after speaker, and an early pioneer in the online education space. 
Today, Brendon is widely considered the world's leading high performance coach (according to both Success Magazine and Oprah.com). He is also one of the most-watched, quoted and followed personal development trainers in history. He is a Top 100 Most Followed Public Figure on Facebook and his videos have been viewed more than 100 million times. More than 2,000,000 students have completed his online courses and video series. For these results, Oprah.com named him "one of the most successful online trainers in history." 
A #1 New York Times, #1 Wall Street Journal, #1 Amazon and #1 USA Today best-selling author, Brendon's books include The Motivation Manifesto, The Charge, The Millionaire Messenger and Life's Golden Ticket. His latest book is High Performance Habits: How Extraordinary People Become That Way.
Brendon is a multi-media pioneer. He is the star and executive producer of the #1 self-help series on YouTube. His podcast, The Charged Life, debuted at #1 on iTunes across all categories in multiple countries, and has remained in the Top 10 in its category for over 100 weeks. His live webcasts continue to set records and have generated tens of millions of dollars in sales.
Success Magazine named Brendon "one of the Top 25 Most Influential Leaders in Personal Growth and Achievement" along with Oprah, Joel Osteen, Arianna Huffington, Dave Ramsey, Deepak Chopra, Tony Robbins, and Facebook's Sheryl Sandberg. O, The Oprah Magazine calls Brendon "one of the most influential leaders in the field of personal growth." Larry King named him "one of the world's most successful motivation and marketing trainers."
A popular conference speaker, Brendon has shared the stage with the Dalai Lama, Sir Richard Branson, Steve Forbes, Arianna Huffington,Tony Robbins, Tim Ferriss and hundreds of luminaries and business leaders. His own seminars, "Experts Academy" and "High Performance Academy," continue to sell out to audiences from around the globe. Entrepreneur magazine ranked his "Experts Academy" seminar as "one of the top 5 must-attends for all entrepreneurs."
Recognized as a worldwide authority on both human motivation and business marketing, Brendon is the recipient of the Maharishi Award and sits on the Innovation Board at the XPRIZE Foundation. (Bio courtesy of SuperSoul.tv)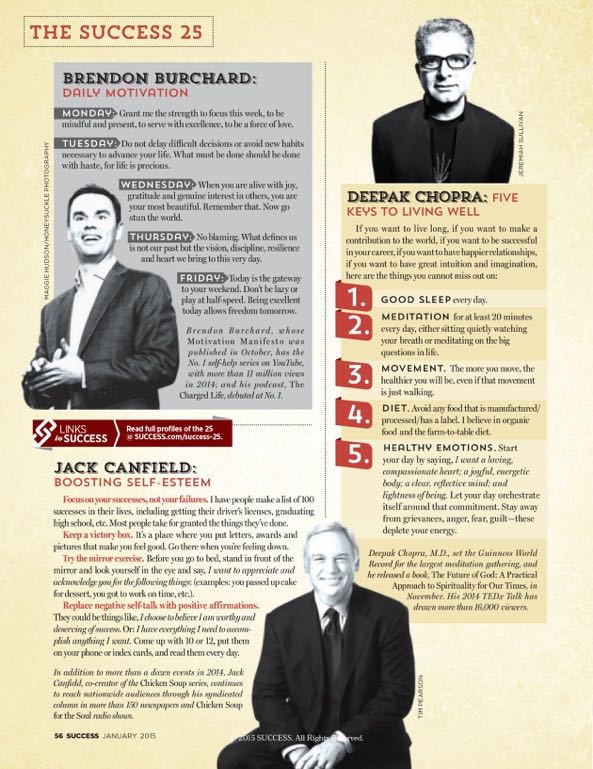 SUCCESS MAGAZINE'S
25 MOST INFLUENTIAL
After an extensive review of the reach, sales and contributions of the major personal growth leaders, Success Magazine ranked Brendon in its Top 25 Most Influential. The list:
Martha Beck
Ken Blanchard
Brendon Burchard
Les Brown
Jack Canfield
Deepak Chopra
Henry Cloud
Wayne Dyer
Tim Ferriss
Seth Godin
Steve Harvey
Arianna Huffington
Robert Kiyosaki
T.D Jakes
John C. Maxwell
Suze Orman
Joel Osteen
Mehmet Oz
Dave Ramsey
Tony Robbins
Robin Roberts
Sheryl Sandberg
Robin Sharma
Brian Tracy
Oprah Winfrey
REAL-WORLD IMPACT
10,000,000 fans have liked one of his branded or owned Facebook pages.
500,000+ people use his 1-Page Productivity Planner every day.
2,000,000+ have learned to meditate following his "Release Meditation Technique."
1,000,000+ read his weekly email.
30,000,000+ see his inspirational posts every week on Facebook.
300,000+ people watch his training videos online every week.
90,000 are in his online courses or video series at any given moment.
Many people can tell you what to do, but few have done it themselves, and on a massive scale. Brendon trains people on motivation and marketing at a world-class level; he's also used those same strategies to build a thriving 8-figure a year business, with little overhead, lots of profit, and an enviable lifestyle. Best of all, he has a giving and generous spirit with a passion to teach others how to improve their lives and make their greatest difference in the world.
—Darren Hardy, Publisher of SUCCESS Magazine
At the end of our lives, we all ask,
"Did I live? Did I love? Did I matter?"
At 19 years old, standing bloody atop the mangled hood of a wrecked car after an accident, I learned those three vital questions. Every day since then, I have tried to live my life so that I'm happy with the answers. I deeply understand that I have been gifted a second chance.
Despite all the public fanfare and our huge online business, people are always surprised to discover how simple I am. It comes from my parents, who struggled so hard to raise us four kids. It comes from my dad, who reminded us before he passed away from leukemia in 2009: "Be yourself. Be honest. Do your best. Take care of your family. Treat people with respect. Be a good citizen. Follow your dreams."
The praise and the accolades are appreciated, and I'm trying harder not to let them fall on deaf ears. I guess it's where I'm from, and from what I'm made of. This has never been about attention. It's been about sharing what I've learned and trying to inspire others to find their own second chances.
#1 NEW YORK TIMES BESTSELLER
Brendon famously fought for his art when a major publisher turned down his last book, The Motivation Manifesto. The Manifesto has since spent over 30 weeks on The New York Times Bestseller List after debuting #1 on BN.com. It's now the bestselling motivation title of this century.
Brendon's other New York Times bestselling books include The Charge: Activating the 10 Human Drives that Make You Feel Alive, The Millionaire Messenger, and Life's Golden Ticket. His books have been #1 on every major bestseller list including Amazon.com, BN.com, USA Today, and The Wall Street Journal. Over 1,500,000 people have downloaded his books, white papers, and ebooks and his work has been translated into 25+ languages. His latest book is High Performance Habits: How Extraordinary People Become That Way.
FEW PEOPLE KNOW…
2,000,000 students have completed Brendon's online courses and video series. Over 700,000 have started a course or video series online from another provider at his recommendation.
Brendon's blog, podcast, newsletter, and YouTube show remain ad-free and sponsor-free. He has never taken a sponsorship or ran ads against his audience despite multiple seven and eight figure deal offers. He has self-funded every medium that he uses to serve his audience.
Brendon's iTunes podcast "The Charged Life" debuted at #1 across all categories on iTunes in over five different countries, an extremely rare feat for a nonsponsored show. It has remained in the Top 10 Self-Help for over 80 weeks.
Widely considered one of the most successful early pioneers in online education, Brendon runs an eight-figure multi-media training company. He launched million-dollar online courses as early as 2009, and he has now passed 17 online promotions in a row that generated more than seven figures of revenue in less than seven days each. He shares his knowledge publicly and also privately advises many of the best online marketers in the world via Experts Academy.
Brendon has been a secret weapon for #1 bestseller book campaigns for Paulo Coelho, Arianna Huffington, Tony Robbins, Tim Ferriss and more.
Brendon has a greater Facebook following than Fast Company, Inc Magazine, Fortune Magazine, Vanity Fair, and many of the largest US charities combined. He never perpetuates negative news and uses the blessing of his platform to share lessons only about personal growth and giving.
"Everyone says, 'This kid came out of no where.' Maybe. The real story is that I've woken up every day for 19 years with a solid and soul-driven intention to fully live, love and matter. If you wake each day intent to serve, you tend to get a lot done. I've studied psychology, leadership, neuroscience, and high performance for two decades now. I've read a book a week for that entire time, I've completed a personal challenge every month, conducted hundreds of interviews, gave thousands of talks, and had world-class clients and mentors.
The untold story perhaps is that I'm just human. I have tough days. I've written plenty of garbage, shot hundreds of bad videos, felt terrified backstage, bombed at promotions, failed and failed and joyously failed on my surprising journey 'coming out of nowhere.' The path to mastery is forged with struggle.
The only narrative that matters to me is the tens of millions of fans and students out there living a more fully charged life. My story or numbers mean little. My students are the goal; they are the heroes.
If all I have done is inspire others to find their charge and share their message with the world – simply because I have worked at those things in my life – then the day is good, life is good, and I feel blessed."
Left to right: Bill Clinton, George W. Bush, Arianna Huffington, Tony Robbins, Bill Gates, Richard Branson, Paulo Coelho, Wayne Dyer, Bill Nyes, Larry King, Anderson Cooper, Paula Abdul, John Gray, David Bach, Tory Burch, Montel Williams, Katie Couric, Steve Forbes
"Imagine at the end of your life you are standing before your Creator, and He asks: Did you use the time I gifted you each day to be a purposeful being? Did you follow your own path and make your time count? How faithfully did you tend to the dream I sowed in your soul?"
Excerpt from The Motivation Manifesto