SUMMARY
"People really need to skill up for 2019. Determine the major skills you're going to need to win in 2019, and start developing them NOW."
"Too many people are disconnected: their family doesn't know what they think, want, know and desire. The highest performing people in the world are courageous, but the way that they practice that courage is in a very simple, elegant way. They share their true thoughts, feelings, needs, desires, and requests with others more often than under-performers."
Evaluate this year (and identify areas where you have room to grow) so that you can crush NEXT year.
"Whether you schedule something today off-the-cuff or if it's already been scheduled for months, when you write down the task in the planner, it makes you enter the task with intention and visualization. When you have more anticipation for the day's events, you enter them with intention and you visualize them going well."
Watch the video to get the full training.
This is a MUST watch episode about my biggest personal and professional lessons learned in 2018 (and how we can crush  and have an abundant 2019!)
Take your learning to a whole new level! Complete this episode's worksheet here.
Already have the High Performance Planner and CRUSHING each and every day? Let's celebrate you! Take a photo with your planner and use #HPXlife .
HOT NEWS & DEALS!
Free Book!
My blog readers get a complimentary copy of my new book High Performance Habits, while supplies last! I bought 1000 for you – so no charge for the book itself – but I do ask you pay your shipping. While supplies last. Get yours here.
Three Online Courses for $1!
My blog readers also get an exclusive $1 trial to access ALL my personal development courses! Click here for the $1 trial. Students call it "the Netflix of Personal Development." You'll call it the curriculum that changed your life forever!
Latest Instagram!
I'm releasing a new podcast in coming days. So watch my Instagram for announcement.
DID YOU KNOW?
I give weekly prizes, gratitude and shout-outs to our students, so post a screenshot or video on Instagram and use #TheBrendonShow! I can't wait to hear your thoughts about this episode!
RELATED POSTS
The Year of High Performance: Will this be a courageous year for you?
Tactics for Finishing the Year Strong
Making Success a MUST
How to Stick to Your Word (Integrity!)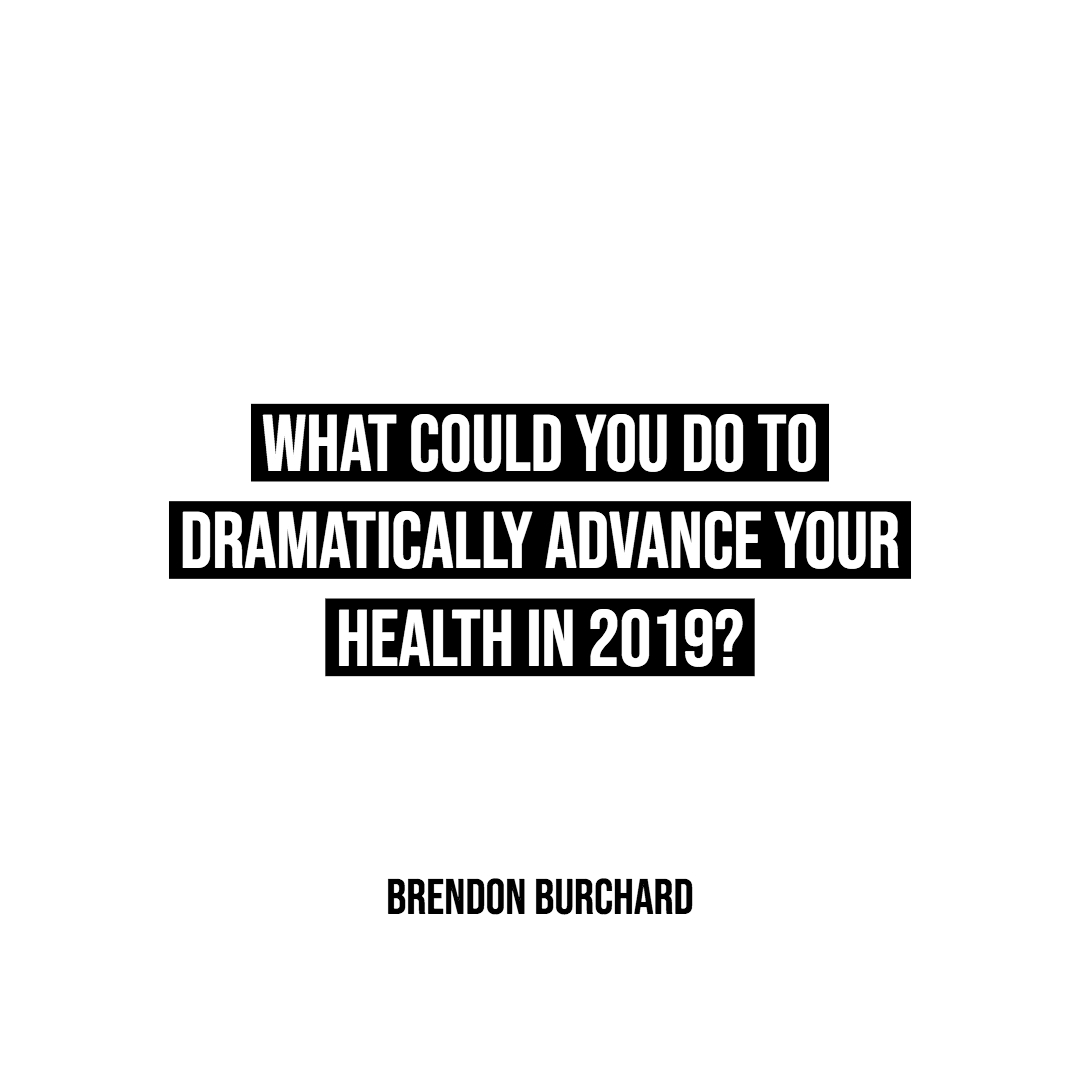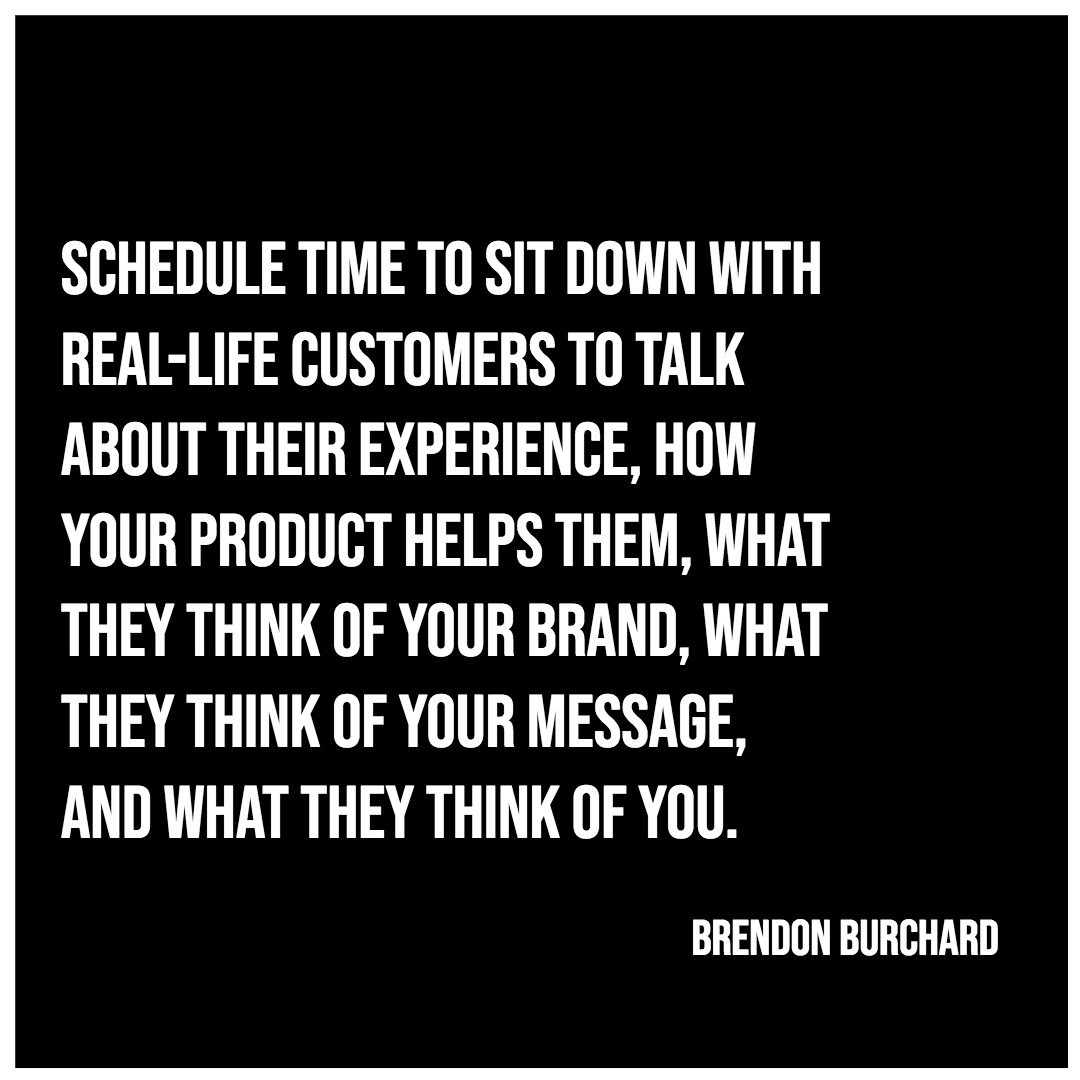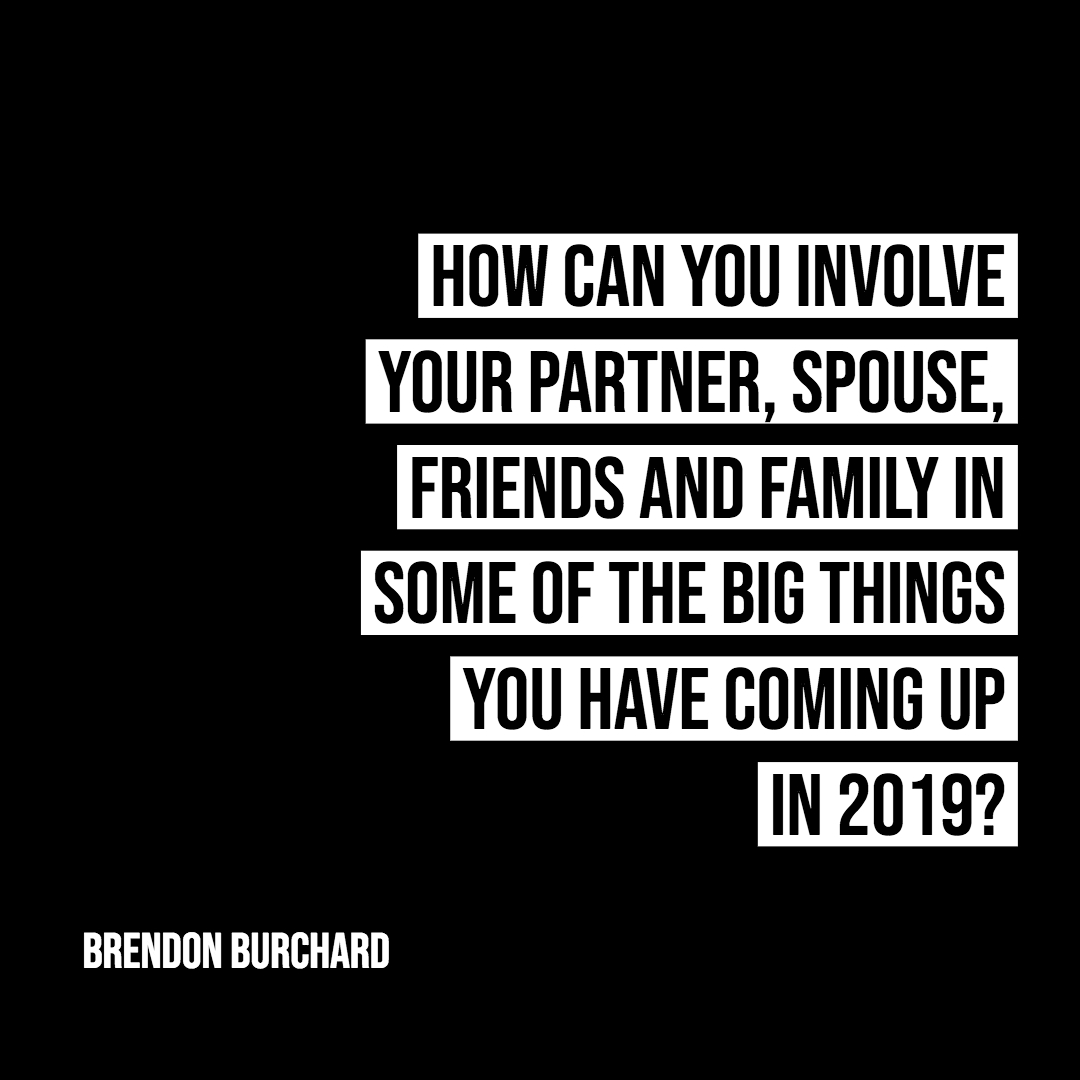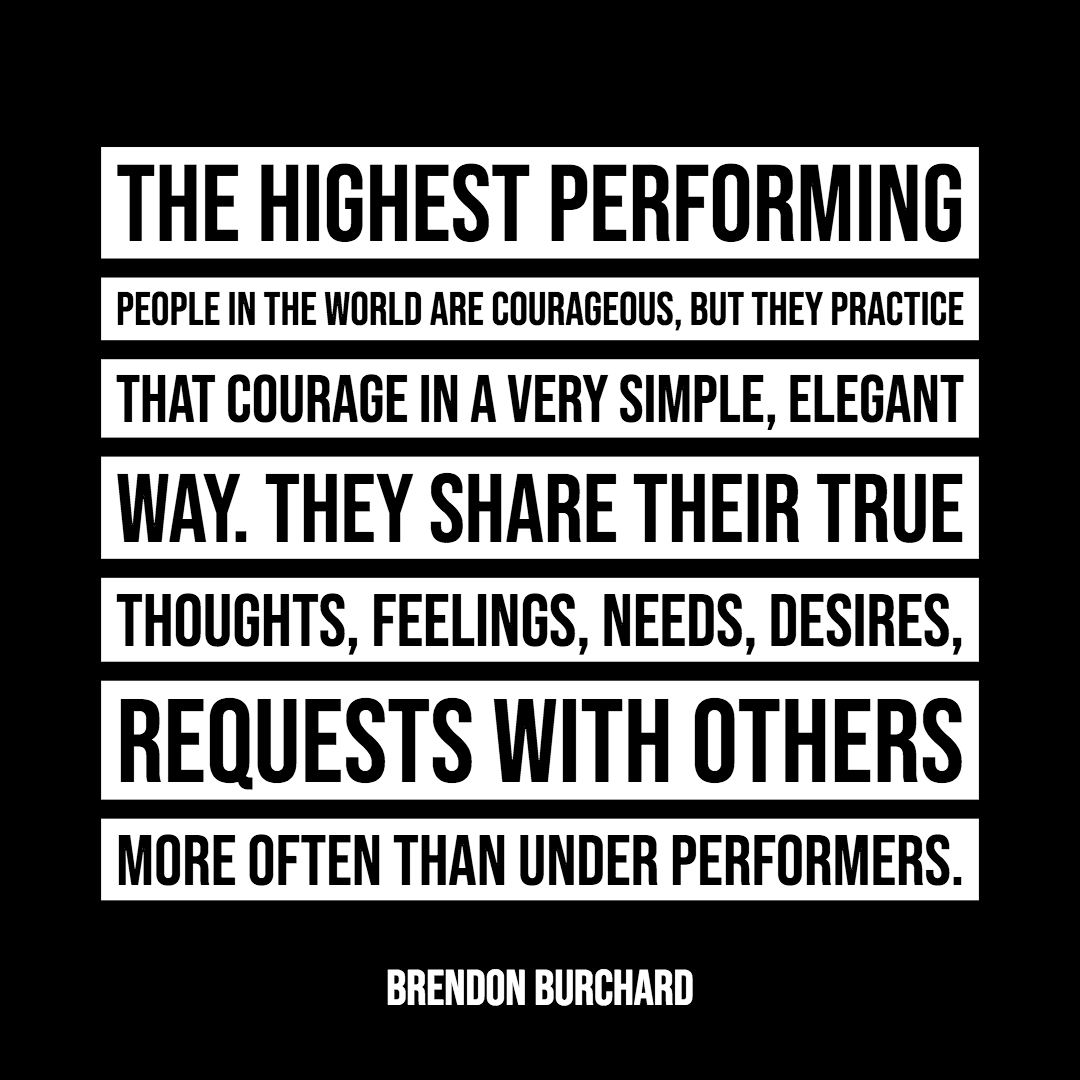 FULL TRANSCRIPT
[The following is the full transcript of this episode of The Brendon Show. Please note that this episode, like all TBS episodes, features Brendon speaking extemporaneously–he is unscripted and unedited. Filmed in one take, The Brendon Show has become one of the most viewed unscripted, direct-to-camera self-help series in the history of Youtube. It has also been the #1 Podcast in all of iTunes and is regularly in the top podcasts in Self-Help and Health categories around the globe. Subscribe to the free motivational podcast on iTunes or Stitcher.)
Hey my friends, it's Brendon! We're doing a special episode of The Brendon Show to give a little recap of this rockin' and rollin' crazy 2018. I've got some notes here, because y'all have been asking: What are your big resolutions for 2019?
I'm going to do that in another episode. In this one, I want to talk about what were my four greatest lessons, personally and professionally, in 2018.
You all saw me out there. It was a crazy year. It was an incredibly difficult year. There were some challenges I've never faced in my career, in my life, and luckily survived them all. Also, I feel like 2018 was such a great year of growth and learning.
I don't know how you feel about it, whether you're stressed out about 2018 or you're happy and fulfilled, or you're frustrated. Wherever you are, I hope that you'll take a little bit of practice at the end of the year and say: What were the biggest punch-me-in-the-head kind of lessons that I learned? So that you can carry those lessons into 2019 and accelerate your success in 2019 even faster.
I've got four big ideas here, and I'll give a little context for those of you who are new to the community or haven't seen all the crazy stuff we did this year. It was bananas. First, I was on the road this year more than I've been in my entire life. More travel days than I've ever had before, which was kind of strategic because this was the first year of my life since I was 19 years old that I wasn't writing, researching, or launching a brand new book. So I've been writing a book since I was 19 years old. I'm in my 40s now. I wasn't writing anything this year. I was doing a lot of other things.
So I chose to travel more to be out with you all. We'll talk about being out on the road. It was really intense. I spoke to over 55,000 people live this year in convention centers, arenas, and hotel ballrooms. That includes other people's seminars and my seminars. It was super intense. I know many of you want to be influencers or you're public speakers, or you're just in a place where you really want to communicate and share your message and change the world. I'm telling you, when you have the blessing of reaching that many people, it's incredible and it's very taxing and difficult. But a beautiful experience along the way.
This was a year we also really pushed out. Many of you guys supported High Performance Habits, so I thank you for that.
Last year in 2017, the book became Amazon's top three business and leadership books of the whole entire year and just smashed it on the bestseller list. We had a great run with that book and it's still amazingly, at the end of 2018, selling as strong as it did a year ago.
So we're really excited that message penetrated the marketplace this year.
You also saw me launch the High Performance Planner, and this was a new product. I've been working on this for three years. It's a two-in-one day scheduler and productivity journal. I was working on that and just launched it for the holidays.
Pushing a book, talking to 55,000 people on the road. This year also saw me re-launch and re-film Total Product Blueprint, which is my course for online thought leaders. That's just a monster of a course to film, takes weeks and weeks and weeks to film it, to produce it, to put that new course out there.
We reacquired some of my online course program from The Oprah Winfrey Network so that we could put it out there to larger audiences and that's been an amazing piece. We launched All Access in a way that really pushed it out there. Last week, I finished filming my 24th online course. I'm blessed.
A lot of people recognized we were the first ones to bring comprehensive online courses to the personal development world and it's been 24 courses since then. I just finished filming that last week. That was big. This year, we also hired another 10 – 13 people in my personal brand for Brendon.com. Then in our other companies, we passed our 1000th employee,  which was crazy. Those were companies I invest in, lead, or advise quarterly.
My wife sold her exercise studios. That happened this year, where she was fully transitioned out of it, so that gave her more time and allowed us to travel and have more fun together. All that was happening. So, to say it was a busy year would be crazy. I share all that context not to say, "Hey, look at me," because trust me, that was the hardest stuff on my plate that's ever happened.
We also lost some friends this year. I have some friends who are very, very sick right now as we head into the final part of this year.
It was a year full of transition. It was a lot of transition in one year and a lot of big goals, a big team and a lot of people involved.
I thought I'd share context out of all of that insanity.
Here are the four things that I learned that were like the knock to my head that I had to figure out.
#1. HEALTH
I've always worked extremely hard to maintain an incredible level of energy in my mental, emotional, physical, spiritual being, just trying to do everything I can, from the way that I work out, to what I consume, to what I don't consume, to how I rest, to how I meditate, to how I recover.
Everything in my life has always been about, "How do I bring the joy?" And if I'm going to generate the energy I want to create for you guys, how do I do that specifically?
Well, I've always got these routines and everything else, but this year, I had my health taken away a little bit. In mid-October, I got pneumonia and tonsillitis at the same time, while I was on the road doing multiple four-day and multiple five-day events, where I'm a lead trainer. That kicked my butt and I'm still honestly recovering from it. I'm still feeling it heading into the final part of this year. I'm still recovering.
I made it 42 years without feeling fatigue outside of times of injury. I don't think I've ever had the flu. I don't really ever get sick. When I get sick, it's like the sniffles. But this one was something that just smacked me. I mean, I was down and out. It's why I feel like I'm way behind on my episodes for you all. It's why I feel like we're launching a few things in January that I'd hoped to launch in October.
Taking care of my health has always been a priority. This year, I learned what it feels like when it's gone. Many have been with me for a long time and saw that happened in 2011, when I had my brain injury, and I snapped my wrist, my ribs and my hip. So, I'm not new to pain. I'm not new to being sick but this was the first time where I also, with the sickness, lost motivation.
When I was really sick in the past in my life, I would still wake up in the day and I'd prime my mind, get excited about what was to come and just go. The last two months this year I really had to work on it.
There were plenty of days, I was just like, "UGH." Not because I didn't love my life, or wasn't grateful or present. You've been there before when you physically feel terrible. It is hard to get your mind right.
So heading into 2019 is an absolute focus on getting my overall health back up to the level I want by recovering from the pneumonia episode.
So that's a big, big takeaway: health.
What could you do to dramatically advance your health in 2019?
If you were going to make it your best year of health ever, what would you have to stop eating, stop doing, and start eating and start doing? What would be your recovery practice? What would be your sleep practice? What would be your workout practice? What would you eat in the morning? What would you eat in the afternoon? What would you eat in the evening? What types of diets or exercise routines would you get into? What about mental health? How are you going to stay motivated? How are you going to stay focused and present throughout the year?
These are questions on my mind right now. I hope they're on your mind as well.
#2 Hire FASTER
The second big takeaway I got from the year 2018 is to hire your team faster. So many of you have been hearing about this. I thought for the last two years, I'm going to hire all these people. And, I'm very happy with the folks that we have. We've got a great new team on board.
For a decade of my life, I did all of my marketing and now I have a team supporting me with that. I really love it and that's awesome. There were so many delays in other parts of my life that prevented me from hiring as many people as I wanted to.
So the big lesson was, set up a structure and a system where I can hire faster and get me out of the way. We've hired 13 people. I would love to have 30.
So we're less than half where I need to be, and part of that's because some big news I'll be announcing to y'all soon.
Why did it take 10 years to get the full marketing team that I really needed? Partially it was my passion to do all the marketing for you all. So if you ever saw my Facebook page growing to five million fans: all those pictures, I took those pictures. All those quote cards, I took the picture behind the quote card. All the quote cards, I personally scheduled, I created. I did all of that, literally until the end of this year. I enjoyed that process and it was part of my art, but in order to serve more people, I need to create a greater balance. So, I brought in a bigger marketing team for that. I really believe: hire soon.
Many of you have been waiting to hire that first virtual assistant or that person to help you at the house so you can focus on your business, who can support you with the kids, or somebody who can come in and just help clean the house.
So you've been waiting to hire that manager, that CEO, and I'm here to tell you, do it.
Set your quarter one goals of 2019 to hire the team that you need. Don't finish quarter one without the team that you need in place, trained, and going. For some of you, that might be 100 employees, for some of you, that's 10.
I don't know what your situation is, but I'm here to tell you, hire sooner, hire better.
#3 Involve Your Partner MORE in Your Brand and Career  
Third big lesson I got this year, which has been a really great joy, is involve your spouse, partner, or significant other, more in your brand and in your career. And I've always had this great blessing of having a spouse; if you've ever seen Denise at my events with me on stage, like we're the craziest, sweetest couple,  because she's my whole life.
I wouldn't get to do this today if she hadn't supported me from the very beginning. She never doubted, cheered me on, and bought me groceries when I went bankrupt doing the first gig.
She literally has had my back the whole time. One of the reasons that I love her and one of the reasons I married her was because I was like, "This is an independent woman."
I've got my passions, she's got hers. She can do her own thing. She's never going to be worried about what I'm up to. We both had this tremendous freedom, trust and cheering on of each other, but a little bit from afar.
She ran exercise studios and I did my thing. A lot of what I would do in the major moves in my life, of course, we talked about it at dinner or at night or on our walks every day, but there was still a removal because she was running an entire business.
She had her own 30-plus employees. She was building her own brand, and a mega successful one. She was just doing her thing: a traditional franchise workout type of business, where mine was all influencer-based, thought leader-based, expert-based. We didn't have a lot of overlap. I didn't help her that much with hers, she didn't help me that much with mine. Frankly, we loved that. And then this beautiful thing happened: she became so wildly successful at it, she was able to sell her two studios. In selling her two studios, she consulted them and then ended up with time. And with that time, I was trying not to get her involved in anything I was doing, because I wanted her to find her own thing.
We also found a great, deep passion for a new lifestyle brand that we want to start and do together. It aligns perfectly with our passions. I'll be announcing that in January. We've experienced the process of going through that and brainstorming with her about, "What does that look like? What does it sound like? What's the aesthetic? What is the brand? What are the values and the mission, and what are we really after here? How do you want to impact people here?"
Having somebody to brainstorm with who isn't an employee, or on the team, who isn't in my industry directly, or a promotional partner and who isn't paying me, has been everything. She knows me so well and intimately.
How can you involve your partner, your spouse, your friends, your family, in some of the big things you have coming up in 2019?
What I've always seen is that too many people don't share enough about what they're working on. Too many people are disconnected; their family doesn't really know what they think, feel, want, or desire. Their extended group isn't familiar with what they desire out of life.
One big thing that we learned about this book and research study, as many of you know, was that the highest performing people in the world are courageous. The way they practice that courage is in a very simple, elegant way. They share their true thoughts, feelings, needs, desires, requests, with others, more often than under-performers. Under-performers keep it all in. They're embarrassed about what they want. They fear judgment, so they don't share and if they do share, they get judgment or pushback and shut down.
High performers share and also get judgment and push-back, but they keep going. That's a critical difference in your life's success.
So in 2019, I'm encouraging you to be more open, consistent, honest, and courageous in sharing. What do you want? What do you need this year? Where could you use some help? What are those big ambitions? What's that big mountain you want to climb, that other people might make fun of you for doing?
If you're not sharing those things with the immediate people around you, including your spouse, partner, significant other, wife, husband, family and kids, then what's up with that silence? Where else in 2018 did that silence hurt your progress, your sense of connection or the ability for you to be fulfilled?
#4: Connect with your community
My fourth big lesson of 2018 comes back to why I've been on the road so much. Talking to 55,000 people live involved a lot of book signings. Many people said, "Oh my gosh, I've read your stuff," or "Thank you for that speech," or "I just heard of you for the first time today," or "OMG, you're amazing." It was a lot of that. I would encourage those of you who are are entrepreneurs and business owners to go have meetups with your customers. Go have scheduled time to sit down with real-life customers, to talk about their experience, how your product helps them, what they think of your brand, what they think of your message and what they think of you.
With engagement, what happens a lot of the time is that the real engagement that influencers, celebrities, or big businesses have is comprised of talking through direct messaging, social media comments and replying to emails. But this is no substitute for someone looking you in the eye and saying, "Hey, thank you for creating that product. Thank you for all the teamwork and all that it must have taken for you to make the difference in the world."
There's not just validation there, but a real connection you can learn a lot from. I have customers telling me about products and programs we put out five to seven years ago that they're really excited about. They say, "Are you going to bring that back?" Part of the genesis of the High Performance Planner, which I've been using in my life to organize everything is something that I've been doing for years. I didn't have the full vision of doing it the way that we ultimately launched it until I talked to many people who had read this and were looking to operationalize the mindsets and habits that successful people have. It really put a fire under my butt. I talked to many people and it made me launch the planner on time.
Sometimes your customers can be your motivating and validating factor. They can help you see what's working and what's not working.
I have the blessing that that mentality has been built into my company for 10 years. We do eight live events of our own every year, so I'm with people all the time but some of our events are really big and I might not to get to meet a lot of people out there. I'm working on protecting my voice and I'm doing four days of training, making it very intense.
I hope you've all been to one of our events. If you haven't, we've got High Performance Academy coming up right at the beginning of the year, in March, which is our only North American event of 2019. Check out the link in this post for more on that if you would like to attend a four day transformational event with me.
#5: Skill Up for 2019! 
Determine the major skills you're going to need to win in 2019 and start developing them now. I'm starting to learn Spanish and manage more teams virtually. I'm learning how to hire faster. I'm learning how to change an aesthetic in our graphic design. I'm trying to scale up, but I also know that many people aren't ready for what might happen in 2019. The economy might not be as awesome as it could be. We might really experience the beginning of a downturn in 2019.
In your business, what do you need to do to show up? What do you need to launch? What do you need to get out there, in the first quarter of 2019? Whatever you have learned in 2018, apply it and hit the ground running fast. Make January, February and March stunning.
Be a SWAT team. Don't be that person that says, "I'm going do something this year," and you don't do anything until April, May, June, July, August, September, October, November, and December comes around and you realize you haven't done it and then push it to 2020. Make it now.
Really get in the game. I want you to hustle so hard in January, February, and March that you say okay, "2019 is off to a great start."
When you hit that mid-year cycle or the end of the third quarter and the economy starts struggling, you know you're already in a great place. I really believe that what most people are projecting for 2019 will happen. I think it might hit some tough times, so if you've already struggled in 2018, learn those lessons and get ready to crush it in 2019.
I hope this served you, my friends. I know I don't usually do the videos like this for The Brendon Show, but I really want to just connect with you and share with you what I've learned. It's also been an opportunity to look you in the eye and talk in your ear and say thank you. This was a rockin' and rollin' year in every way. Our business, team and brand is growing in every way. Things I've been doing in my career for 12 years are catching fire in different segments and it's really fun to experience that.
But I also know that my community, teaching and students are not really mine anymore. Maybe they were the first couple years, but now they're yours because you're the ones sharing this. You're the ones who are building the following by sharing quote cards, videos, going to the blog, buying the products, enrolling in our courses and coming to our seminars. We've caught this new wind and I think it's because you all have been so awesome.
I can't tell you how much it meant to me when I had pneumonia this year, to hear how many of you gave the shout outs, kindness and patience, in releasing some of the things we wanted to release earlier. I'm here to tell you huge things are coming in 2019.
Make sure you're also following me on Instagram. We're going to make a bunch of huge announcements this year. Make sure that you get to our seminars soon because more than ever, these will be sold out events this coming year. We're getting that vibe now. Make sure you take care of your health and hire up soon, while also involving the people in your life with your major goals and ambitions. Meet the customers who are using your stuff or who you are impacting, even if it's just people who you're impacting through your nonprofit or through your daily work. Talk with the people whose lives you're impacting. They will motivate you. It will fire you up because that's exactly what it's done for me at the end of 2018.