SUMMARY
"If you want long-term success, well-being, and positive relationships, the thing that matters more than anything else is your habits, not your personality."
We all know that great habits equate to great results, which ultimately equate to a great life. One of the best ways to stick to great habits is to measure them. In this episode, develop a system to score your habits so that you can stay on track to a life filled with powerful habits.

"Know what I'm saying is like there's a difference between knowing thyself and performing over the long term in such a way."

Watch the video to get the full training.
Already have the High Performance Planner and CRUSHING each and every day? Let's celebrate you! Take a photo with your planner and use #GrowthDay so we can find you on social media!
HOT NEWS & DEALS!
Stop letting limiting beliefs and lack of confidence hold you back! Learn the SKILLS of confidence from 9 of the world's best personal development experts in the most comprehensive Confidence training ever created! $400 worth of training – just $7.99 today! Get the Confidence Masterclass!

Make self-improvement a way of life and get the GrowthDay app! GrowthDay features all your personal development tools, coaching and community in one place. Write your journal, track your habits, take wellness challenges, watch live influencers teaching new life strategies, and join a global community of positive and supportive high achievers excited to improve their lives! Get the app on Apple app store here. Get on Android here. Get desktop here.
DID YOU KNOW?
I give weekly prizes, gratitude and shout-outs to our students, so post a screenshot or video on Instagram and use #TheBrendonShow! I can't wait to hear your thoughts about this episode!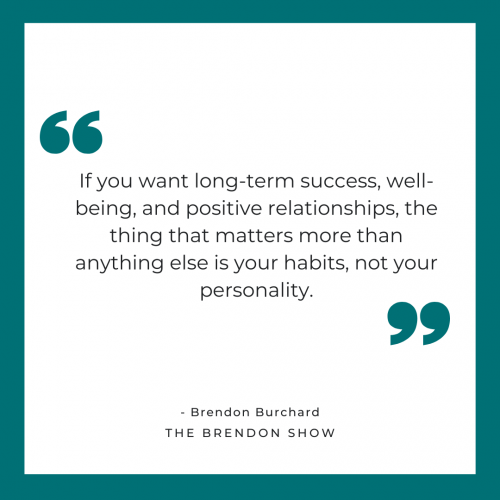 FULL TRANSCRIPT
[The following is the full transcript of this episode of Motivation With Brendon Burchard. Please note that this episode, like all episodes, features Brendon speaking extemporaneously–he is unscripted and unedited. Filmed in one take, Motivation With Brendon Burchard has become one of the most viewed unscripted, direct-to-camera self-help series in the history of YouTube. It has also been the #1 Podcast in all of iTunes and is regularly in the top podcasts in the Self-Help and Health categories around the globe. Subscribe to the free motivational podcast on iTunes or Stitcher.)
Many people just don't succeed because they never even found out where they're at. You know, it's like if you have a map and you don't know where you're at on the map, there's no way you can go to the destination. So where should you start, tracking and measuring your habits over a period of time? Now, for a long time, I just used the High Performance planner and that helped me do it every single day. Now I use the GrowthDay app because the High Performance Habits are in there.
1. Begin By Tracking Habits Over A Period Of Time
But these are habits,  like measuring every day, whether or not I felt like I had clarity and I stayed focused, whether or not I had good energy habits, whether or not I was productive that day, whether or not I tried to be a role model or was influential that day, whether or not I did something outside my comfort zone and sought to be or live a bold or courageous life. It helps me measure my diet, exercise, diet, movement, sleep, and mood as well. Those are what we do in GrowthDay. It's in the app. It's technologically enabled. It's awesome. It's convenient. If you don't have that, then what I want you to do is just write it out on a card.
2. Create A Physical Or Digital Log
How are you going to measure your habits every day and what habits specifically? This is really critical. Please listen to this. Achieving long-term success, it's really clear that the science shows is not related to your personality trait or your astrological chart. Sorry. I'm not dismissing that. I'm just saying that science, over a period of time, it's not related to even your current income. It's not related to where you grew up. It's not related to your age. Long-term high performance, is tied to external success, internal well-being, and positive relationships. Those three measures specifically we studied in 190 countries around the world with the High Performance Institute, the University of Pennsylvania's Positive Psychology Department, and researchers from UC Santa Barbara. If you want long-term success, well-being, and positive friendships, what matters more than any other thing in the entire world is your habits. Not your personality. So for those who are like, I can't succeed because I'm an introvert. Sorry. Lots of extremely successful introverts. I can't do it because I'm an Enneagram seven, four, three, two, one. I'm like, sorry, does not matter for long-term success. They're not correlated. They're cool to learn. Those are what are strength finders, cool to learn. 
3. Focus On Performance Metrics, Not Self- Awareness
Those are tools for self-awareness. They are not correlated with long-term actual performance differences between self-awareness and performance, right? Some people are very self-aware but can't work themselves out of a brown paper bag. Know what I'm saying is that there's a difference between knowing thyself and performing over the long term in such a way. You maintain positive life satisfaction and relationships because you and I both know somebody who works really hard and they're successful. But they wrecked all their relationships and their health. That's not high performance, high performance, long-term success, well-being, and positive relationships. And please, no growth day members. If you're at the starter level or the pro level, you have a full six-hour training, a $300 course called High Performance Habit Builder from me in your app that you can watch for free if you're a starter or as a pro- member meaning you signed up for one of our annual memberships.
4. Choose Ten Habits To Measure
That $300 course is available to all growth day members in any annual capacity, and that training will teach you the power of this research and help you think through a lot of the habits that really matter. What I'd love for you to think about is like, okay, I need to chart this out, bust up your journal, and like, what are the ten habits you're going to measure yourself on every day from now to the end of the year? And a habit is something that you are doing on a consistent basis, not just an idea, not just a hope, not a goal, or an ambition. Such a routine that you are doing and either is an automatic one. It's easy or it's a deliberate one. It's hard. And I really encourage you to have your list. I'm just asking you to measure yourself every day. And here's the thing I know you like it, but Brendon, I get discouraged when you do that. Great read. High Performance Habits and read the High Five Habit. And so when you don't feel like you're on your A-game, you can still encourage yourself in the morning with a little bit of a high five, some good self-talk, and some basic practices throughout the day. You can get back on track, I promise you. All right. So habit scoring, make your checklist of the ten things to score yourself every day. Notice when you're not doing good, and get back on track.