SUMMARY
"Allow the gates to lift and the water of gratitude to rush in. Take a moment next to the stream to allow that to happen."

Are you struggling to integrate your success and wins into your day? In this episode, learn how to implement simple yet impactful ways to slow down, take it all in, and celebrate all the good things in your life.

"Some of the best celebrations you'll ever have is if you just sit with something for a minute and take it in."

Discover habits to integrate your wins into your daily life to feel more empowered and energized to continue seeking your dreams.

Watch the video to get the full training.
Already have the High Performance Planner and CRUSHING each and every day? Let's celebrate you! Take a photo with your planner and use #GrowthDay so we can find you on social media!
HOT NEWS & DEALS!
If you want to level up personally and professionally, High Performance System is the resource you need. The High Performance System will guide you through developing and implementing the 6 science-backed habits that will move the needle from ordinary to extraordinary. Develop the habits that lead to long-term success, positive relationships, and healthy well-being! Get the High Performance System!

Make self-improvement a way of life and get the GrowthDay app! GrowthDay features all your personal development tools, coaching and community in one place. Write your journal, track your habits, take wellness challenges, watch live influencers teaching new life strategies, and join a global community of positive and supportive high achievers excited to improve their lives! Get the app on Apple app store here. Get on Android here. Get desktop here.
DID YOU KNOW?
I give weekly prizes, gratitude and shout-outs to our students, so post a screenshot or video on Instagram and use #TheBrendonShow! I can't wait to hear your thoughts about this episode!
RELATED POSTS

How to Take Accountability For Your Life
Develop Your Self-Acceptance
Develop Your Self-Awareness
3 Life-Changing Habits
The 6 Steps To Lifelong Success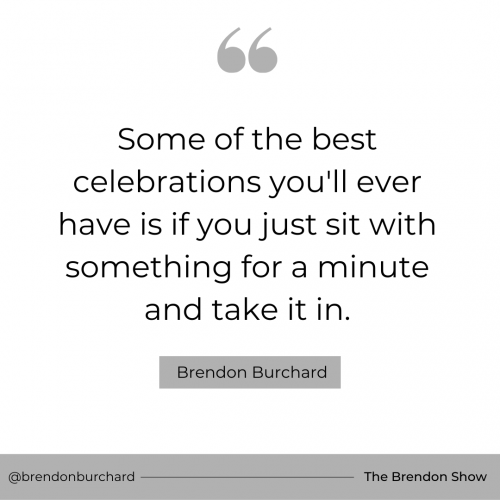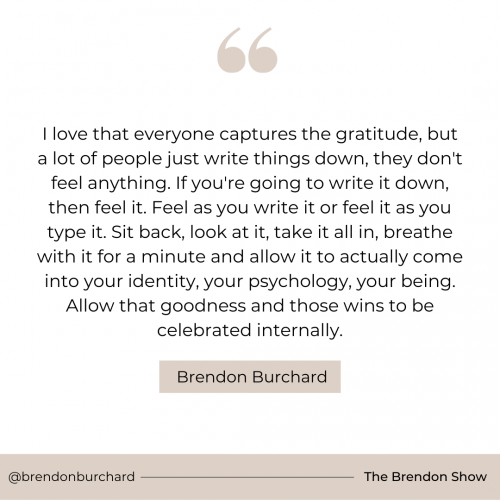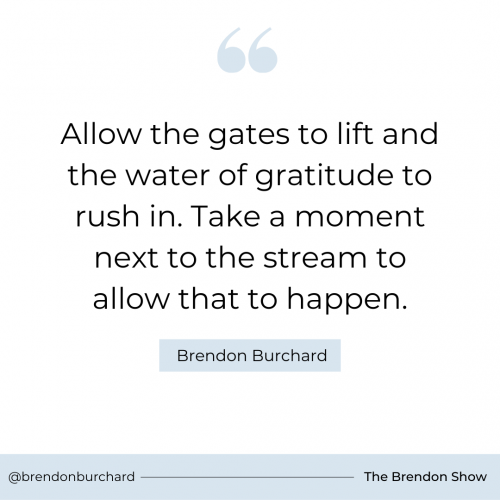 FULL TRANSCRIPT
[The following is the full transcript of this episode of The Brendon Show. Please note that this episode, like all TBS episodes, features Brendon speaking extemporaneously–he is unscripted and unedited. Filmed in one take, The Brendon Show has become one of the most viewed unscripted, direct-to-camera self-help series in the history of YouTube. It has also been the #1 Podcast in all of iTunes and is regularly in the top podcasts in Self-Help and Health categories around the globe. Subscribe to the free motivational podcast on iTunes or Stitcher.)
Integration, what does that mean? I talk about this with so many friends who have had so many wins and they don't feel like a success yet. So good things have happened themselves, but they haven't integrated that they are good, right? It's that person who never feels satisfied, who always feels a lack, who never feels high self-worth. Why? Because even though the good things are happening, even though they've made things happen, they've never put their hand on their heart and integrated the good things into their identity. So everything else just bounces off.
If we want meaning and fulfillment to have in our lives when meaningful things happen, we have to integrate them into our life. We have to say, "Ah, that was meaningful", and you almost have to pull it right into your body, in your mind and your heart and you have to say, "Oh. I felt that." Do you know?
It's like I was recently at a wedding, and it was funny to see how different people participate and see and experience weddings. To me, it's just like I'm taking so much of it in and I wouldn't say it because I'm an empath in any way. It's just because I go, "You know what? This is one time, one day this has to happen for them. Let me enjoy this with them. Let me bring some joy to this with them, and let's make this day meaningful."
1. Make This Day Meaningful
People know to do that. Make this day meaningful. Make this day meaningful on the wedding day or on Christmas or on your birthdays. And the rest of the days, the year just blurs on by. Well, I think that first, you have to choose to make it meaningful. That's what we do at weddings, right? But then you also have to stop and feel it and integrate it.
A great mentor of mine, when she found out I was getting married, she said, "Brendon, here's what I want you to do at your wedding. On your wedding day, after the ceremony, I want to make sure that you pull aside your bride, Denise, three different times and make a meaningful moment with her. And really integrate it into your memory and into your heart." This one is the best piece of advice I got ever about my wedding day. It was right, make a moment. Feel it and really integrate. Take a moment to pause and take in life, your newborn is finally starting to walk. Those are the moments where you take that in and you just pull it and you integrate that into your life as a meaningful moment.
But a lot of people don't take that same idea when they have successes in life when good things happen. And so even though they have all the reasons in the world to be fulfilled, they don't feel fulfilled because they never stacked or integrated all those good wins. They haven't taken a moment to think about them and to feel them and to be grateful for them. Does that make sense?
2. Write Down Any Awesome Things
Think about it — this is a great time of year for you to capture everything that was awesome that happened to you this year. You know, write down all the awesome things, every great memory. Every great event, every decision you made that turned out good — just capture them and sit with them for a minute like, "Oh, that did happen." What do people usually do this time of year? They're already forecasting next year and they're not even taking a beat to feel what happened this year. Especially the good stuff, and that's where they struggle. So what they do is they're always on to the next thing, and they never took five seconds, let alone five minutes, to sit with something awesome that happened.
3. Take Time Out To Appreciate
So often, for me, even after a broadcast like this today, I'll just go and I'll sit afterward for five minutes and I'll just reflect on it and feel grateful for it and think of not things I need to improve but just sit with and celebrate what a blessed opportunity this is. I got to talk to some people today. I felt like that was part of my destiny. I got to do that today. And I'll just sit there and allow feelings of gratitude to overwhelm my body and my mind just for a few minutes. And it's by doing that over and over and over that when you ask, "Am I fulfilled?", I can say yes. Do you know why?
Because I allow the gates to lift and the water of gratitude to rush in. But you gotta take a moment next to the stream to allow that to happen.
But if you don't integrate — and this is really important — it's a very simple question that I ask all my high-performing clients and these are people who pay over $1,000,000 to work with me. I'll ask them on day one, "Tell me about your integration practices." They'll say, "What do you mean?", and I say, "Well, when do you take a moment to integrate the progress or the good things that are happening in your life?" And most of them are like, "What does that mean?" You know, meaning they're not even taking a moment to ever write down their gratitude or, more importantly, feel the gratitude.
I love that everyone captures the gratitude, but a lot of people just write things down, they don't feel anything. If you're going to write it down, then feel it. Feel as you write it or feel it as you type it. Sit back, look at it, take it all in, breathe with it for a minute and allow it to actually come into your identity, your psychology, your being. Allow that goodness and those wins to be celebrated internally.
And most people don't do that. They don't celebrate anything. Or they do, but they party all day long. They celebrate, but they never integrate. I know people, they get a big sale, then they go party. Then the next day they show up, they're miserable. A week later, they don't even feel it.
4. Take It In
Some of the best celebrations you'll ever have is if you just sit with something for a minute and take it in.
I was with a friend who recently bought a new house and they had this great back porch and they were showing me the new house and we're walking around the new house and they're talking about all that remodels and stuff. They're going to do this and we can do this and this is going to happen. We're back to the back porch and they were just kind of showing me around and I go, "Come over here." And I had to sit down on the back steps of the porch and say, "Look at all this. I bet this was a dream of yours once. To have a house like this. Tell me about that." And he shared about his journey of the house he grew up in, which most of you and I would call a shack. And he told the story of how he had, you know, paid for himself, the first member, his family to go to school, the first member of his family to get a big job, the first member of his family, to give back to his community, first member of his family to have a house like that. And he was in that moment of sharing everything he's going to do, and I just made him sit down and integrate it. Take it in. And so I said, literally, "Hey, let's just sit here for just just just take this in. This is a big win for you and your life. You should celebrate this. Just take it in."
And if you ever hung out with me, you know, I do this a lot. I'm going to make you stop at all the moments. We're just going to take it in. If we have a big breakthrough together, we're going to sit together. We're going to take it in if we're in, you know, if I'm out with my friends or my family, it's like, we're going to take that moment. We're going to find a moment. Just take it in. You have to integrate it. Take it in. Allow yourself to feel otherwise. You'll never feel fulfilled. I hope that makes sense.