SUMMARY
"When someone says, 'I want to know I made a difference,' what they mean is, 'I want to have served a life of meaning.'"
Even now, during uncertain times, there is reason to feel reverence and gratitude for this moment. Yes, even now. When was the last time you connected to the meaning of the moment? Take this time to recognize the blessing of this life and all that comes with it.


"Meaning is sometimes realizing the moment is already imbued with meaning."

Watch the video to get the full training.
If you've been searching for a sense of meaning in your life, this episode is for you. Learn how to connect with the moment and recognize the meaning your life holds.
Watch the video to get the full training.
Already have the High Performance Planner and CRUSHING each and every day? Let's celebrate you! Take a photo with your planner and use #HPXlife or #TeamHPX.
HOT NEWS & DEALS!
My blog readers get a complimentary copy of my new book High Performance Habits, while supplies last! I bought 1000 for you – so no charge for the book itself – but I do ask you pay your shipping. While supplies last. Get yours here.

My blog readers also get an exclusive $10 trial to access ALL my personal development courses! Click here for the $10 trial. Students call it "the Netflix of Personal Development." You'll call it the curriculum that changed your life forever!

This is the 2-in-1 planner and journal achievers use to win the day and accelerate long-term success. Get yours here (while supplies last)!
DID YOU KNOW?
I give weekly prizes, gratitude and shout-outs to our students, so post a screenshot or video on Instagram and use #TheBrendonShow! I can't wait to hear your thoughts about this episode!
RELATED POSTS

Create Your Battle Board! (My Secret to Productivity)
Rethinking Productivity
When You Feel Horrible (Tired, Bored, Sad)
The Power of Presence and Positivity
Sleep Better: My Evening Routine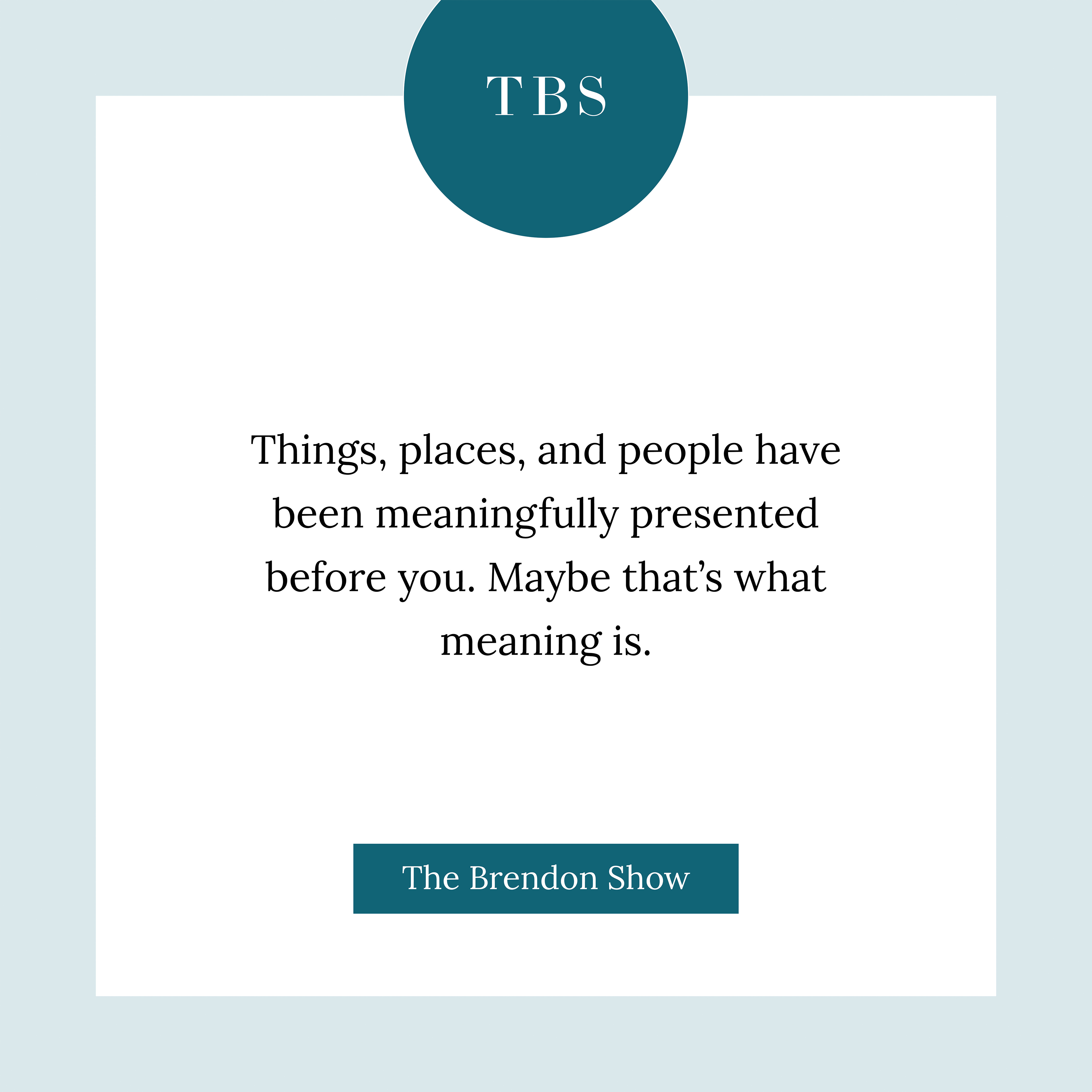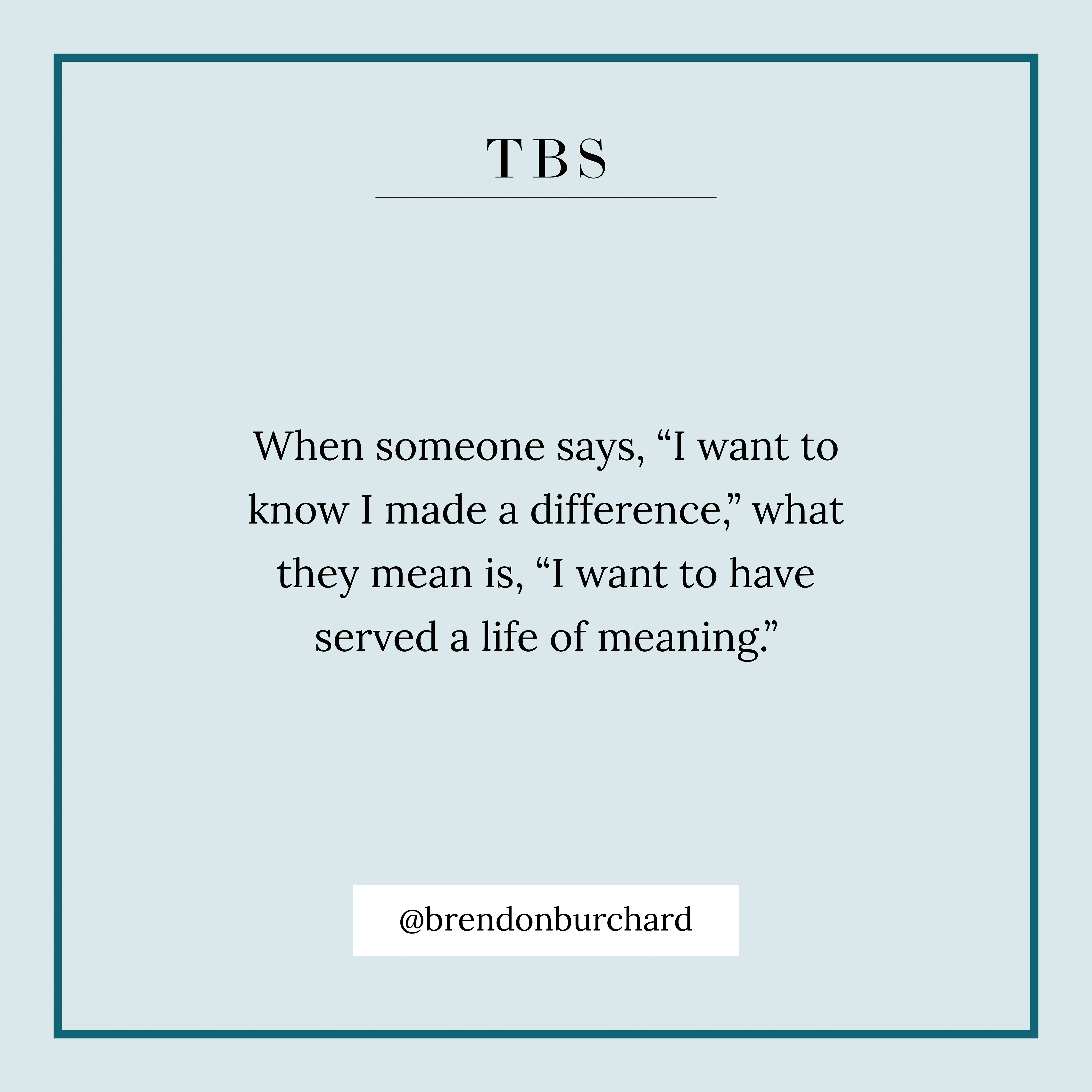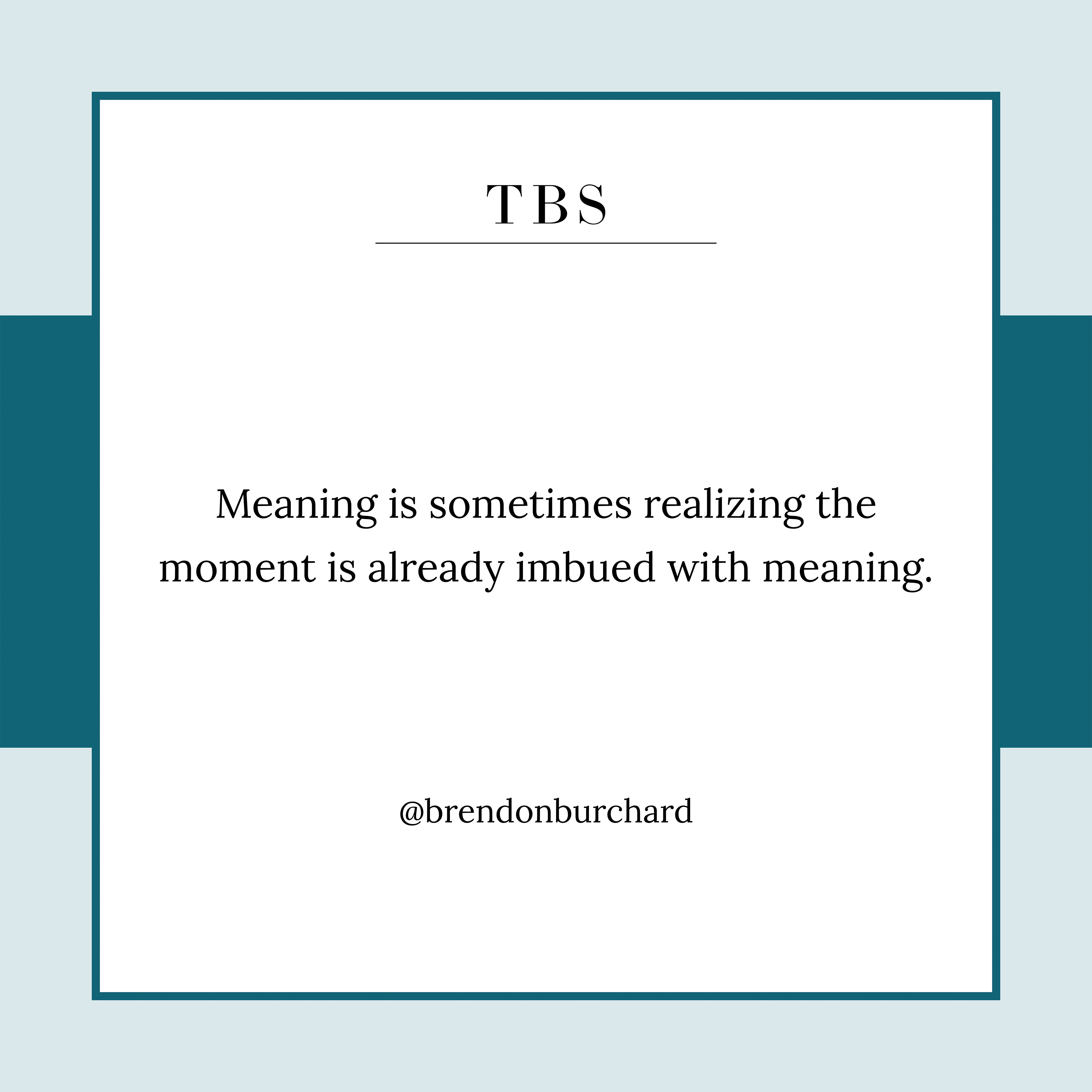 FULL TRANSCRIPT
[The following is the full transcript of this episode of The Brendon Show. Please note that this episode, like all TBS episodes, features Brendon speaking extemporaneously–he is unscripted and unedited. Filmed in one take, The Brendon Show has become one of the most viewed unscripted, direct-to-camera self-help series in the history of YouTube. It has also been the #1 Podcast in all of iTunes and is regularly in the top podcasts in Self-Help and Health categories around the globe. Subscribe to the free motivational podcast on iTunes or Stitcher.)
We're here for vibrancy, connection, and this last one: for greater sense of meaning in our lives. A sense that our lives matter. A sense that what we are doing counts. That what we are doing with our days means something to somebody.
When someone says, "I want to know I made a difference," what they mean is, "I want to have served a life of meaning."
I want to know at the very end when I look back, I go, "I mattered." I want to know when I wake up on a Monday, I matter. I want to know when I finish the day and set my head on my pillow, today mattered. I appreciated, I had reverence for this day.
There's meaning in life often beyond us. I don't know what your beliefs are, but to me, a room this big, this many people from around the world, I literally don't know how you feel about things. Many of you guys know, I'm a person of faith, but lots of my friends and lots of people I know aren't. And so it doesn't matter whether you believe in God or you have religion or spirituality or not, to me, personally. 'Cause I'm cool with whatever people's vibe is in that department, but I own my truth. I'm a person of high faith, personally.
And for me, I feel like I got a second chance from God, but to me that also means that things, places and people have been meaningfully presented before me. Maybe that's what meaning is. Meaning isn't just that we create a magical moment; meaning is sometimes realizing, "Oh, the moment is already imbued with meaning.
Maybe the reason I'm not happier in my life is I've been missing that the moments have already been gifted to me, the moments have already been imbued with meaning."
Here I am, wanting you to achieve and have and do and get, and one day attain the goal. And then in another moment, we miss that our spouse just needed us to support them. And in another minute, we miss that somebody needed active kindness, somebody needed a moment of attention. And that meaning has already been imbued in the moment. And if this just sounds like some weird spirituality stuff to you, it surely is. Except that every extraordinary person I have ever worked with in my life, at some point connected to the ether. Whether that was God or faith or spirit, or something they just felt a calling, or they felt like something was above them or something was gifted to them. I work with a guy right now, the first billionaire I ever coached for two years, didn't believe in God. And so that was fine 'cause coaches, when you coach someone it's not about you, it's about the client and it's about a process of helping them grow into whatever is right for them. Not your opinion, what is right for them. So it didn't bother me. But when I worked with this gentleman, what I noticed was he still felt an incredible connection to gratitude and luck. Right?
So don't feel like I'm imposing anything on you. What I'm here is to suggest to you after this much experience with people, where I'm literally paid to help them go to another level, what I have found over and over is, they connect to the meaning. They don't just make the meaning. And for many of us, you've been trying to make it so long, you've been trying to force it for so long, you forgot to tap into and flow. Force versus flow. Very two different ways about going through life. I don't need these three days to go good in some objective manner for me to feel that this is a meaningful event.
Could you all just do yourself a gift and just allow a moment of reverence for that? Could you do me a favor and just close your eyes for a second? And just try to tap into the true impossibility of this moment. The true blessing of this moment. Think of somebody in your life, if you would, who gave you this moment, who inspired you to want to be better. Maybe someone who's a mentor or inspiration, or a good parent, or a good leader or caregiver. Didn't somebody open the door for you along the way?
Somebody opened some doors for you. Could you give that feeling a sense of reverence and gratitude?
Not all the pomp and circumstance, just here, the quiet peaceful moment for yourself. Just to honor the fact that this is a real blessing.