SUMMARY
"Wowing your relationships means today, you sit down and you identify the most important relationships in your life. And you ask the question, 'How can I wow that person this year?'"

Looking to revitalize your relationships by the end of the year? In this episode, learn how to incorporate better tools and communication techniques into those important relationships in your life. 

"Long-term, healthy relationships are a secret to longevity and life satisfaction."

Are you wanting to better invoke love and appreciation for those who support you in life? Then this episode is for you! Discover how to wow those in your life with these 4 simple techniques.

Watch the video to get the full training.
Already have the High Performance Planner and CRUSHING each and every day? Let's celebrate you! Take a photo with your planner and use #GrowthDay so we can find you on social media!
HOT NEWS & DEALS!
If you want to level up personally and professionally, High Performance System is the resource you need. The High Performance System will guide you through developing and implementing the 6 science-backed habits that will move the needle from ordinary to extraordinary. Develop the habits that lead to long-term success, positive relationships, and healthy well-being! Get the High Performance System!

Make self-improvement a way of life and get the GrowthDay app! GrowthDay features all your personal development tools, coaching and community in one place. Write your journal, track your habits, take wellness challenges, watch live influencers teaching new life strategies, and join a global community of positive and supportive high achievers excited to improve their lives! Get the app on Apple app store here. Get on Android here. Get desktop here.
DID YOU KNOW?
I give weekly prizes, gratitude and shout-outs to our students, so post a screenshot or video on Instagram and use #TheBrendonShow! I can't wait to hear your thoughts about this episode!
RELATED POSTS

The High 5 Challenge With Mel Robbins
How to Become More Capable
How to Embrace Your Passions
How to Own Your Vision
The 6 Steps To Lifelong Success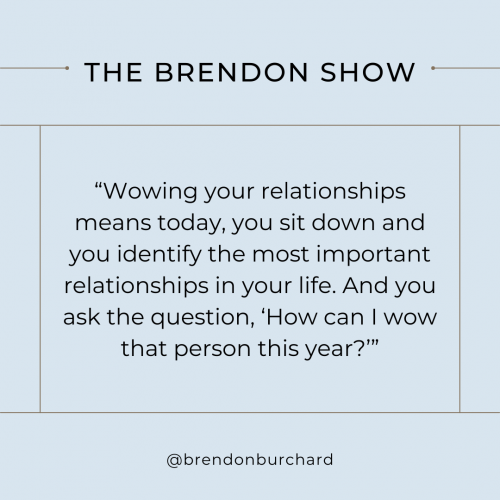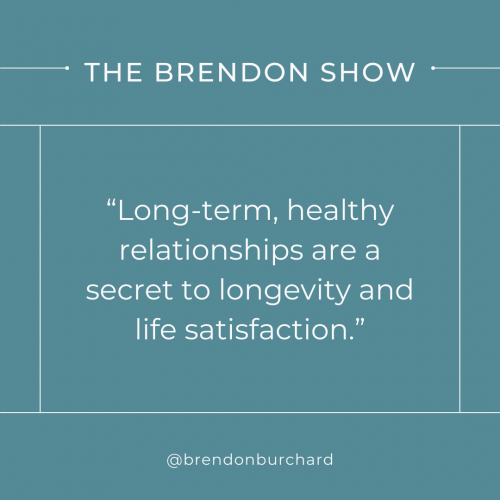 FULL TRANSCRIPT
[The following is the full transcript of this episode of The Brendon Show. Please note that this episode, like all TBS episodes, features Brendon speaking extemporaneously–he is unscripted and unedited. Filmed in one take, The Brendon Show has become one of the most viewed unscripted, direct-to-camera self-help series in the history of YouTube. It has also been the #1 Podcast in all of iTunes and is regularly in the top podcasts in Self-Help and Health categories around the globe. Subscribe to the free motivational podcast on iTunes or Stitcher.)
Make sure by the end of this year you have wowed your relationships. Wowing your relationships means today, you sit down and you identify the most important relationships in your life. And you ask the question, "How can I wow that person this year?" And it doesn't mean you have to do anything extravagant and buy them big gifts or take them on big trips, though, you might have one or two people who won't do that with. It just means — usually here's what wows people: appreciation,  a written card, some encouraging audio texts, a nice email, more frequent phone calls. It's simple. Wow the most important people in your life by the end of this year. 
Now I know you might already have a good track record. Maybe you had a great summer with somebody. Carry it on, see it through. Finish this year strong in your relationships because remember, long-term, healthy relationships are a secret to longevity and life satisfaction.
1. Send Encouraging Messages
So who's somebody that you could reach out to with some appreciation, some love, some encouragement? I put this as part of my morning routine. I send five encouraging audio texts every single morning to the important persons in my personal life, usually sometimes in my professional life, my peer network, or my team. Usually, for me, it's my personal network of friends and family who've encouraged me throughout the years, and I want to be that source for them. And so who could you wow by the end of this year? 
2. Think, "How Can I Improve Their Life?"
Maybe you've had a tough year like lots of couples did with your partner, your spouse, and you've kind of been struggling a little bit. And right now it's been all about the blame and the negativity. And maybe you guys aren't even going to make it. But could you still do something to wow that person? I think that when we remember that we signed up for the relationships that were in our life. By and large. That, you know, "Ok, I set it up for this. I'm going to end this well or I am going to wow this person or I'm gonna take it as an obligation or responsibility to make their life better." 
It's my job. I feel in my marriage to make our life better, to constantly surprise my wife, to constantly give and be generous into that relationship, even when it's busy, even when it's hard with little things. And I can't say I'm great at it, but it's always on my intention radar. It's every day. I'm thinking about it. Every day I try to do something and it doesn't take much. I mean, the joy my wife gets when I pick up or clean up is amazing, you know? So we all have different ways and most people don't need you to do some big, extravagant thing. It's the things that they need. It's, you know, their love language. It's their priority, their preference, even if you don't like it, you know, even if that's not the meal you want to eat, make them that meal that day. Maybe, maybe you had a hard time. And you know, you could hold it against them. Maybe the day you let it go. 
3. Focus on Repair, Not Conflict
And you approach them with open arms and open spirit to try to repair. And I think you'll surprise people when you try to repair or when you schedule something nice or when you send audio. 
You know, many of you know, I've done a lot of counseling and consoling, and hospice throughout my life with people who lose loved ones. Recently, I had to go do that with the family and I saw how that family came together and in every little way tried to support each other through a hard time. Little things, these were little things we remember that wow. 
I remember, when I lost my dad to acute myeloid leukemia back in 2009, and I don't think I've ever really talked about this very much, about this part of the story. It was really difficult. He had been healthy one day, and then kind of felt the pain in his side. Went to the hospital off-balanced and they said, "Mr. Burchard, you have seven days to live." And because they'd found out that AML had already started taking his body. He did the first course of chemo, didn't look like much. Put him on the second course, chemo that didn't do very much. And his body had been weakened that much by the chemo and cancer at that point, so they sent him home for hospice, and he died shortly thereafter.
From diagnosis to death, a completely healthy guy, the week before he was bowling and golfing and working at the gym, that diagnosis to the end he made it not seven days. He made 59 days, so he had two months with pops. And in that time, we had a lot of friends come over and a lot of friends called. We had old family members we hadn't heard from, from down the lineage chart turnout who he hadn't even met. I'll never forget those visits. Those people who showed up during that tough time. 
4. Reconnect With Someone Who Needs It
And someone, you know, in your life, maybe they're not facing someone who is passing or maybe they are, maybe, you know, somebody who lost a loved one this year. And you could reconnect with them by the end of this year and send them a note of encouragement to a Zoom call or a FaceTime and just spend an hour talking with them about nothing. Just to be there because you remembered them after everybody moved on. Because what happens is when someone passes away, everyone's there for the spouse, to the partner or the family in the first day, the first week, the first month, they're there for the funeral or they send things in the after month, but two months after. No one's asking anymore. And that hole is still in the heart. And sometimes when someone remembers that two months later, six months later, a year later, and they just call and check-in and see how you've been. That's wow, that's humanity, that's empathy.
You never forget that. And so I bet someone, you know, this year went through some hardship. Check-in on them. Be that person who wows them that you had the compassion and the care to see how they were doing. I promise it will make a difference for them and it will enliven your heart and remind you why we're all here, which is for one another.