SUMMARY
"How does this impact my lifestyle? And is that the lifestyle I desire?"
Each of us has a different definition of an ideal lifestyle. In this episode, discover your unique preferences and the habits you'll need to achieve that lifestyle.

We often hear the question "What do you want to be when you grow up?", but rarely are asked, "How do you want to live your life?" This may be the most important question to ask yourself often, so you living life out of your value system.

Watch the video to get the full training.
Already have the High Performance Planner and CRUSHING each and every day? Let's celebrate you! Take a photo with your planner and use #GrowthDay so we can find you on social media!
HOT NEWS & DEALS!
Stop letting limiting beliefs and lack of confidence hold you back! Learn the SKILLS of confidence from 9 of the world's best personal development experts in the most comprehensive Confidence training ever created! $400 worth of training – just $7.99 today! Get the Confidence Masterclass!

Make self-improvement a way of life and get the GrowthDay app! GrowthDay features all your personal development tools, coaching and community in one place. Write your journal, track your habits, take wellness challenges, watch live influencers teaching new life strategies, and join a global community of positive and supportive high achievers excited to improve their lives! Get the app on Apple app store here. Get on Android here. Get desktop here.
DID YOU KNOW?
I give weekly prizes, gratitude and shout-outs to our students, so post a screenshot or video on Instagram and use #TheBrendonShow! I can't wait to hear your thoughts about this episode!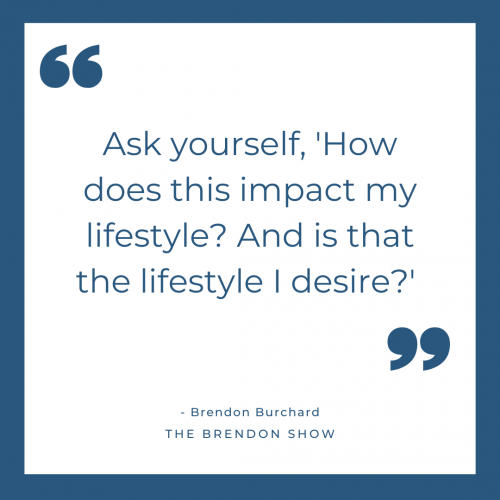 FULL TRANSCRIPT
[The following is the full transcript of this episode of The Brendon Show. Please note that this episode, like all TBS episodes, features Brendon speaking extemporaneously–he is unscripted and unedited. Filmed in one take, The Brendon Show has become one of the most viewed unscripted, direct-to-camera self-help series in the history of YouTube. It has also been the #1 Podcast in all of iTunes and is regularly in the top podcasts in the Self-Help and Health categories around the globe. Subscribe to the free motivational podcast on iTunes or Stitcher.)
1. Consider What Lifestyle You Want
A habit that I have is building my life for lifestyle. I know that no one likes the phrase lifestyle entrepreneur or a lifestyle business, but I thought from day one, I'm like, "Why would I not have a good lifestyle? And what does that mean to me?" And I'm continually revisiting that as a habit. Like, what does a good lifestyle mean? Well, it means different things to people. Some people, you know, that means that they just have control of their morning. Like me, I got… I like to have my morning routines. That's a good lifestyle for me because my brain works that way. I'm happy that way. So I have a nice morning routine for myself. Some people, their lifestyle thing is, you know, they just want to live in a certain place. For some people, it's how the house is arranged. For some people, that's how much money they earn. For some people, it's where they go and travel. For some people, it's just what they focus on each day, what their purposes or their intentions are. I don't know what yours is, but I know what mine is. And the habit of continually questioning, is this choice going to help or hurt my lifestyle? So…some of you guys know these stories from my events. Sometimes I tell them as I'm going through events about how I'm making decisions in life and how it's hard. You know, sometimes you have opportunities that seem so good, but, you know, I teach this formula: whatever deal or opportunity that you're chasing or presented with, always check against your mental sanity and your lifestyle preferences.
2. Be Honest About Your Lifestyle Preferences
Like if you knew how many deals I've turned down, you'd think I'm crazy. But I look at those. I mean, I got offered major network television shows, I mean, huge shows by super famous producers and production companies, but I could see that that would make a life that I didn't like. It was not the workload or the lifestyle that I wanted because I knew the top people, you know, I knew what Oprah's schedule was and I knew what Anderson Cooper's schedule was. I knew what Dr. Phil's schedule was. And I was like, Oh, I get that that's for them. That's not the lifestyle I like. I like too much, I like too much of my own time. And when you're a network, you got you're there at like 5 a.m. and it's like producer meetings, ratings meetings, show meetings, you know, debrief meetings, planning the next day. It's like you're there from 5 a.m. till 10:00 at night if you're lucky. And I was like, I can't do that. I like more time with family, friends, and reading, and I like a lot of extra time during the day to wander around like a nutty professor just thinking about stuff.  You know, it's not good. That's why I can't do that one.
3. Don't Compromise On Your Wants
And so a lot of decisions are made like that; from movies to shows to stages to partnerships. That just if I filter through my lifestyle thing because really what do I need? What's my ideal lifestyle? Well, a book, a pina colada, and some sushi Ain't that much, y'all. So you know, when you know it's important, it's like it doesn't cost me any money to spend the afternoon with my wife. I know what my lifestyle is, and I love that. I just won't compromise on lifestyle for external extrinsic rewards. And that's a habit. And by the way, if this sounds like I'm braggadocious, this is one of the things I struggle with the most. It's why I made one of those months of Pro workshops on the topic of setting boundaries. I was like, I wonder how anyone else does this? I want to do a really good job because if you feel like your lifestyle is not super great, don't think it's about money, it's about boundaries.
4. Don't Blindly Mimic What Other People are Doing
And this is really important and this is the fundamental question here. Do you sense that you have your own way of doing things? Are you parenting in your way or just as your parents did? Are you doing business in a way that you like? Not the way that everyone else in the suits around you did or told you to do it? Like when I was a consultant in a major company, I had 70,000 employees when I first started out of college, and everybody kind of walked and talked. They all came out of these MBA schools. I never went. I never did that. I had my master's in organizational communication, but I didn't have an MBA and they all walked and talked like… they all had BMW 3's at the time. I don't know. It seemed like all these new consultants got these BMW 3's. I thought, Man, I am not gonna spend my money on a car. And I lived in San Francisco. I didn't. I was like, I don't even need a car. I can't even afford the parking on a car. What is going on with these people? But they came out of fancier schools or fancier families sometimes. And I just thought, you know, I'm going to do this my own way.
5. Strive For Authenticity
So I didn't make slides like they made slides. I didn't structure things the way they did. I did my own thing and it was rewarded because it was like, authentic. And even though it wasn't always perfect or good or even notice I'm not even judging. It wasn't even better than it was just my thing. It's like it's a habit of mine not to get it right. It's a habit of mine to ask the question, "How does this impact my lifestyle? And is that the lifestyle I desire?" Is that the time, energy, effort, future value, or present experience that I want, or will that pull me away from that this is a conversation that you may have heard me describe separately in High Performance Habits under the term of alignment, the habit of aligning to the lifestyle in the future that you want? And when I'm in alignment with that, because I ask the questions, life is better.