SUMMARY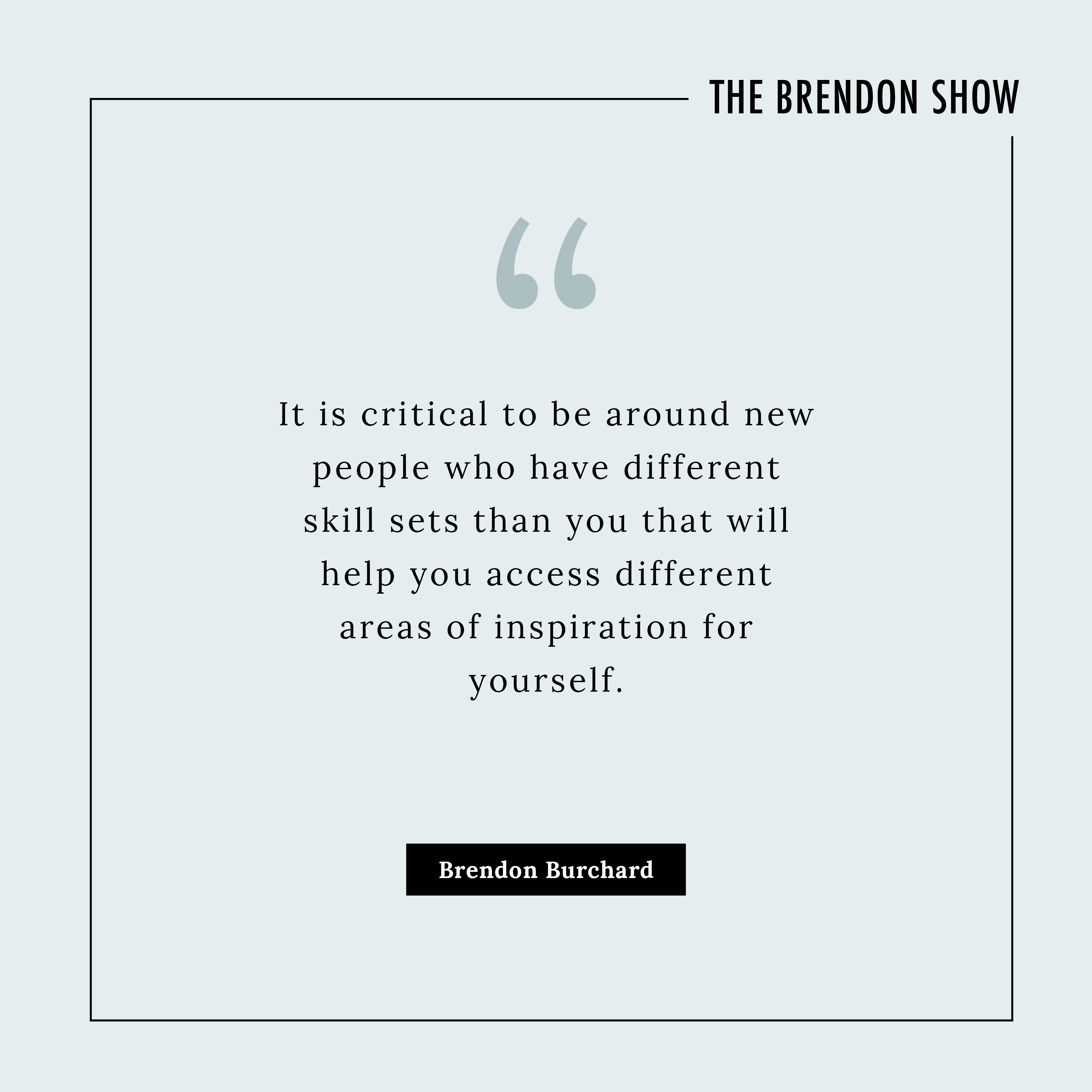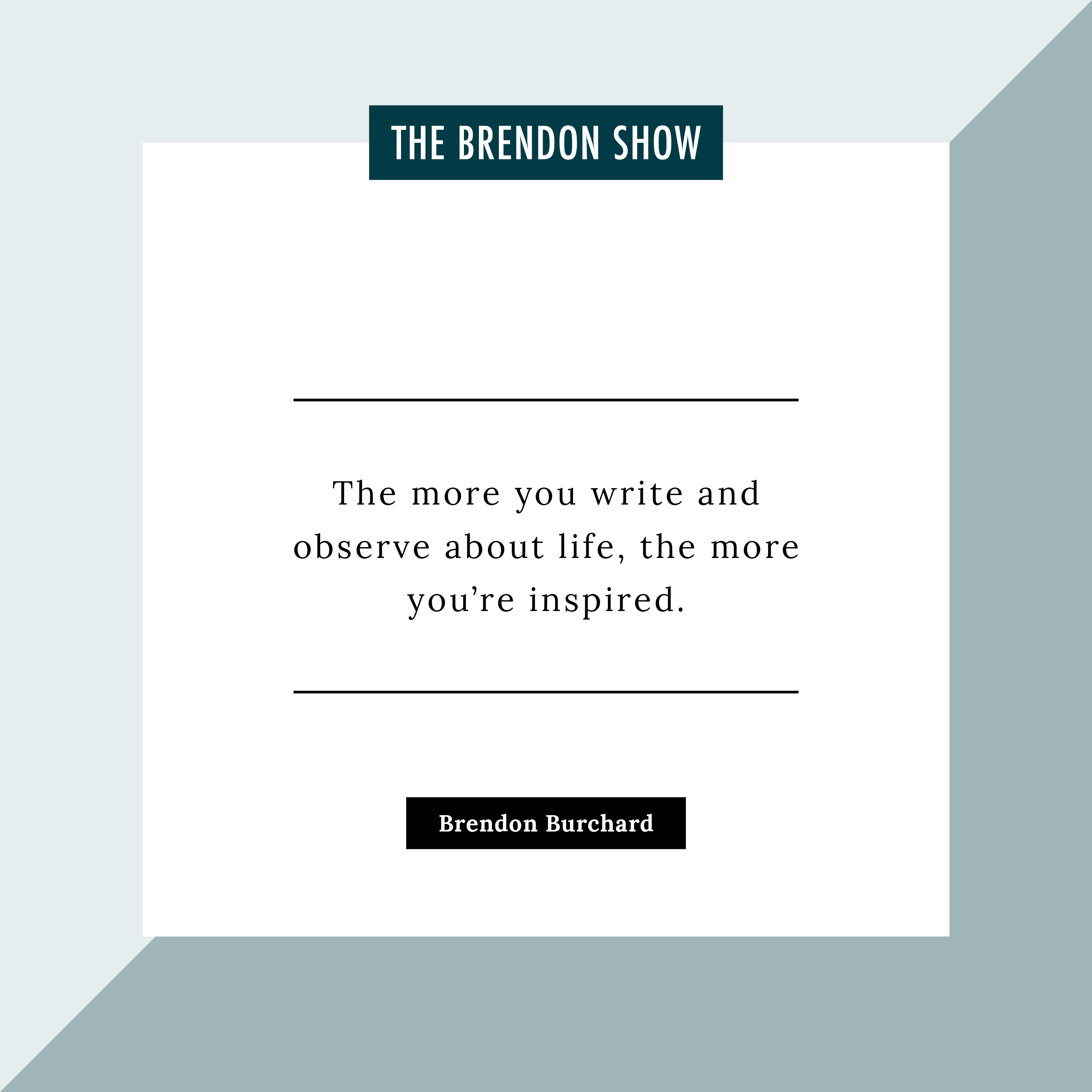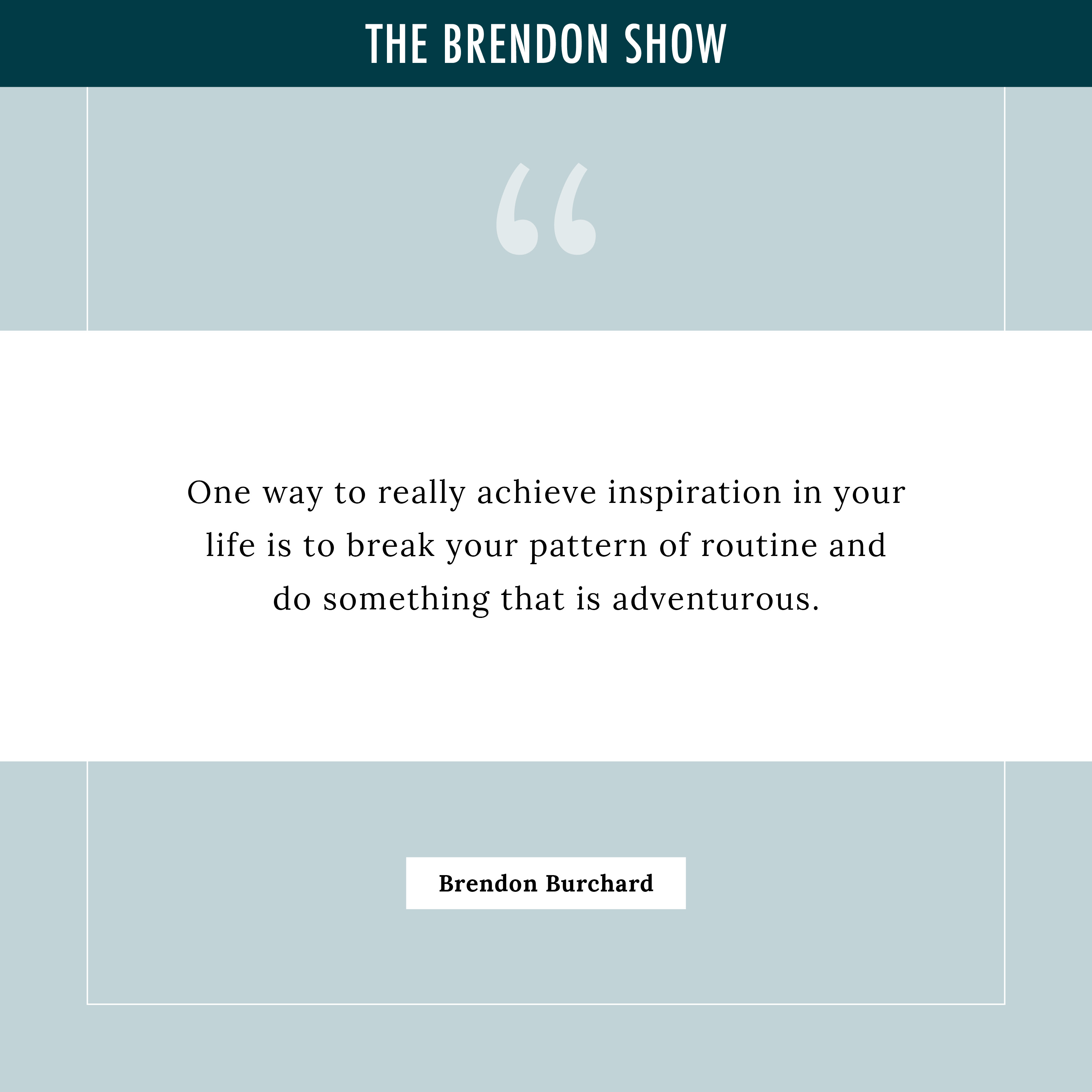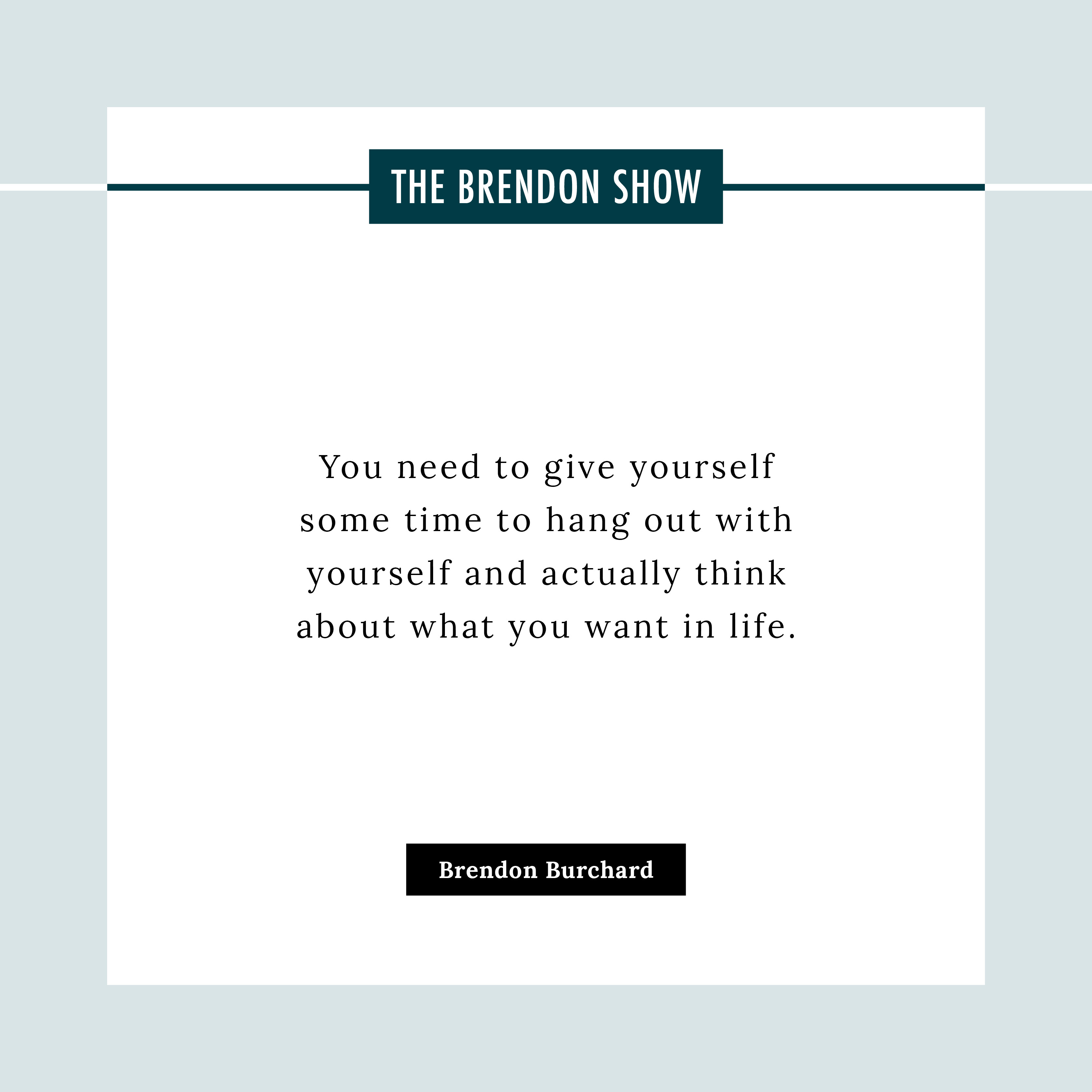 FULL TRANSCRIPT
[The following is the full transcript of this episode of The Brendon Show. Please note that this episode, like all TBS episodes, features Brendon speaking extemporaneously–he is unscripted and unedited. Filmed in one take, The Brendon Show has become one of the most viewed unscripted, direct-to-camera self-help series in the history of YouTube. It has also been the #1 Podcast in all of iTunes and is regularly in the top podcasts in Self-Help and Health categories around the globe. Subscribe to the free motivational podcast on iTunes or Stitcher.)
I'm in Tuscany right now answering your questions, and there is a really good one in particular, and perfect for our setting. You guys asked, "How do you find inspiration?" Well, obviously Tuscany is helping right now! Denise and I are on our summer vacation and this place is just stunningly gorgeous. But it's a really good topic to discuss because you guys see it all the time in the content I produce. It's covered in my podcasts, six different books, and 20-plus online courses. How do you do all that? Well, you have to learn to set up your life for inspiration.
Inspiration is not something that will hopefully happen to you one day where you come up with the greatest idea of your life. You have to consistently put things into your life to generate that level of creativity and inspiration that happens on an ongoing basis and that gives you ongoing breakthroughs.
On this trip, let me share four things that I think about to get inspired.
1. Let Adventure Inspire You
Number one thing that I think of with inspiration is adventure. What we often think about is, "Oh, I'll just be inspired by picking up social media and scrolling through things will help me become more inspired." I'm like, "No! That will only help you become distracted, or set you up to mimic other people."
Instead, I think one way to really achieve inspiration in your life is to break your pattern of routine and do something that is adventurous.
Denise and I this morning went on a hot air balloon ride, which was spectacular. Yesterday we did something more simple, we took a long bike ride here in Tuscany. We're always trying to figure out what's something that we can do to physically activate our brains, our bodies, our breath, and our movement. From that, we open up our brain to new ideas and thoughts.
So begin with some type of adventure. Have you scheduled any adventurous things in your life over the next six, seven months? If you haven't, then you can't be surprised that you're not having better breakthroughs.
2. Let History Inspire You
Number two is to draw inspiration, revisit and learn about history. These places that we're seeing in Tuscany are 700-1,000 years old, which is pretty epic, right? And, if you think about that, a big piece of learning about life is visiting history.
When we were in Florence, we checked out all these amazing locations where Michelangelo, Leonardo DaVinci, and some of the great artists learned so much. I just felt like we were constantly learning from seeing all this artistry from history. Art history especially is really inspiring to me. I got all these new ideas of things that I want to create or do based off of that.
I've also just finished another "Book of the Week" and I studied four U.S. presidents and how they handled conflict and challenge in times of crisis. Learning from history has always been something that inspired me to want to be not only a better artist, but also a better creator and leader.
3. Let People Inspire You
Number three is that people should inspire you. I'm thinking about that because yesterday we did this cooking class with an amazing chef who was so passionate and enthusiastic about Italian cooking. I'm somebody who doesn't know much about cooking. It was my first Italian cooking class, but it was amazing. I knew nothing about that style of cooking. It was so inspiring that afterwards I said to my wife, "You know what? I loved that." I loved learning from this guy and hearing about his life. He was funny and a great chef, and even though I'm not a cook, I was inspired to cook.
And I think that it is critical to be around new people who have different skill sets than you that will help you access different areas of inspiration for yourself.
And I don't mean just in terms terms of cooking. The way the Italian chef was teaching made me think about how I teach. The way he prepared things made me think about excellence in preparing things in my own life. And I just think it's so huge for you to get around people who are great and passionate at what they do as much as you possibly can, because you're going to find inspiration there.
I know that sounds so basic, but think about how often you hang out with the same four or five people. You see your family members, you hang out with a couple of friends, and the unfortunate reality is that so many people live in a tiny little bubble. And because they live in that tiny bubble, their thoughts are a tiny little thought bubble, and they're never really breaking the boundaries of their own thinking. They're never accessing higher levels of reasoning because they have no perspective. So hang out with more new people who have great skill sets where you can be inspired by both their mastery, their enthusiasm, and their own field of interest.
4. Let Your Ideas Inspire You
Last big idea for inspiration is journaling. It doesn't sound as sexy as adventure, history, art, or hanging out with amazing people.
But the truth is, you need to give yourself some time to hang out with yourself and actually think about what you want in life.
You often go on vacation where you see amazing places and you're like, "Oh, I'm inspired." Or you sit by the pool, you sit out somewhere just having a picnic, or maybe you're at the coffee shop with your journal and you just write about life.
I've got my hat that says "Live. Love. Matter." And I think of how those simple lessons from my car accident that happened 23 years ago inspired this whole life that I have. After my accident, I sat down and I journaled what I wanted to learn from that experience. I wanted to learn to live, I wanted to learn to love more, I wanted to learn how to make a difference. That all really came from journaling and just writing about what you want life to be about.
What do you want your life to be about? The more consistently you journal and write down what do you want life to be about, I promise you will start feeling more inspired.
But you have to do the work. Planning an adventure? You have to do that work. Learning about art and history? You have to do the work. You need to begin to surround yourself with people who are inspiring and enthusiastic. You have to travel to those events, do those things, and finally, journal every single day about what you really want out of life.
What your thoughts, feelings, needs, desires, and observations are about life. The more you write and observe about life, the more you're inspired.
One thing you have to do when you're traveling is go on local adventures. Sometimes that means going on a hot air balloon ride. Sometimes that means going on a bike ride. Sometimes that means taking helicopter tours, you going wine tasting, eating at the best restaurants, or just going to a local park and having a picnic. It doesn't have to be fancy.
The whole point of traveling is to get out and about and enjoy life a little bit. So for this cute girl and me, that's going to be our balloon ride.