SUMMARY
"I had no idea how all that was going to manifest, but I did not fear to dream or when the visions came."
If you are stuck on how to manifest your dreams into reality, this episode is for you! Learn what necessary and practical steps you will need to start taking to achieve the goals and life you have always wanted.
"We have to think, 'Okay, in order to have this vision that I have, what specific skills would I need to develop this year, next year, over the next five years, and over the next ten years to get there?'"
If you have felt stalled in your progress and behind with your goals, follow this training to get yourself on the right path to reach your biggest dreams.
To begin practicing these four tips today, complete the worksheet for this training here.
Already have the High Performance Planner and CRUSHING each and every day? Let's celebrate you! Take a photo with your planner and use #HPXlife or #TeamHPX.
HOT NEWS & DEALS!
My blog readers get a complimentary copy of my new book High Performance Habits, while supplies last! I bought 1000 for you – so no charge for the book itself – but I do ask you pay your shipping. While supplies last. Get yours here.

My blog readers also get an exclusive $10 trial to access ALL my personal development courses! Click here for the $10 trial. Students call it "the Netflix of Personal Development." You'll call it the curriculum that changed your life forever!

This is the 2-in-1 planner and journal achievers use to win the day and accelerate long-term success. Get yours here (while supplies last)!
DID YOU KNOW?
I give weekly prizes, gratitude and shout-outs to our students, so post a screenshot or video on Instagram and use #TheBrendonShow! I can't wait to hear your thoughts about this episode!
RELATED POSTS

How to Find Inspiration
Create Your Battle Board! (My Secret to Productivity)
How to Reignite Your Life
How to Have Patience Pursuing Your Dream
Four Secrets to Success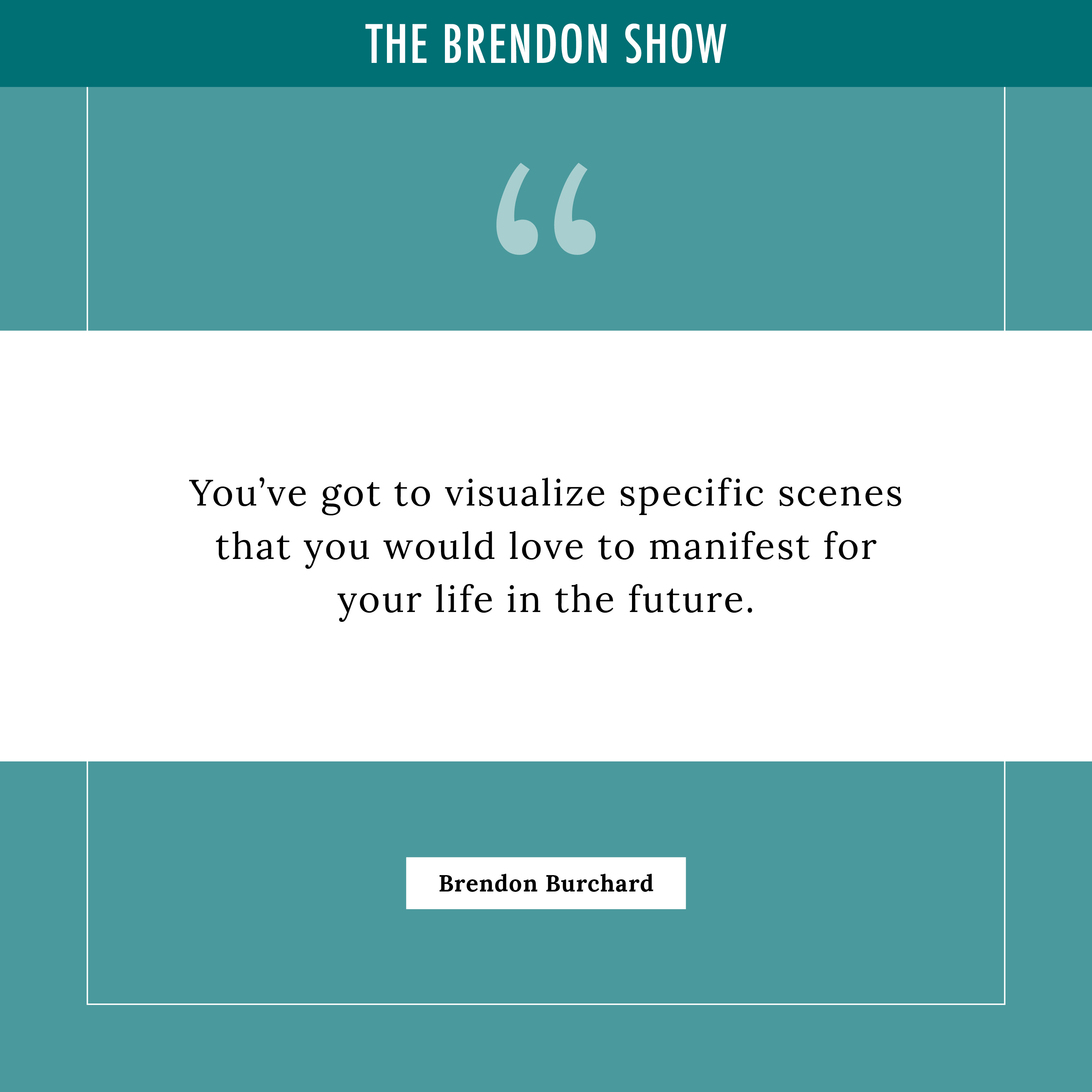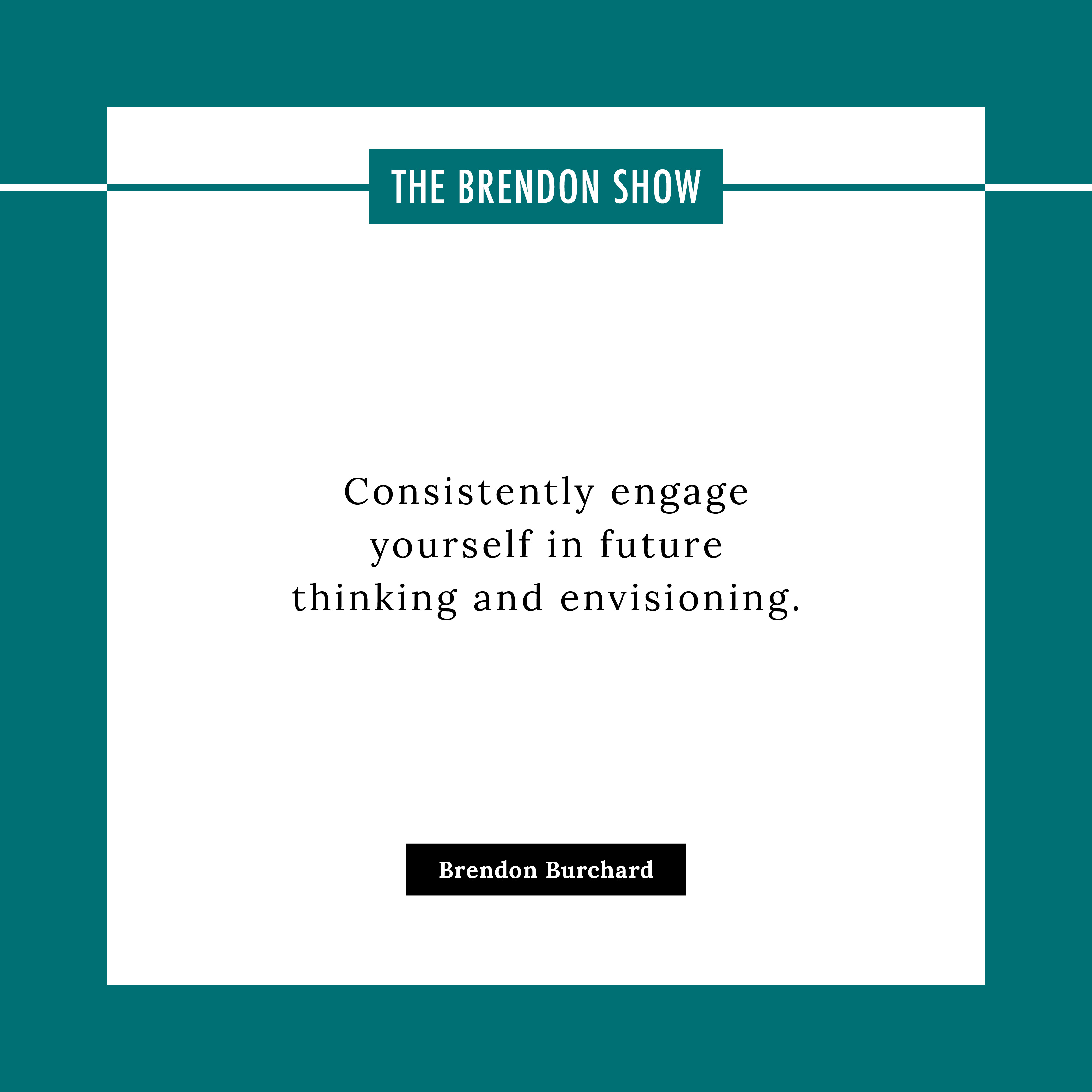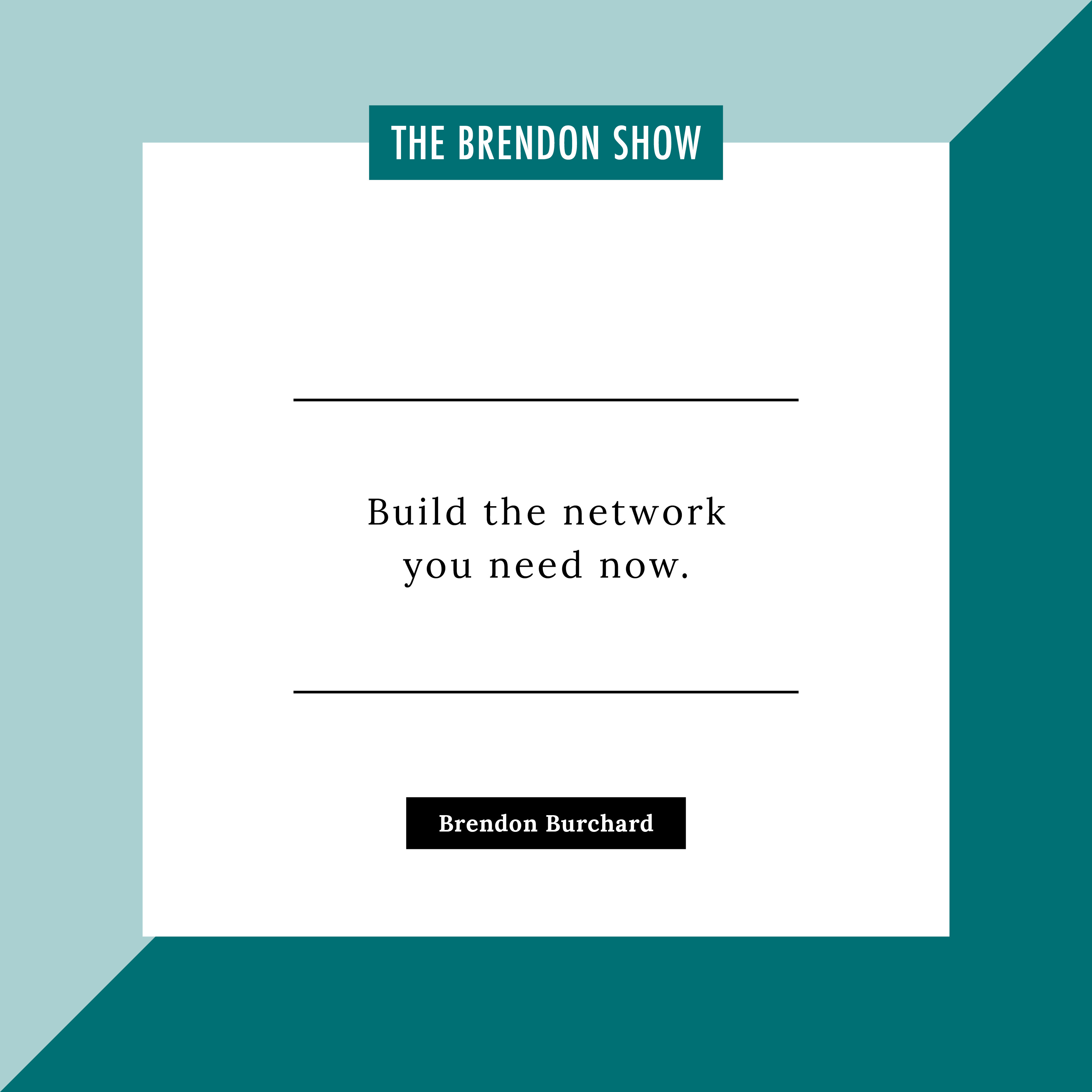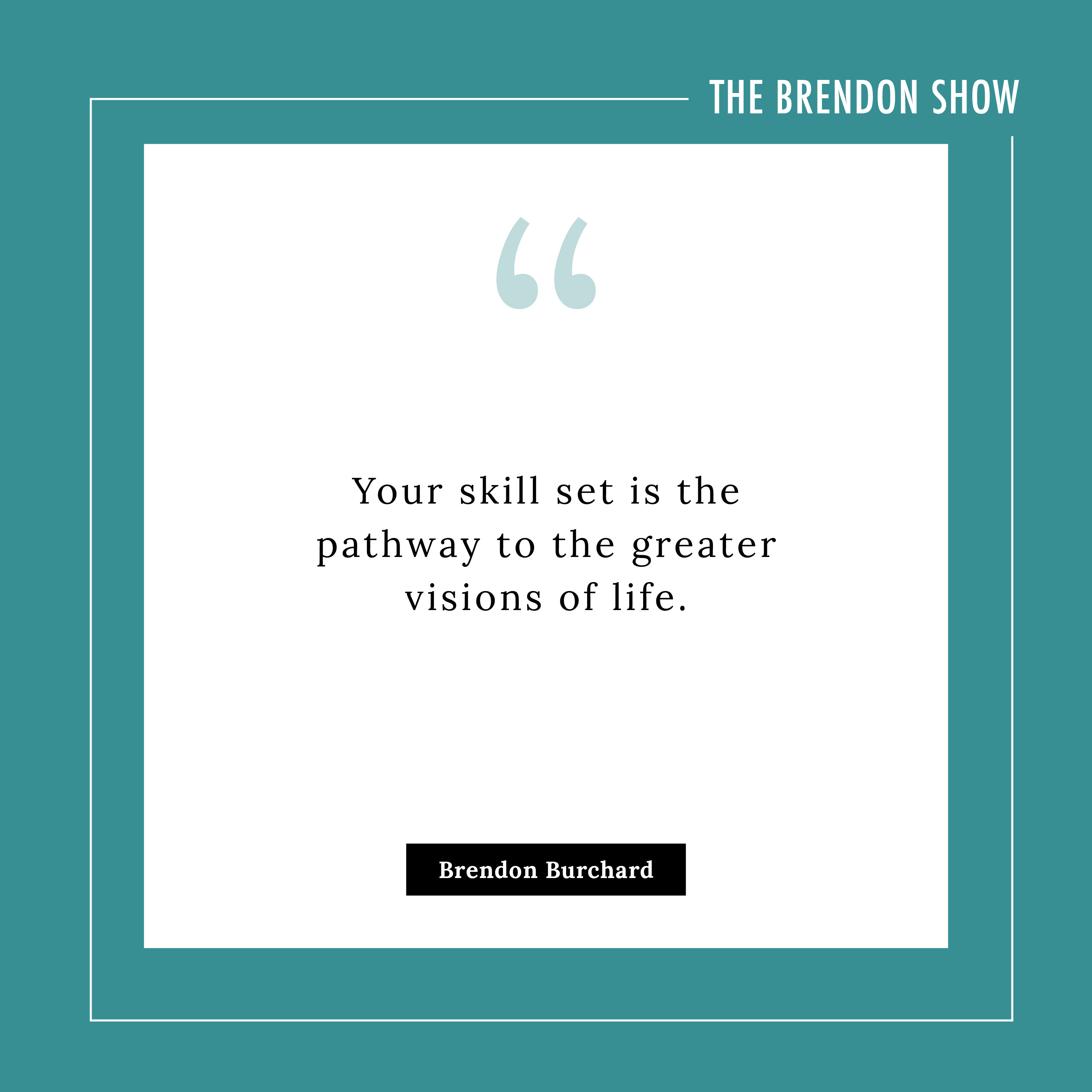 FULL TRANSCRIPT
[The following is the full transcript of this episode of The Brendon Show. Please note that this episode, like all TBS episodes, features Brendon speaking extemporaneously–he is unscripted and unedited. Filmed in one take, The Brendon Show has become one of the most viewed unscripted, direct-to-camera self-help series in the history of YouTube. It has also been the #1 Podcast in all of iTunes and is regularly in the top podcasts in Self-Help and Health categories around the globe. Subscribe to the free motivational podcast on iTunes or Stitcher.)
Hey guys, it's Brendon. And in this video I want to talk about, "How do you visualize and manifest bigger dreams for yourself?" I love this video already because I'm wearing a shirt representing where I'm from, Montana, but I'm in my new home in Puerto Rico living on my dream beach. And I get asked so many questions about how to do all these things; how do you achieve a long-term dream? Not just get stuff done and be more productive on a Monday and Tuesday, but move yourself to bigger and bigger goals and dreams in your life. I'd love to share that with you. I have four big ideas for you.
1. Visualize Yourself in the Future
The first one is obviously you've got to see yourself in scenes in your life that don't currently exist. What I mean by that is, you've got to visualize specific scenes that you would love to manifest for your life in the future. Many of you guys know I'm from Montana, right? I'm from this tiny Irish mining town that was economically depressed for a century by the time I got there. I literally don't know how my parents made it raising us four kids. I don't know how they supported us; we really, really struggled. But somehow, I always could visualize things for myself. I remember thinking one time when I got to college, "I would love one day to live on a beach. I would love to get up in the morning, go for a walk on the beach, swim a little bit in the ocean, have a nice breakfast, sit down with my journal, and then go about the day." I could see myself talking with people, new cultures and traveling. I could see myself being somebody who is a person of influence in some way or another.
And I had no idea how all that was going to manifest, but I did not fear to dream or when the visions came.
I didn't stop them and say, "Well, that's stupid because I'm just a kid from a poor town." I did not know that one day I could live on my dream beach. That was not the point. It was that I saw the scenes and I allowed myself to dream about them.
You have a lot of visions and dreams where you just go, "Well, that's stupid," or "I don't like that," or "What would they think," or "Who am I to do that?"
I'm here to tell you, explore those visions. Maybe you're given those visions, and those visions were a gift to you that you're supposed to manifest.
What I'd love for you to do is think out ten years, 20 years, 30 years, and just try to imagine scenes in your life. Because what most people do is they don't see scenes in their life. They just write down to-do lists and goals. And so every day it's about a to-do list and they're just trying to be more effective and productive each week, but they're not seeing the bigger picture. So even though they're getting their to-do lists done and they've got a lot of goals, they're not excited, they're not enthusiastic, they don't have that vision pulling them forward.
So, see the scenes that you might have in the future with your family. See the scenes that you would have in your personal lifestyle. Like, how do you live, what do you do, where do you go? See the scenes of yourself performing, doing your work, or your career. See the scenes of yourself happy, fit, and healthy. And explore those every day. Visualization isn't something you do once in a while on a birthday or on New Year's. It's every day.
I wake up every morning and I stretch for about 15 or 20 minutes. If I don't do my morning workout, then I read some motivation or inspiration for 20 minutes, then I sit down with my High Performance Planner and I write down my day. Then I push away from having written down that and I just start seeing the scenes of the day and how can I do them with joy and excellence. I start visualizing a bigger picture and seeing just what comes in about my future. I'm consistently engaged in future thinking and envisioning. And it's not like everything has come true, but I'm sure you know the scene that we're in right here was envisioned 20 years ago. Think about that. Twenty years ago I was like, "I'm going to live on a beach one day" when I lived in Montana in the mountains as far away as possible. I'm telling you, more is possible than you know right now.
2. Prioritize Skill-Building Over Stability
The second big idea I want to share with you in order to achieve that vision is that you're going to have to prioritize skill-building over stability. Maybe you have this idea that you're going to have this dream career one day. Well, maybe you're going to have to be an intern first and barely be able to afford rent to build up the skills that would deserve and grow you into that career, right?
We have to think, "Okay, in order to have this vision that I have, what specific skills would I need to develop this year, next year, over the next five years, and over the next ten years to get there?"
I was kind of an awkward, happy-go-lucky kid who was scared of people because where I grew up, there was a lot of abuse. I had to get over that and I thought, "You know what? I'm going to be a great communicator one day." I started taking classes on communication, reading books on communication, reading the classics like How to Win Friends and Influence People, How to Be a Positive Thinker, or How to Be a Person of Influence and Lead Others. I just started studying communication.
When I wanted to do this work, I had no idea how to do video. I didn't know how to do podcasting, I hadn't learned HTML yet, I didn't know about a blog. I didn't know how to do an event at a venue—let alone the thousands of people that come to our events now. I had to put that on my skill-building sheet, and say, "Okay, there's going to be times that I'm going to prioritize skill-building over having a stable job, having a stable income, or having the security of knowing exactly how every week is going to go."
I was going to be a collector of skills. I was going to have that vision and go collect all the skills to get there, even if in the short-term it was hard.
So go make a list of all the skills you need to develop, and then ask yourself, "Are you willing to compromise your lifestyle to develop those skills?" Sometimes that means working for less pay, sometimes that means getting a mentor and working with a company that is just starting from the ground up to develop skills.
But your skill set is the pathway to the greater visions of life.
3. Build Your Network
The third thing I think you have to do, which most people don't talk about, is you have to build your network. I'm here because I've told a billion people, "One day, I'd love to live on a beach." I'd tell people in my network, and maybe they had a job that was related or unrelated, maybe they knew people who live on a beach, maybe they didn't, but everybody around me always knew the things I wanted to achieve. I want to write a book, I want to be a speaker, I want to start a podcast, I want to shoot videos on YouTube, I want to be a person who gets to share about life-transforming ideas and tools that inspired me. That's what I want to do with my life. I want to help people achieve their dreams faster and improve their lives. I would tell everybody that, even though I was broke, I was struggling, I was trying to get my morning routines, my habits, and my health together. I was trying to get my mind together.
It wasn't like I had everything figured out, but I let people know along the journey what I wanted. And I thought about the people. Who would I have to be friends with? What type of people would I have to know in my industry in order to help me achieve the abundance to make my dreams come true?
So what are the exact types of people you need to know? Who would you love to have on speed dial on your phone? You want to be a filmmaker? Great! Who are the great directors you would love to get to meet and have on speed dial on your phone? You want to have a job in this career or that industry, who are the industry leaders and titans who you would love to have on speed dial? And make it a game. To get to meet those people, add value to those people, befriend those people, serve those people, or work for those people so that now you're in that world. Because if you don't know the networks you need to achieve your dreams, your dreams are really going to be far away.
So build the network you need now.
4. Make Bold Moves Sooner Than Later
The last big idea is that you must make bold moves sooner rather than later.
When I was living here in Montana, I envisioned myself someday living in the Caribbean on a beautiful beach. Twenty years ago I envisioned that. If I could go back, why did I wait 20 years to move here? Because I thought all these conditions had to happen before I could have the thing. I'm here to tell you: Sometimes the real trick is to put yourself in play in the dream sooner rather than later.
You want to be a world-famous tennis player? Well, don't think that you need to go do 50 things first. What you need to do is get yourself on the tennis court every day.
You want to live on a beach? Move to a beach. Maybe you're living in a tent or a shack at first, but you're on the beach and you're putting yourself in the motion of the dream, right?
You want to be a filmmaker? Film every day. Think about the greats, like Steven Spielberg. He was shooting every day as a kid. It wasn't like he was waiting one day to have a producer come along and say, "Let's make a movie, kid." He just started, and that's what you have to do.
Whatever your dream is, please don't be like me and wait 20 years to access it.
What I should have done is just moved earlier, but I thought, "I'll make this, and then I'll build that, and the team will be here." And now that I'm here, I'll walk around and look at this beautiful place and think, "Why didn't I come here earlier?"
So I hope that serves you. You've got more capabilities and potential in you than most people ever tell you. Most people will tell you, "Oh, your dream is stupid."
I'm here to tell you—visualize it. I'm here to tell you skill up for it. Get that network and get yourself in play sooner rather than later because you can achieve extraordinary things.
As my wife always says, "You can choose to be ordinary today or you can choose to be extraordinary."
So I say visualize, my friends, and go make it happen.