SUMMARY
"I am now the person who gets to choose my attitude today. I am now the person who expects myself to follow a higher standard and to follow through."

Searching for greater accountability and happiness? In this episode, learn 5 key lessons on how to achieve more accountability and success in your life. 

"You own your dream, you own that impulse in your heart that says to get better. Once you are the CEO of your life, not just the follower, everything shifts for us."

In this episode, learn the steps you must take in order to take accountability for your life and move towards your dreams.

Watch the video to get the full training.
Already have the High Performance Planner and CRUSHING each and every day? Let's celebrate you! Take a photo with your planner and use #GrowthDay so we can find you on social media!
HOT NEWS & DEALS!
If you want to level up personally and professionally, High Performance System is the resource you need. The High Performance System will guide you through developing and implementing the 6 science-backed habits that will move the needle from ordinary to extraordinary. Develop the habits that lead to long-term success, positive relationships, and healthy well-being! Get the High Performance System!

Make self-improvement a way of life and get the GrowthDay app! GrowthDay features all your personal development tools, coaching and community in one place. Write your journal, track your habits, take wellness challenges, watch live influencers teaching new life strategies, and join a global community of positive and supportive high achievers excited to improve their lives! Get the app on Apple app store here. Get on Android here. Get desktop here.
DID YOU KNOW?
I give weekly prizes, gratitude and shout-outs to our students, so post a screenshot or video on Instagram and use #TheBrendonShow! I can't wait to hear your thoughts about this episode!
RELATED POSTS

Develop Your Self-Awareness
How to Prioritize Your Life
Don't Take Things So Personally
3 Life-Changing Habits
The 6 Steps To Lifelong Success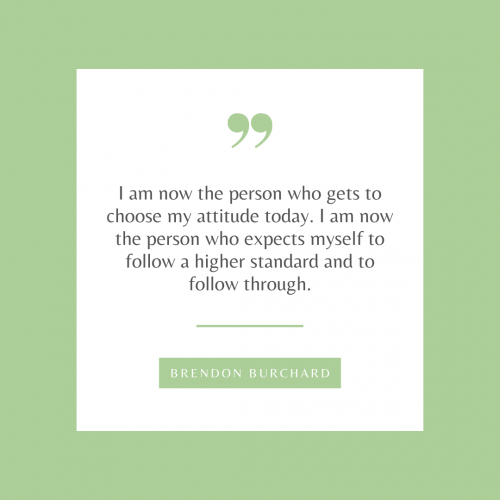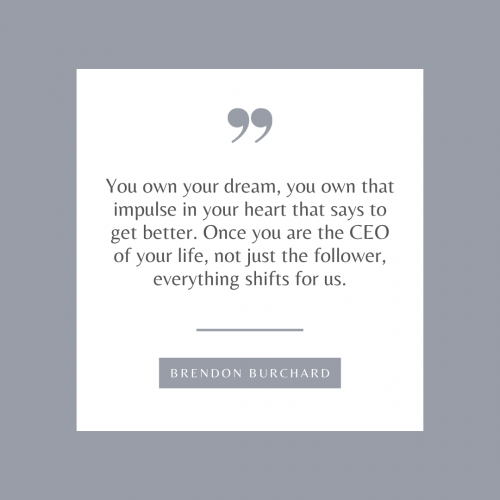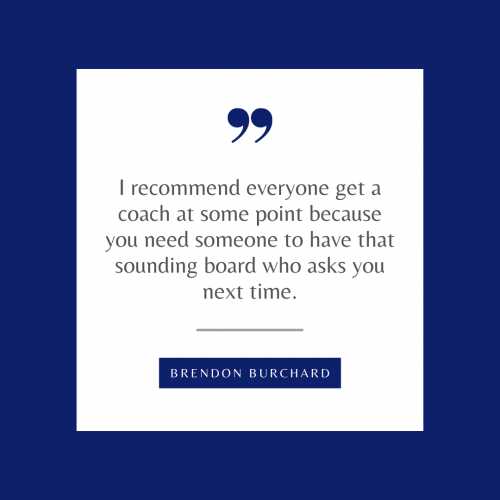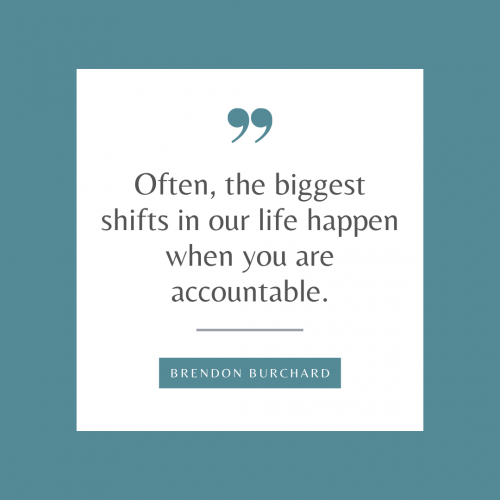 FULL TRANSCRIPT
[The following is the full transcript of this episode of The Brendon Show. Please note that this episode, like all TBS episodes, features Brendon speaking extemporaneously–he is unscripted and unedited. Filmed in one take, The Brendon Show has become one of the most viewed unscripted, direct-to-camera self-help series in the history of YouTube. It has also been the #1 Podcast in all of iTunes and is regularly in the top podcasts in Self-Help and Health categories around the globe. Subscribe to the free motivational podcast on iTunes or Stitcher.)
Accountability means, "You know what, my credit card bills, those are mine. I'm accountable for handling those instead of avoiding them. I am personally responsible to deal with these." Even if I didn't cause all these problems, I am now the person who if I'm going to clear the problems off my plate, I got to take some personal accountability for that.
I am now the person who gets to choose my attitude today. I am now the person who expects myself to follow a higher standard and to follow through. 
Accountability, personal responsibility, or personal accountability, says, "OK, I'm going to own this reality, I'm going to plan my way through it. I'm going to follow through. And I'm going to set up checks and balances to make sure I do that." Whether that means setting goals and tracking and measuring the goals and my own behavior towards those goals or getting a coach sharing socially in the community or talking with your friends and family and putting it out there. Now your butt is on the line and you've got to do it. I think that's what's important.
1. Tell People Your Dreams
So often we say, "You know. I have dreams. I'm not going to tell anybody." And often in personal development, you hear people say "No, tell people" because once you've verbalized it, you can realize it. Once you've verbalized it and it's socialized now, there's an expectation you follow through. Here's my question to you: Do you have enough expectations to follow through?
Often when I work with CEOs as their executive coach, what ends up happening is they have that kind of — maybe they have investors and their investors expect them to stay on the path. Maybe they need to hit their quarterly goals, but what winds up happening is sometimes they start feeling like their accountability is driven by others. Often high performers feel all these obligations, they are accountable, but they're accountable to obligations that other people have set. And if you want a real fast track to being demotivated, stop setting your own plan. Stop setting your own accountability.
2. Build A Plan On How To Resolve Problems
This is why, for me, as I told you, I go into my plan section of the GrowthDay app. I look at all those plans. I'm like, "Oof, I'm behind on this", but I don't get discouraged. I form a plan on how to handle it moving forward. Sometimes I look at it like, "I don't like my score here with my friends." I went three months without really talking to my friends. I don't get down on myself. I instead make a plan. I don't fall prey to that victim mentality. That part of myself that says, "But all these other things are happening and oh my God." OK, got it. I don't like that.
I'm the only one in charge of the ship.
You're the only one in charge of those scores. And once you realize that you're like, "OK, I'm accountable, what's my plan?"
3. Internally Own Your Personal Accountability
Because sometimes you've left your accountability to your boss, you left your accountability to your manager, you left your accountability to your spouse, you left your accountability to the kids, you left your accountability to somebody else and you didn't internally own it anymore.
If you have ever been to my seminars before, I'll talk about this for a while and I'll get the whole audience up. We'll play this music, we'll do lights, and all of a sudden we'll have everyone start shouting, "I own my dream. I own my dream. I own my dream" to help them realize again that they're the owner of their life.
You own your dream, you own that impulse in your heart that says to get better. Once you are the CEO of your life, not just the follower, everything shifts for us.
And that accountability that we're personally responsible for doesn't mean all the things that happened to us didn't happen to us by other people. It doesn't mean there aren't some bad guys out there. What it means is our next move, we've got a chart, we've got to be congruent with those actions, and we have to have some sense of accountability, either by having our goals and measuring it or social accountability.
4. Get A Coach
This is why I recommend everybody — obviously, I'm the guy who certifies coaches, which I'll talk about, but it's like,
I recommend everyone get a coach at some point because you need someone to have that sounding board who asks you next time.
Where you're at in your development or in your progress, or why are you stunted, or whether you're crushing it and helping you tease out those lessons so that you stay motivated and clear about the next steps?. And that's why I think it's so powerful.
5. Become A Coach
Often, the biggest shifts in our life happen when we are accountable.
Sometimes it happens when you work with the coach or, some of you, you become a coach.
I've never been more accountable for my life or had so many other people become accountable for their life when they became a coach. Because once you're a coach, you're accountable to help someone grow, and that instantly raises up your awareness. Just like many of you, when you get a teenager and you start talking to your teenager about health or mindset and you realize you're a little off, it makes you more accountable because as soon as you teach it, you're even more accountable to live up to it. Remember that congruence thing? It's a beautiful thing. The best I ever became in my life is once I became a coach because once I was a coach is like, level up your identity, Brendon. You've got to follow through on these things you had to make and grow on them.
You can't go out on the stage all the time like you're tired of coming out. I had to learn to take care of my health that I could literally manage a 38-foot stage with thousands of people in and for multiple days. It was like running a marathon every single day. I had to be accountable to that audience because I was teaching it. It was like, Oh, as soon as you put yourself in the role of a leader, a coach, a mentor, a role model, a caregiver — as soon as you're in that space, you gain positional accountability. You realize, "Oh, I better walk this talk because if I don't walk the stock, not only will they notice I will start to dislike myself."
I share that because one of the big gates that happened for me after my car accident — it wasn't just the car accident that made me want to live, love, and matter. It was after the car accident that I had to sit with the reality that I had built a life I didn't Intend to live. I had set in motion that relationship. That wasn't the right relationship. I chose the wrong person. Despite some red flags. I allowed abusive language to happen in a relationship. I allowed resentment to carry on. I had done some things, and I had experienced some things that I didn't like and I could accept them. They did.
But now I was accountable for building that next relationship that had to be better. I had to make that next relationship better. It was on me, I was the captain, the ship. The director of destiny. I was the director behind the movie set watching that character evolve. I was choosing. The next act. That's accountability. That's a great thing to have in life.