SUMMARY
"What has to happen for most people to change is awareness, acceptance, and accountability."

In this episode, learn how consistent steps towards improvement are the golden key to keeping your momentum continuous towards positive change and success in your life.

"And so I don't pretend that every day is a bright, shiny, happy place. I just pretend that every day is possible to improve, to improve my reaction, to improve my energy, to improve how I treat this person, to improve how I stay congruent."

Looking to gain clarity and momentum in your life? Then this episode is for you! Learn 5 key lessons on how to improve your life so you are everyday living it every to its fullest!

Watch the video to get the full training.
Already have the High Performance Planner and CRUSHING each and every day? Let's celebrate you! Take a photo with your planner and use #GrowthDay so we can find you on social media!
HOT NEWS & DEALS!
If you want to level up personally and professionally, High Performance System is the resource you need. The High Performance System will guide you through developing and implementing the 6 science-backed habits that will move the needle from ordinary to extraordinary. Develop the habits that lead to long-term success, positive relationships, and healthy well-being! Get the High Performance System!

Make self-improvement a way of life and get the GrowthDay app! GrowthDay features all your personal development tools, coaching and community in one place. Write your journal, track your habits, take wellness challenges, watch live influencers teaching new life strategies, and join a global community of positive and supportive high achievers excited to improve their lives! Get the app on Apple app store here. Get on Android here. Get desktop here.
DID YOU KNOW?
I give weekly prizes, gratitude and shout-outs to our students, so post a screenshot or video on Instagram and use #TheBrendonShow! I can't wait to hear your thoughts about this episode!
RELATED POSTS

How to Take Accountability For Your Life
Develop Your Self-Acceptance
Develop Your Self-Awareness
3 Life-Changing Habits
The 6 Steps To Lifelong Success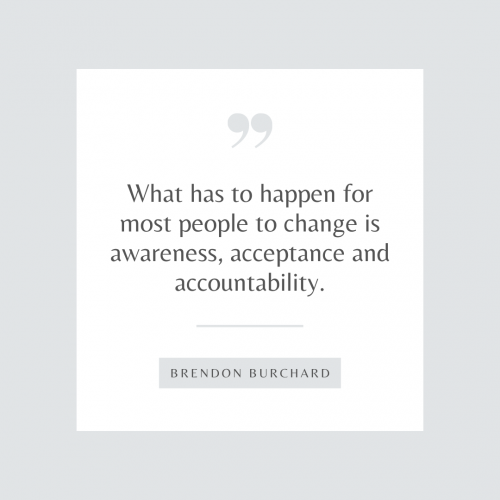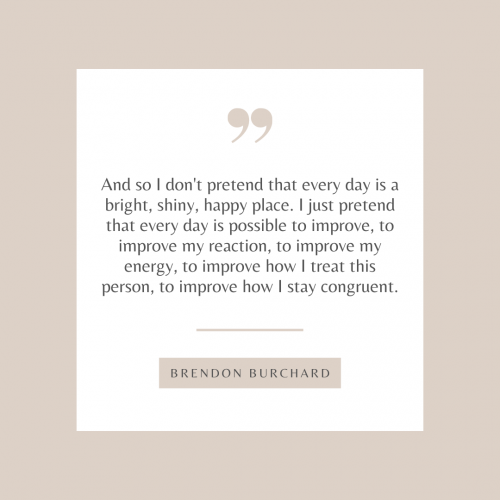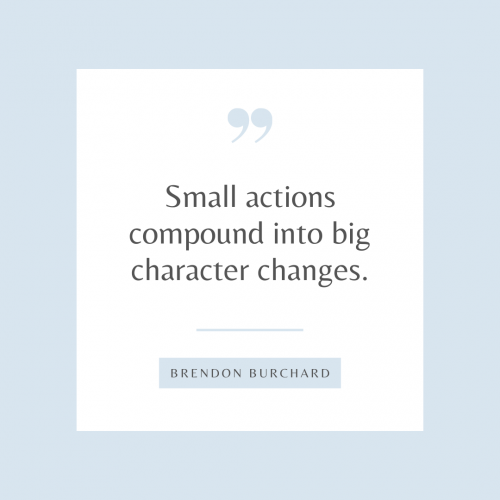 FULL TRANSCRIPT
[The following is the full transcript of this episode of The Brendon Show. Please note that this episode, like all TBS episodes, features Brendon speaking extemporaneously–he is unscripted and unedited. Filmed in one take, The Brendon Show has become one of the most viewed unscripted, direct-to-camera self-help series in the history of YouTube. It has also been the #1 Podcast in all of iTunes and is regularly in the top podcasts in Self-Help and Health categories around the globe. Subscribe to the free motivational podcast on iTunes or Stitcher.)
The big gate of action. I should recall it — the big gate of consistent action. Every day I challenge myself to improve. Every day. Now notice, no one likes that because you feel like, "Every day, Brendon?" Yes! Every day.
1. Be Intentional, Even On Bad Days
But what if you had a terrible day? OK, well, then improve how you experienced that day so I can have a terrible day, and at the end of the day, I can go, "OK, two years ago, here's how it dealt with that terrible day today. How can I improve how I deal with this terrible day?" It doesn't mean you don't have terrible days anymore, does it? It doesn't mean you're not tired. It doesn't mean you don't get stressed. That doesn't mean you don't get frustrated. What it means is you have the intention. You ask yourself, "Oh. How can I improve how I'm dealing with this?"
Have you ever been in a relationship where you and your partner, your spouse have the same fight over and over and over and over and over and over again? It's literally the same fight over and over and over and over again. No, it's literally the same fight over and over. Have you ever had that? That's what's lacking — is somebody there is lacking the accountability and the consistent action to say, "How can I improve this? How can I do it?" What's happened is it's turned into a blame game, right? This person is responsible, not me. No accountability, no action. I don't have to improve it. You improve it. You broke it. You cheated. You're the bad one. You're the one bringing this up. And all of a sudden you, you, you blame, blame, blame. No accountability and no change, no action.
2. Take Accountability For Your Own Improvement
If both couples get into that, that's where couples therapy has to happen because they're both in the blame game. They both took the accountability off. They believe the lie that, you know, relationships have to be 50/50 equal. You're 100% for yourself. I'm 100% responsible myself, and it takes 100% to keep improving this thing and making a better year over year. I think that's what people forget. It's not like huge dramatic shifts always need to happen.
What has to happen for most people to change is awareness, acceptance, and accountability.
And then just small, consistent actions to improve, right? It can be so tactical and tangible.
3. Try To Get Better Every Day
I think of my career as a coach, I just try to get better every session. It doesn't mean I'm always actually better every session. It's my intention that I'm going to get better. Every session with this client will get better. Sometimes it feels like it was just two steps back. Luckily, it's three steps at some point.
And so I don't pretend that every day is a bright, shiny, happy place. I just pretend that every day is possible to improve, to improve my reaction, to improve my energy, to improve how I treat this person, to improve how I stay congruent.
It is that constant desire, that constant intention to have purposeful living. No one just has "purposeful intention" or "purpose for living". You can accept yourself and still want to improve today. The Dalai Lama can be fully accepting of himself, but he can also want to improve his meditative practice. We all have the impulse to grow, improve, develop mastery.
4. Make A List Of Small Changes To Improve Your Life
So here's my question: if you could take just small actions every day to improve this month, could you make a list right now with those small actions? Could you make a list of where those things would be? Yes, some small actions. If it was health-related, maybe like, "OK, I'm going to meditate every day at 2:00", great just to get your mental health back in check. Or it was like, "Oh, you know what? It's my finances. I'm going to start saving a dollar a day", or you're like, "Oh, I'm going to, you know, if it's in my relationships, I must start complimenting my wife more."
All those things consistently applied, shift everything.
The small actions compound into big character changes, right?
My clients, when I think about them, they're a result of a lot of conversations that awareness and open acceptance happened. Accountability was taking place. And then we just moved forward a little bit, moving a little forward. Small actions and it were a period of weeks and days and months as we developed them. All of a sudden they were like feeling better and reporting these astounding results.
In our Certified High Performance Coaching Program, we have a score which is basically a client-driven score of how they rate each session and they can score on a zero to ten basis. The industry average is somewhere around a 6.7, maybe to 7.8, depending on the certification or the school. Ours is a 9.7 out of ten. Why? Because we focus on habits.
5. Build High Performance Habits
We focus on high performance habits, and they're action-oriented. Right? If you ever read High Performance Habits, the research behind that is pretty clear. They're action-oriented. High performers seek clarity, they generate energy, they raise necessity, they develop influence. They demonstrate courage. Each of those first words, do you ever hear that they were verbs? Their action words seek, generate, raise, develop, demonstrate. Got it. It's like, as we do those things, "Oh, OK."
What happens, it feels like all of a sudden life transforms over twelve weeks as we coach in certified mode coaching. We coach people for twelve weeks, twelve-week sessions, and sometimes it's twelve weeks and we keep going, sometimes twelve weeks, and we're done just spent on the client. And what happens is it's like dramatic transformations because we're putting them back in that action gate, right? A lot of people, you know, the difference sometimes between their counseling or their therapy or their conversations with their family, their friends. It's very ruminative. It's lots of conversation, lots of things. We're high performance coaches. We're going to shift people back into that action mindset without asking. Crazy transformation. But across a series of habits for us, as we help them shift into action in their psychology or their physiology or their productivity or their people skills, what ends up happening is it feels like everything goes up. Everything shifts.