SUMMARY
"You'll get way more results when you find a program, a road map, a way, a style, a method, and you follow that than you ever will randomly making it up. "
In order to level up in life, often we need to learn new skills — but often when learning something new, we don't have a system set up to get the most out of learning. In this episode, find your learning model so that you can stop learning randomly and start learning with intention.

 "If we're going to have goals and deadlines in our learning, we must never, ever, ever start from scratch or proceed randomly."

Feel like it's time to level up your learning? Well, first you must focus on building a plan and developing consistency around your learning habits. Check out this episode where Brendon shares his philosophy on how to become a more effective learner.

Watch the video to get the full training.
Already have the High Performance Planner and CRUSHING each and every day? Let's celebrate you! Take a photo with your planner and use #GrowthDay so we can find you on social media!
HOT NEWS & DEALS!
Stop letting limiting beliefs and lack of confidence hold you back! Learn the SKILLS of confidence from 9 of the world's best personal development experts in the most comprehensive Confidence training ever created! $400 worth of training – just $7.99 today! Get the Confidence Masterclass!

Make self-improvement a way of life and get the GrowthDay app! GrowthDay features all your personal development tools, coaching and community in one place. Write your journal, track your habits, take wellness challenges, watch live influencers teaching new life strategies, and join a global community of positive and supportive high achievers excited to improve their lives! Get the app on Apple app store here. Get on Android here. Get desktop here.
DID YOU KNOW?
I give weekly prizes, gratitude and shout-outs to our students, so post a screenshot or video on Instagram and use #TheBrendonShow! I can't wait to hear your thoughts about this episode!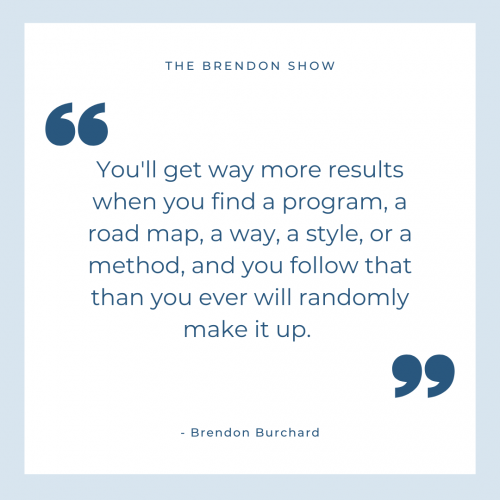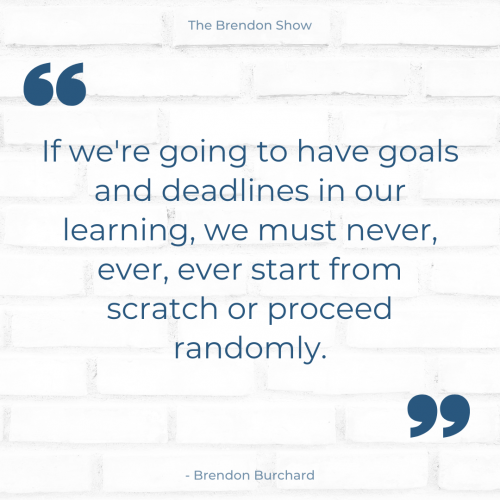 FULL TRANSCRIPT
[The following is the full transcript of this episode of Motivation With Brendon Burchard. Please note that this episode, like all episodes, features Brendon speaking extemporaneously–he is unscripted and unedited. Filmed in one take, Motivation With Brendon Burchard has become one of the most viewed unscripted, direct-to-camera self-help series in the history of YouTube. It has also been the #1 Podcast in all of iTunes and is regularly in the top podcasts in the Self-Help and Health categories around the globe. Subscribe to the free motivational podcast on iTunes or Stitcher.)
1. Build A Plan Or Roadmap
This is such an important topic.
If we're going to have goals and deadlines in our learning, we must never, ever, ever start from scratch or proceed randomly.
Never start from scratch and proceed randomly. Not at the advanced level. You're going to spend so much dumb time wandering through the woods, not knowing what you're supposed to do. So this is where this idea comes into play. You've got to model, block the learning, and practice. Model, block learn, and practice.  Model. Block learn. Practice. Well, what does this mean?  The model is pretty obvious. It means getting a plan and getting a road map. Find somebody who's already done it. Understand their strategies. Right. You're trying to lose weight. Don't just go to the gym, find a fitness program and follow that thing.
You'll get way more results when you find a program, a road map, a way, a style, or a method, and you follow that then you ever will randomly make it up.
There's nothing you want to do in your life that someone has not already figured out and already laid the path for already through the road map.  Buy the course. Go to the seminar. Watch their video. Listen to their podcast. There's already a model. Never try to advance something without a model. Right? Never try to advance something without a model.
2. Create Weekly Blocks For Learning
Next up, block learn. This means there are blocks of time in every single week of your life for that thing that you are trying to advance learning. So it's like, Oh, my gosh, I got to learn French pretty quick. Well, you're not going to learn on a weekend. We need to make sure it's part of our life. Block Learning. When are you going to learn, apply or practice that thing? Like schedule it out and schedule your learning out like you schedule out your work. There are so many people, I look at their calendars, and their calendars have all these meetings. And I look at all their meetings like, oh, meetings are fairly reactive or perspective, right? You're either reaching out prospecting or you're reacting in interviews or doing status meetings, brainstorming meetings. I'm like, but where are you learning the things that are going to advance the company? Where are you learning the things you're going to advance your health, your relationships, and your marriage? If you're married, If I came into your life and I looked at your calendar and you want a better marriage, and there's nothing next week about where you block time to learn how to have a better marriage. I'm like, How do you think that's going to improve? Your random date night? No.
Like I remember relationships when I was struggling because I never learned how to have a good relationship. So in my twenties, I would block time to literally read and listen to related programs. I would block time at some point to get therapy or get coaching. Like I had, like, three or four or five years. Let me say that again. Three, four, or five years of studying relationships every week. And if I hadn't done that, there's no way I believe I could have, you know, been blessed to attract or meet or connect with Denise. That came that learning and it made me good at relationships with people. I wasn't naturally good that way. I had to demand it of myself. I had to block the time. Okay. 
3. Practice!
And then practice. Whatever skill set you have you're trying to develop, the same thing, is it in the calendar? Is it on the calendar? Where is the practice? Just like when you're trying to teach your kids to learn the violin they got to set a practice time. Okay, Mom. Okay, Dad, where is your practice time? Where is it? Where's your practice time? You want to become wealthier. Okay? Where's your practice time to work on your finances? Where's your practice time to renegotiate that credit card bill? Where's your practice time to hit the gym? Where's your practice time to learn your new skill? Where's your practice time to do the homework? We have to have that in our own life. And when you don't have that, I know when I say this, you can get down on yourself, like "Oh, gosh, why haven't I been doing this?" This is not an opportunity to beat yourself up for the past. This is an opportunity to learn and go, "Wow, let me set up this infrastructure in my life" because learning when it's set up as an infrastructure, that's how Olympians go from, you know, good to one day a champion at their local level to one day world level to one-day Olympic level. How? They set up the infrastructure around them to keep learning, to keep leveling up.