SUMMARY
"Do not limit your vision for 2021 based on your current circumstances."

Are you ready for a powerful 2021? In this episode, learn how to make this a year of expansion, success, and significant personal growth!

"We must dream beyond our current circumstances and we must awake every day and cast a spear of purpose as far as we can."

2020 was a tough year for so many. As we head into 2021, know it's possible to expand your vision again, experience greater self-growth, and embrace change as a way to help you build the year you want!

Watch the video to get the full training.
Already have the High Performance Planner and CRUSHING each and every day? Let's celebrate you! Take a photo with your planner and use #HPXlife or #TeamHPX.
HOT NEWS & DEALS!
Sign up for my 7-day crash course and you'll learn the strategies, tools, and revenue drivers needed to start (or scale) your dream business! Click here to sign up!

If you want to level up personally and professionally, High Performance System is the resource you need. The High Performance System will guide you through developing and implementing the 6 science-backed habits that will move the needle from ordinary to extraordinary. Develop the habits that lead to long-term success, positive relationships, and healthy well-being! Get the High Performance System!
DID YOU KNOW?
I give weekly prizes, gratitude and shout-outs to our students, so post a screenshot or video on Instagram and use #TheBrendonShow! I can't wait to hear your thoughts about this episode!
RELATED POSTS

How to Achieve a Growth Mindset
How to Track Your Personal Growth
How to Become a Better Communicator
Tactics for Beating Back Your Fears
How to Generate More Energy in Your Life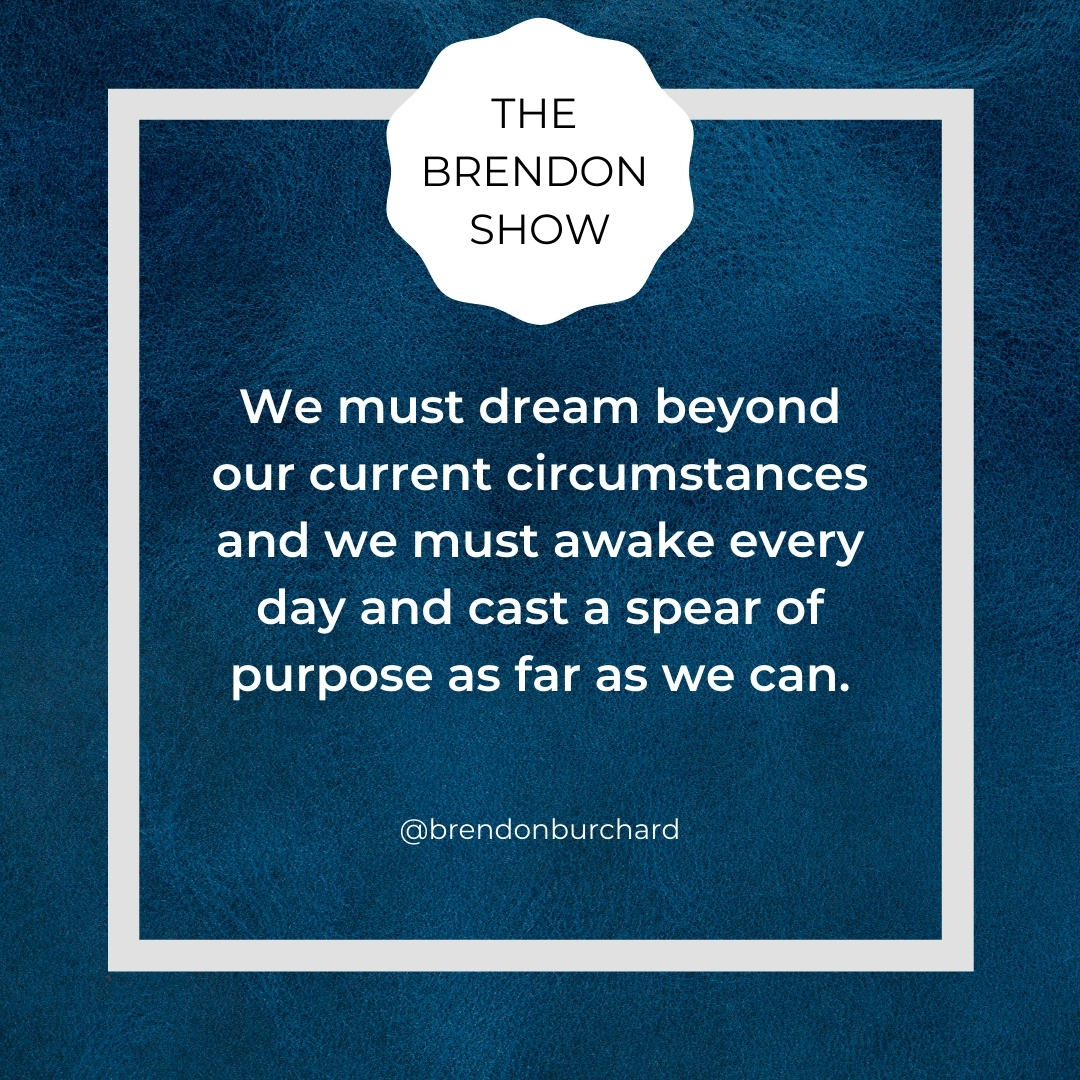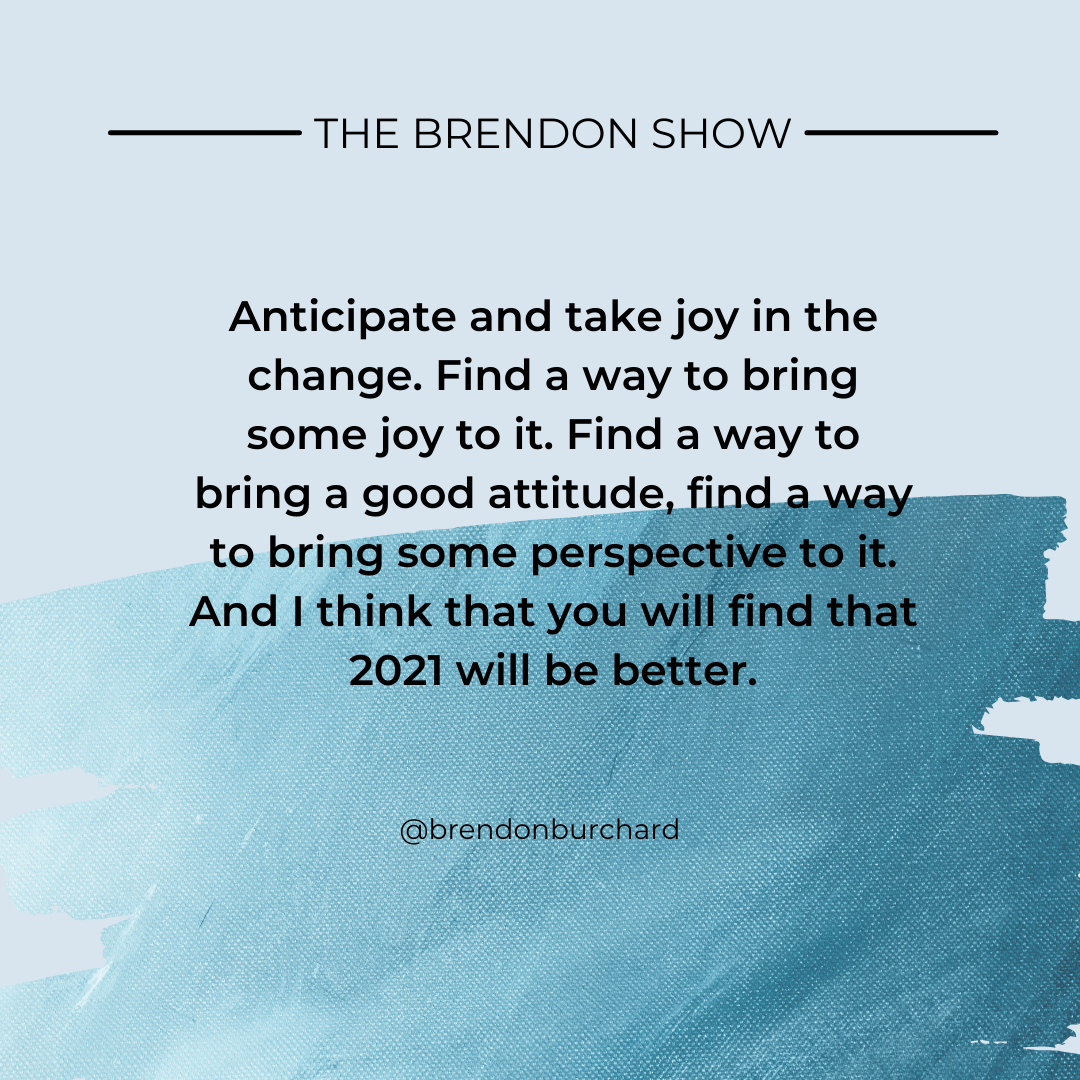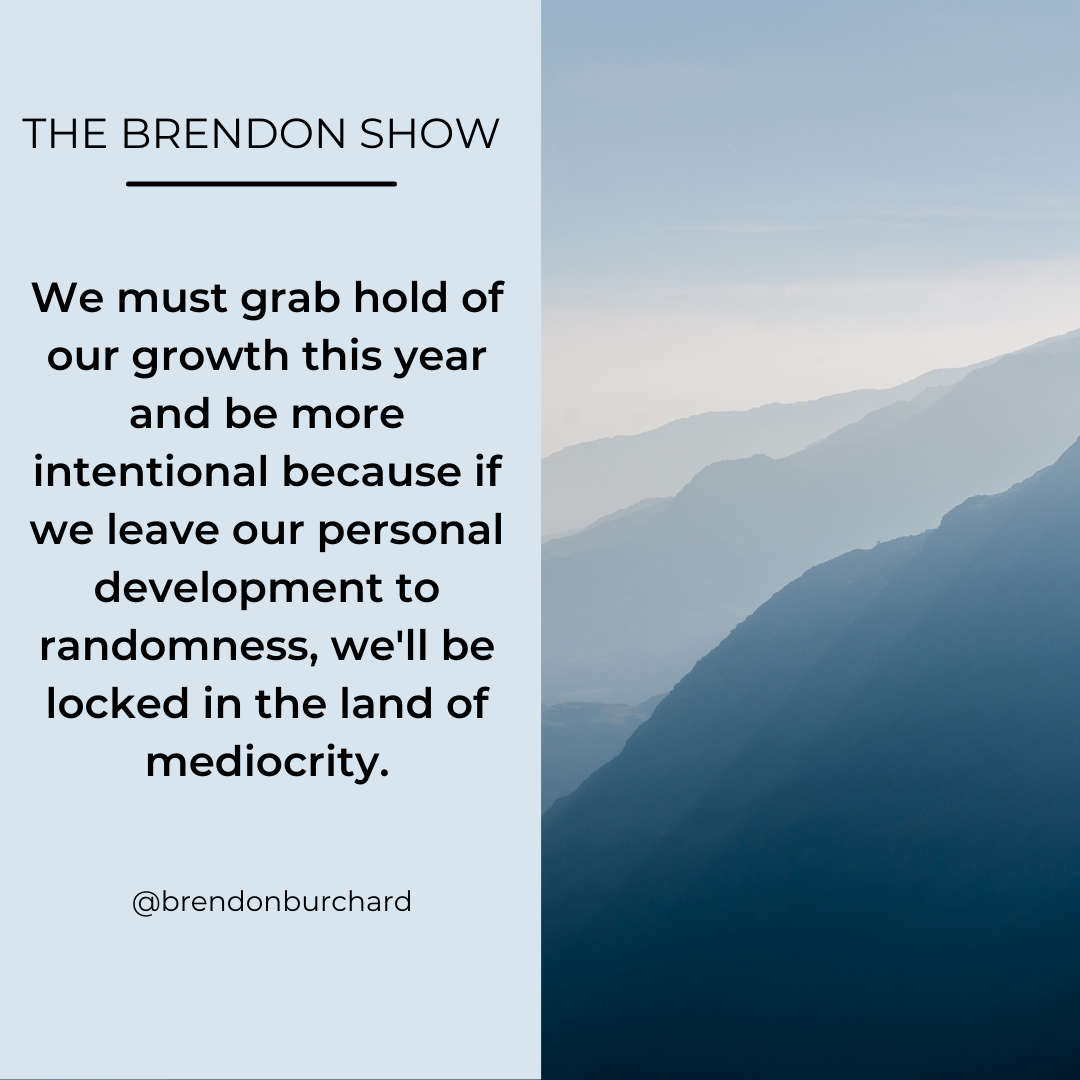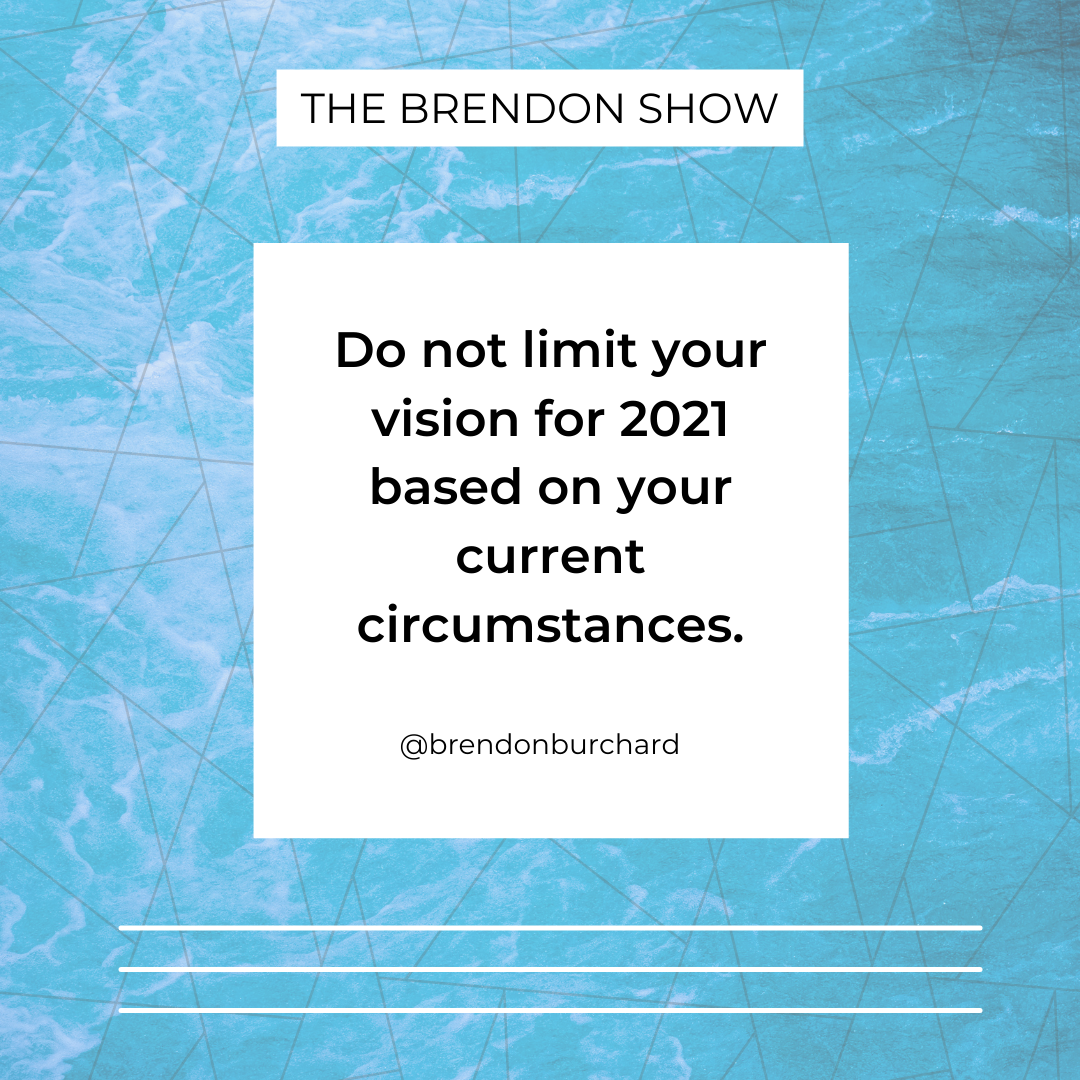 FULL TRANSCRIPT
[The following is the full transcript of this episode of The Brendon Show. Please note that this episode, like all TBS episodes, features Brendon speaking extemporaneously–he is unscripted and unedited. Filmed in one take, The Brendon Show has become one of the most viewed unscripted, direct-to-camera self-help series in the history of YouTube. It has also been the #1 Podcast in all of iTunes and is regularly in the top podcasts in Self-Help and Health categories around the globe. Subscribe to the free motivational podcast on iTunes or Stitcher.)
Hey, my friends, it's Brendon Burchard. I'd like to wish you, your family, your team, your loved ones, a happy new year and a happy 2021.
You know, I've gotten so many questions of people asking me what my predictions are for 2021 or what we should anticipate or how do we strengthen ourselves or find confidence or a renewed spirit for the new year after what was such a difficult 2020. Such a turbulent year full of change and vitriol and just being so uncertain and fearful of so many times because of the economy or social changes. It was a very challenging year I know for all.
So how do we look forward to 2021?
How can we reframe it or think of it differently? Because yes, the calendar changes dates, but here we are, right? We still show up as who we are and we still have the same opportunities every day to choose our attitudes, to choose what we want to go after, to choose how we want to treat other people, to choose how diligently we want to work towards the things that mean something to us.
I'd love to share my predictions or what I think the secret to success will be in 2021 even though I'm not a fortune teller any more than you are. I hope that I can give some perspective here. Coming from a place of both science and personal development.
So first, the science of it all. You know I like to lean back to some first principles or some fundamentals in science whenever I feel like a lot of uncertainty is happening. And in this case, I'd like to turn our attention to a little bit of physics. Now, I'm not going to get this entirely right but if you might remember, with Newton's Third Law you remember that with every action, there is an equal and opposite reaction, right? I always liked that concept and it certainly runs our universe. So it's handy, but let's think about this for a moment. What was the actions or the—even expand the conversation to energy.
So let's talk about the energy of 2020. I really believe that what we all experienced was a mass constriction of energy, right? The energy felt very closed down, protected, locked in and in many ways that was absolutely required. But in good ways, if we can kind of take a little bit of liberty, with Newton's Third Law, if you will, and turn the conversation from action into energy. Well then, guess what? What's the opposite and equal reaction to constriction? Expansion. So my guess, my prediction for what is going to make you feel successful, happy, joyous, give you momentum and progress in 2021 is a theme around expansion, right?
If we can at least, from a spiritual or energetic level expand again, expand our vision for what is possible in 2021 because a lot of us shut down a vision. And when there's uncertainty or fear, we shut down, we get very narrow minded. We are focused on immediacy. The immediacy of the week or the immediacy of the month. The immediacy of, "Do I have toilet paper?", You know?
You have to expand that.
Do not limit your vision for 2021 based on your current circumstances.
Do not limit your vision for 2021 or beyond or your life based on yesterday, what you were like in high school, what you struggle with now, what your bank account says now.
We must dream beyond our current circumstances and we must awake every day and cast a spear of purpose as far as we can.
Push our vision out as far as we can. It doesn't matter if that's a block-out, seven blocks out, 400 miles out, three years out. It's about throwing that spirit purpose as far as we can with intention and marching towards that end point that we set for ourselves that day, that week, that month, that year, that decade.
So I'm here to say for you, expand your vision again for it's possible for you, your family, your loved ones, expand your learning this year.
I know in 2020, a lot of people were learning a lot about themselves. What their lives were really like when they were at home or what their lives were really like in their career when they had to change how they work together, what it was really like to parent if you had the kids at home. It really shifted and changed how people experienced their life. They had to learn. And a lot of learning in 2020 for people was drudgery or dread. They didn't want the change.
Anticipate and take joy in the change. Find a way to bring some joy to it. Find a way to bring a good attitude, find a way to bring some perspective to it. And I think that you will find that 2021 will be better.
Because yes, there will still be change, there will still be challenges. Now, how are you going to rise to meet it? Because you did round one of challenge and change last year. And just like in any battle or any fight in the ring, the first round is like an establishment round, right? We just learned, but don't forget the battles and wars take years and years and years, uncertainty takes years and years and years sometimes to work through. And so you went through round one.
This is round two, 2021. It's round two of the pandemic. It's round two of figuring out, okay, who do you want to be each day? Because I really believe too many people lacked intention in 2020, they were in reaction all year. This is the year to get intention, to get in intention, to expand our learning, to expand our energy and meaning to flow into it and to flow forward versus hunkering down. And I'm thinking about even my own career.
How can I expand my reach? How can I expand my service to you as my audience? And you're going to see a lot of changes in 2021. You know, I certainly learned in 2020. I really found a deep feeling that I want to expand the number of voices that I bring to you.
So this year you will be seeing me rolling out a brand called "GrowthDay". And if you go to growthday.com, you can already see it up on our website, where instead of just me coaching in my high level coaching programs or my online courses or my monthly subscriptions, now I'm bringing other voices from other personal development and personal growth and psychological experts to help you change all year, to help you grow all year.
In other words, I'm expanding the number of voices in my own brand, and in my own services to my audience. How can you expand what you are doing for people? Because this will happen. We had a year of constriction. This will be a year of expansion. If we believe in our ability to figure things out. If we enter each day and we throw out our vision as far as we can that day. If you're sad or you're sick or you're down, maybe you're just trying to figure out how to enjoy today, how to bring some positivity in today. If you had a bad week, how do you make next week or next month better? We have to expand this year.
I really want you to write it down on a card somewhere, put it on your mirror or somewhere near your computer. Write down the word "expansion" and ask, what does that mean for you in your psychology, your mindset? What does that mean in terms of the number of positive habits you have? What does that mean in terms of the intimacy, the connection, the love you have in your relationships? What does that mean for you in terms of the number of, you know, simple things you do each week to move your life forward, to be more expansive? To me, what makes me feel like—oh, if I'm more expansive, I'm more generous. If I'm more expansive, I'm larger in my confidence. If I'm expansive, I'm more able to lead, not just sell something, to lead a movement, you see?
This is what I'll be talking about a lot at GrowthDay.
I think we must grab hold of our growth this year and be more intentional because if we leave our personal development to randomness, we'll be locked in the land of mediocrity.
If we get more expansive about what's possible for us, more expansive with the number of voices and worldwide experts that we really gather and hone to, if we get more expansive in our community, more expansive and inclusive into our approach and serving and leading other people, I think we can change this world. I think we can change it together. And I look forward to doing that with you at growthday.com.
Make sure you go check it out. Make this year a year of expansion. If you were constricted last year, grow this year, grow intentionally, grow with no bounds. Believe in yourself again. Expand your vision for what's possible. Every day is a great day to grow, my friends.