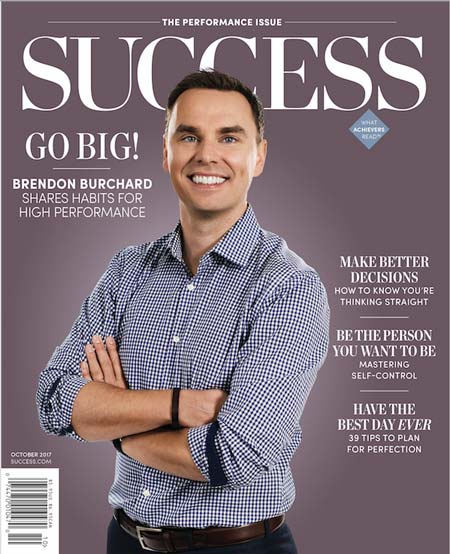 Brendon Burchard's High Performance Habits

After studying the research on more than 2 million people, the best-selling author shares the secrets behind improving every aspect of your life. 

Story  by Amy Anderson. Article published as the cover feature of Success Magazine, October 2017.
Brendon Burchard is the goofiest dancer you've ever seen. He gallops onto the stage, his knees flying up as he hops, skips and claps his hands like he's just won the lottery.
While he dances, most of the 1,500 people in the golden hotel ballroom audience clap, jump and sing right along with him.
Watching this guy leave caution and self-consciousness backstage inspires others to do the same. But the lightness in his step and the wide, easy smile on his face belie the effort and sheer will that go into spending four full days behind a microphone on his A game the entire time.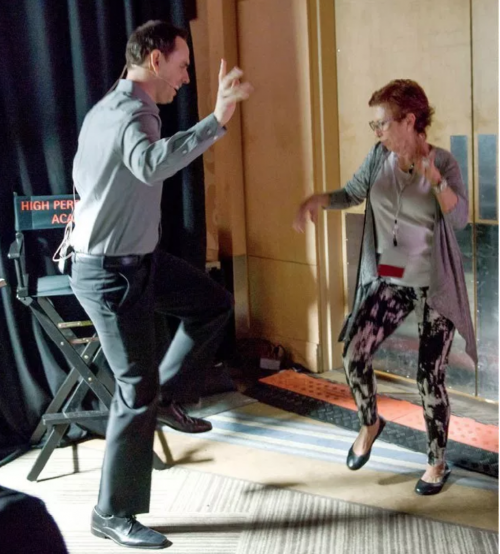 Brendon backstage with his mom, at his 2000 person event High Performance Academy. Photo: Maggie Kirkland.
A few years ago, Burchard consulted with a professional sports trainer to explain the significant weight loss, muscle soreness and swelling he suffered after each of his biggest yearly events. The trainer told him the physical exertion he undergoes onstage results in the same strain on his body as running a marathon each day. Among the trainer's recommendations to speed up recovery and thereby improve his next performance? Ice baths. Now Burchard retires to his hotel room after giving his all onstage each day and submerges himself in a bathtub full of ice water for 10-15 minutes.
The first few minutes are the hardest, he says. But he puts on a podcast and rolls with it, body shivering and teeth chattering, all for the sake of his life's work and the people he serves. All so he can dance with abandon and inspire others to do the same.
The Pioneer
First and foremost, Burchard is a writer. He's also the highest-paid motivation and marketing trainer in the world. He's the No. 1 host in YouTube's self-help category, with more than 100 million total views (including through his blog and Facebook), and his podcast, The Brendon Show, debuted at No. 1 on iTunes. He is a global top 100 most followed public figure on Facebook. More than 2 million students have completed one of his video series or 13 online courses, including High Performance Academy and Experts Academy, both of which also include annual live events that have sold out for the past six years. He has shared the stage with the Dalai Lama, Sir Richard Branson, Arianna Huffington and Tony Robbins.
But if you ask him what he loves doing, he'll tell you he's a creator who loves to serve. As the author of six books, including High Performance Habits: How Extraordinary People Become That Way, which debuts [September 2017], his writing is his art.
In 2013, Burchard submitted a draft of his fifth book to his publisher, Simon & Schuster. By then, he had already penned three New York Times best-sellers, as well as the 2001 self-published book for college students, The Student Leadership Guide, which he wrote in grad school. So when his editor tore apart the manuscript of The Motivation Manifesto: 9 Declarations to Claim Your Personal Power, he was shocked. And hurt. This wasn't just a case of corrections. It was an all-out assault on his writing style and book idea.
Admittedly, the book is different. It reads like the rhetoric of the American Revolution—on purpose. Burchard says the work is a call to change for his millions of readers. But the president of the publishing house told him to either change the entire thing or give back his near seven-figure advance on a $2 million book contract and walk away.
Burchard walked away.
"I chose to fight," he wrote on his blog. "I decided not to change the book to their superficial liking. I believed the world was ready for a different voice in personal development—a voice and style that were more direct, more stately and stripped down, less pop culture, stronger and more challenging."
He was right.
After finding its home at Hay House, the book spent more than 30 weeks on the New York Times best-seller list. [Oprah Winfrey would later interview Brendon about the book for the cover feature of O Magazine, and Meghan Markle added it to her Top 5 recommended books list].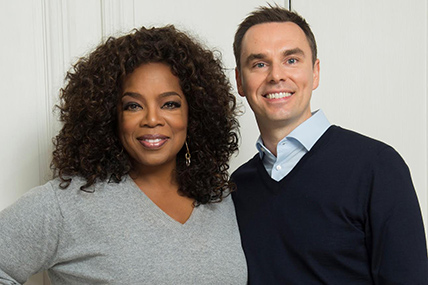 What the original publisher didn't understand is the very thing Burchard believes deeply about personal development today: People are ready for more. More depth, more weight and more evidence.
That's exactly what he intends to give people in his latest work, a labor of love more than three years in the making.
The Student
After a tour of Burchard's new offices in Portland, Oregon, we sit in a sunny conference room backed by a wall of books, including the cover mock-up of High Performance Habits.
He grabs it and, with a huge grin, holds it out to share his excitement.
Burchard designs every book cover himself. He was unhappy with his first major book cover and decided to take control afterward by learning design principles. This book design quirk is the perfect example of what sets him apart from others in his industry: He believes in his ability to figure things out.
He's a constant student of life and business, which is at the heart of his seemingly jet-fueled success. Because behind the scenes of more than 5 million Facebook followers is Burchard teaching himself social media metrics, best sharing practices and the discipline of posting four times a day. Up until 2016, he did all of his marketing, including writing, designing and sharing every single email, web page, blog post and Facebook update for his own page.
Behind his first website was Burchard enduring late nights learning to code so he could execute his digital-marketing vision. Behind every packed hotel ballroom, every sold-out tour and every standing ovation keynote address was Burchard studying the world's best speakers, breaking down how they achieved the greatest impact.
You might call him ambitious.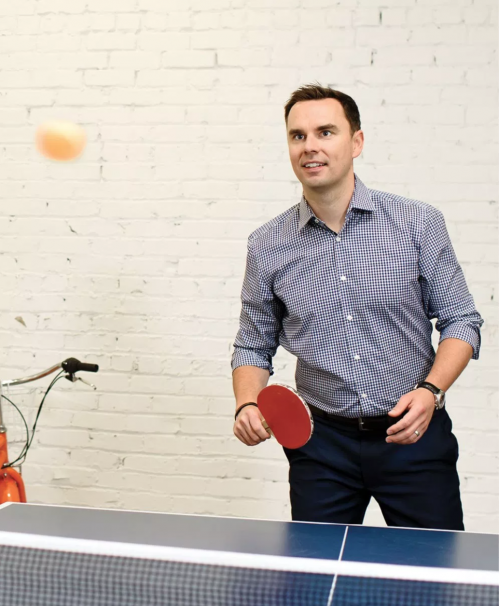 As a kid (he still refers to himself as a kid sometimes, aware of his relative youth as a 40-year-old in an industry composed largely of men over the age of 60) Burchard says he had no early ambition. He had a passion for journalism, thanks to a teacher who mentored him at Great Falls High School in Montana.
His mother, Christiane Burchard, who works backstage at most of his events, says he was, "energetic, happy and curious to learn and explore."
"I just wanted to be outside," he says with a laugh. He wanted to play with his two brothers and sister. "That was it. I never had a career ambition. Until probably a year or two after my accident."
He was 19 when it happened—the first accident. A few months before, his college girlfriend had cheated on him. It was heartrending. Depression and suicidal thoughts followed. When the semester ended, he escaped by taking a job in the Dominican Republic with a buddy.
One night, the buddy was driving too fast around winding, dark roads. They hit a hairpin curve at more than 60 mph. The car rolled, twisted and slammed to the ground. Burchard pulled himself out through the shattered windshield and stood on the crinkled hood, his body in shock. His friend lived too.
"I believed the world was ready for a different voice in personal development—a voice and style that were more direct."
With blood running down his legs and the moon high and bright in the sky, Burchard had a moment of clarity that would change the course of his life.
"I felt what most people feel when they're sliding into death's door," he says. "I wondered, Did I live? Did I love? Did I matter?"
After recovering from his injuries, Burchard returned to college and the difference in him became obvious. People asked him why he was so happy. Those three questions he'd asked himself on that crumpled hood had altered his thinking.
Today he says he feels lucky.
"At 19 you're not really thinking about the habits you have," he says. "I wasn't. Maybe your study habits? But not your life habits. It happened for me so young, and it made me say, I need to change my life. How do I do that?"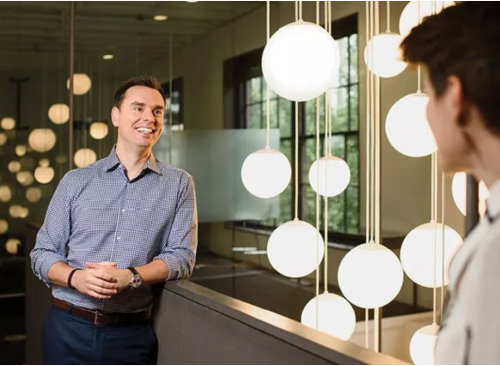 The answer for Burchard was reading books by personal-development legends like Dale Carnegie, Earl Nightingale, Napoleon Hill, Og Mandino, Zig Ziglar, Louise Hay and Jim Rohn. He picked up copies of SUCCESS. He listened to talks by Les Brown and Tony Robbins and read works by Marianne Williamson, Debbie Ford, Wayne Dyer, Paulo Coelho, Brian Tracy, the Dalai Lama and Deepak Chopra. He dove deep into writings by leaders in academic and clinical psychology.
"They taught me to be conscientious and disciplined about who I was being in the world," he says. "I wouldn't have suddenly woken up one day and lived a purposeful life…. I changed because I was unhappy and I thought on it."
The Influencer
People marveled at how he had changed.
"They could see I was a genuinely happy, energized and connected kid. People started noticing, and so by the time I was at the end of college and grad school, I was getting raises. I was getting promoted above my peers."
What he doesn't mention is a work ethic that set him apart long before that fateful day on the dark island road.
Burchard's first job was in middle school, painting a chicken coop for his mother's friend. ("I had no idea I had to clean the chicken coop first," he says with a wry smile.) His next job was in high school painting a 30,000-square-foot trucking company building.
"I painted the building with a single brush and one roller," he says. "It was awful. It was one of the hardest jobs I've ever done."
But he did it well, and the owner offered him a job as the janitor, cleaning up oil from trucks and maintaining the men's trucking bathroom. Microsoft Office had come out not long before, and Burchard soon taught himself how to use it. So the owner offered him a job as a clerk, and from there he was eventually promoted to office manager. In the summers, he worked a second job as a telemarketer selling magazines.
"What makes us really, truly successful over the long term has a ton to do with our social interactions and the influence we do or don't have with other people."
That kind of grit (which he credits to his father, Mel Burchard, a U.S. Marine who had served three tours in Vietnam) combined with his newfound understanding of personal-development principles gave Burchard influence well beyond his years as a 20-something.
"I was in college for organizational communication and politics because I was just fascinated by influence," he says. "I wondered how people have influence, not because I wanted to inspire the world, yet. For me, I just knew influence was so critical to achieving things because I saw the people around me where I grew up in Butte, Montana. The town couldn't improve itself, teachers couldn't get kids to study, parents couldn't get their kids to not break the law. They didn't have any influence."
But Burchard did. He was learning how to build people up, bring them together and create relationships based on something real.
"It's not just an individual success game, an individual mindset game," he says. "What makes us really, truly successful over the long term has a ton to do with our social interactions and the influence we do or don't have with other people."
After graduate school at the University of Montana, where he also received his bachelor's degree, he landed a job with Accenture, one of the world's largest consulting firms. Many of his colleagues were Ivy League graduates, and Burchard says his study of personal development and his experience working with students as managing editor of the high school newspaper and in the college residence halls as a resident assistant gave him people skills many of them lacked. So once again, he advanced.
Over the almost six years he worked at Accenture, people often asked him what he was doing that made him so successful. He would tell them his car accident story and sometimes, they were moved to tears. "Because the car accident story isn't the car accident story," he says. "It's a story about second chances. We all get them. People would tell me about their second chances."
They also told him to share his car accident story more often.
"I don't know why, but it took six years of people telling me that and then I go, 'Really? Oh, OK.' And I finally got the guts to leave and write Life's Golden Ticket, which is a story about second chances, which I felt like I got in my accident. And that's what really started it."
Seven years after his moonlit moment of clarity, he borrowed a fold-out sewing table from his mother to use as a writing desk and started his first major book, Life's Golden Ticket: A Story About Second Chances.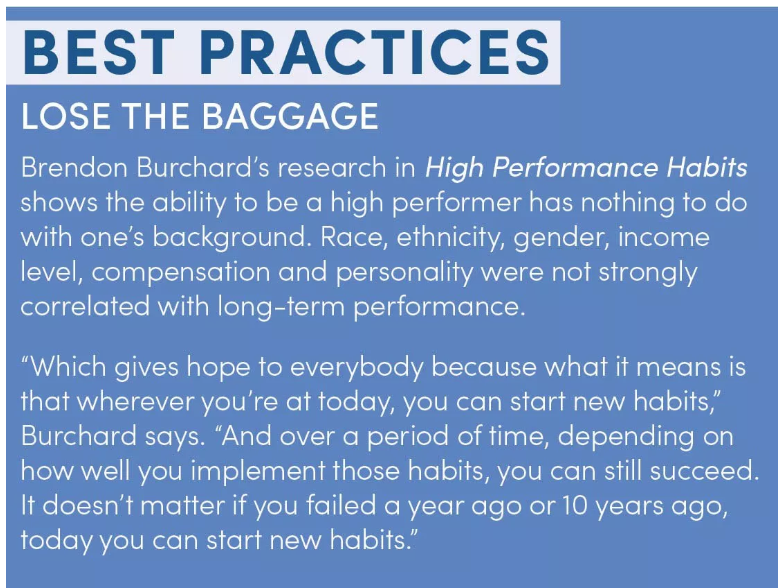 The Author
In 2003 Burchard set up a makeshift office in his bedroom at his parents' home in Great Falls. The book he wrote was a parable about a man who pays the price to enter an amusement park, only to be challenged by everyone he meets and changed in a surprising way at the end.
"Everybody says, 'I want to change,' but they're not willing to pay the price of it," Burchard says.
"That was the metaphor of Life's Golden Ticket…. Life is some kind of a ride, and if you want that ride to be exhilarating and amazing, you've got to pay to get in. And the price is a willingness to change above and beyond what most people will do."
When he finished the book, he printed it out and handed the huge ream of paper to his dad. After reading it, his dad walked down to the basement, where Burchard was using the home computer to research how to get a publisher, and hugged him with tears in his eyes.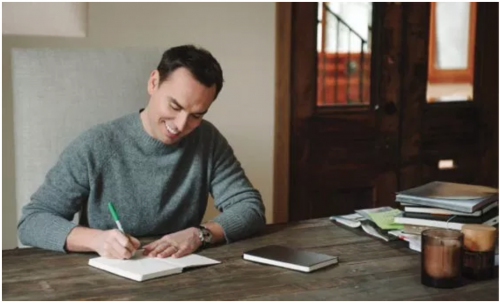 It was the only book of Burchard's his father would ever read. Mel died in 2009, leaving a legacy of honesty, loyalty, grit, love and service.
With his first major book, Burchard set out to leave his own legacy. But it wasn't easy. No book agent wanted to take him on. Over the next years, he went bankrupt creating workshops, staging events and trying to spread his message.
By then, he had a serious girlfriend—his now-wife Denise Burchard, who would herself go on to become an entrepreneur (she founded and recently sold two Bar Method studios in Portland). Unable to support himself, he moved into her small apartment in San Francisco and worked in their bedroom on the sewing table he brought from his parents' house.
He tells a story of how one night, typing away on his laptop with piles of bills spread out on the bed next to him, Denise came home. Trying not to disturb him, she crawled under the covers that served as a stage for his debts and fears. He recalls seeing her literally sleeping under the weight of his bills.
"It broke my heart, and it forced an all-in decision: Either I was going to become a successful writer and trainer… and find a way to my vision through any obstacle, until I ended up successful… or I was going to end up with the angels for having happily exhausted myself trying to improve our lives and follow my dreams," he shared on Facebook.
That very year, he got an agent. Then the book was rejected by 15 publishers. When it was finally published by a division of HarperCollins in 2007, the publishing house was going through restructuring and didn't put significant effort into the launch. The book didn't do very well out of the gate.
Ever the student, Burchard set out to learn how to fix that.
"I knew it was important for advancing my book and my message into the world, so I decided to master marketing," he says. "And that's probably the best thing I ever did."
The Servant Leader
Burchard's next three books were New York Times best-sellers. Today his marketing prowess is sought by CEOs, entrepreneurs and authors worldwide. He was a major force behind successful book launches for people like Huffington, Tony Robbins and Peter Diamandis.
The difference between his book launch strategy and the strategy employed by a typical publishing house is this: He sees it as a doorway to increasing service.
A book launch isn't about the book launch. It's about the service he can provide on the other side of that book purchase through his blog, monthly coaching memberships, courses, keynotes, YouTube videos and, of course, those jam-packed events. Each new interaction with him and his message, in whatever form, is aimed at helping others become better, at serving them rather than promoting himself. He says that although he might not often use the term servant leader, all of his work centers on helping people improve.
Burchard doesn't include much about himself in his books—two of them don't have a single story about him at all. His goal, he says, was never to become a public personality for the sake of self-promotion. That's why up until this latest book, he has never done publicity as part of a launch.
When he released his third book,The Millionaire Messenger: Make a Difference and a Fortune Sharing Your Advice, he had no public-relations campaign. No mainstream media. No interviews. Just Burchard recording five videos, emailing his hefty subscriber list and asking a few peers in the online marketing world to send something out to their lists. Three months later, the launch had brought in $4 million in sales from books, online courses and events.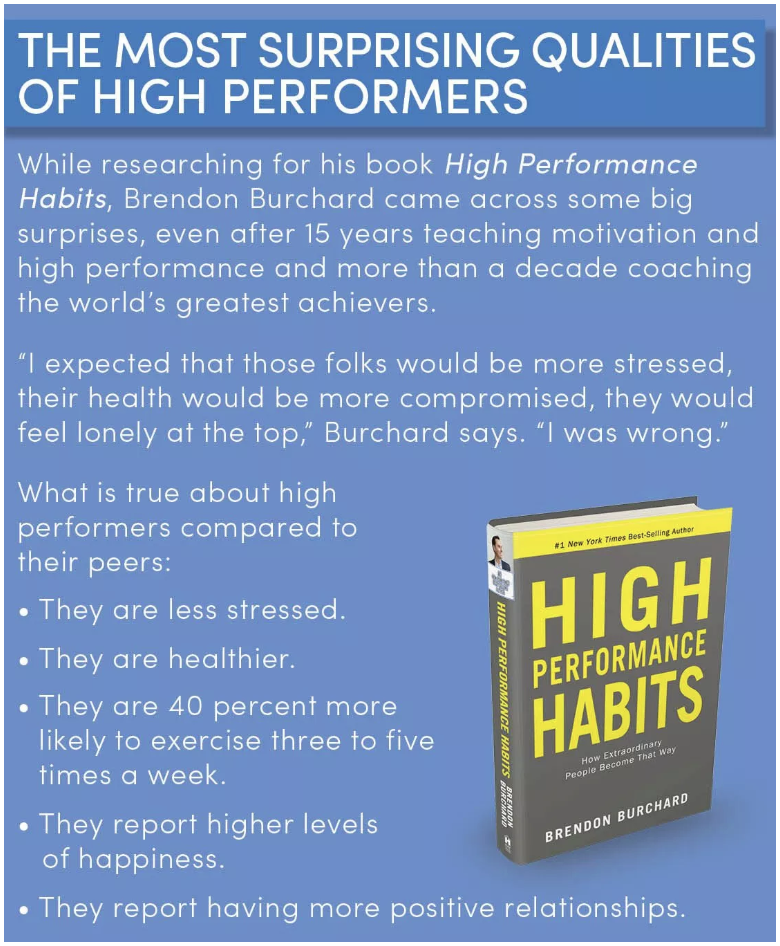 This is why most people who know him in the online business world think of him as a marketing whiz. What they usually overlook when they call him that, he says, are two things: He started out just as clueless about marketing as the rest of us, and he got good at it by putting service above selling.
He didn't post selfies from Hawaii on Twitter when he trained Oprah Winfrey's team in February 2016. He didn't drop the mic and walk offstage once he reached a certain number of attendees at his events. Instead, the guy who started with about 20 people at his first workshop (at least eight of them, he says, were friends, family and hotel staff) kept his head down and continued to serve.
That service goes beyond speaking, writing and training to empirical research.
"I've never been the motivational speaker guy who just speaks from his own life," Burchard says. "When I get down to teaching a framework, there's a ton of curriculum development behind it, there's a ton of empirical research behind it, there's years and hundreds of research studies that lead into me saying something. Because I always want to be the guy where, if I say it, it's accurate, and not because Brendon believes it."
The High Performer
Burchard is quick to express admiration and gratitude for his predecessors in personal development, but he's also bold enough to call out the industry on what he feels it's missing.
"High performance is succeeding beyond standard norms consistently over the long term," he says, differentiating his concept of high performance from the grit or hustle we hear about in startup phases.
"It's about how you go to another level—whether that's in your career, your relationships, your health, your well-being or your family," he says. In his book, he addresses how we all lean toward the same story: "Work hard, be passionate, be grateful, follow your strengths, add value. And those are really great. They make a hell of a commencement speech."
But billions of people do all these things and still aren't getting ahead. "There must be something different that helps us get ahead."
In High Performance Habits, he writes about a previous coaching client named Tom, a high-level executive, who sent Burchard an email after two years of coaching, saying he was not progressing and Burchard needed to either figure out why or say goodbye to him as a client. Burchard says back then he was your run-of-the-mill life coach, so they'd done all the typical stuff: the 360-degree reviews, personality tests, calendar analyses. His frustration with Tom's lack of progress turned into a fire in the belly to figure it out.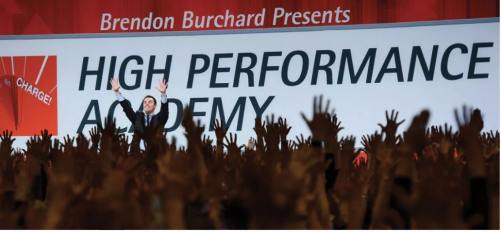 BURCHARD'S HIGH PERFORMANCE ACADEMY [Dates and location here].
He put on his student cap again. He learned how to conduct validated studies, read and assess scientific findings and pull together a team of professionals who could help him not just log his experiences, methods and breakthroughs, but prove them. The book took three years to research because he wanted a truly disciplined study of high performance. The research in the book includes 195 countries and more than 2 million people representing data points, which is now the world's largest high-performance study ever done.
The work yielded six recurring habits of high performers. Over and over, Burchard found, they seek clarity, generate energy, raise their emotional drive making great performance a necessity, increase their productivity, develop influence with others and demonstrate courage.
Burchard says his book differs from other performance books because most just talk about the science of starting and stopping habits, "which always sound like this: Try it, stick to it for 90 days and then it will stay and become unconscious and automatic," he says. "And I didn't feel like there was a voice in the industry saying, 'Actually that's not the habit you want.' "
He wants his clients to have deliberate, conscientious habits. "I want them knowing exactly what they're doing so they can do it again and so they can lead other people to do it."
The Everyman
Before our interview, Burchard posed for a photo shoot. From the start, he had everyone laughing, and not just at his dance moves. He's lighthearted, easygoing and easy to talk to.
His mother says he's not much different today from when he was a curious, energetic kid, except he's "more caring and wiser."
But there was a time when this lightness dimmed. It started the day he had his second accident.
In early 2011, he had just seen wild success with his third book, The Millionaire Messenger. No one was doing what he was doing as well as he was. He was excited and happy. Everything was on an upswing.
He flew to Mexico for a friend's bachelor party. One day, the guys rented all-terrain vehicles and went off-roading through the desert. Near the end of the ride, they drove onto a stretch of sandy beach.
"Operating a vehicle, you've got to be present," says Burchard, who grew up riding ATVs, "and I lost my presence. Maybe one to two seconds, maybe thinking about my dad. You know, I'd lost him two years earlier. And I hit this little pillow of sand that I didn't see."
He was going about 40 mph. The vehicle kicked up, landed on the front left tire and flipped.
"And bam! I hit the ground," he recalls. "I rolled several times, and the one defining memory I have is this ATV landing next to me. I'm rolling on the ground, it's all slow motion, but I hear vroom, vroom, vroom, and it's the ATV [spinning and bouncing] next to me. And my mind immediately goes, Please, God, don't let that land on me."
He blacked out and came to with his friends all around him. Then he passed out again. The ATV had not landed on him, but he was badly injured. His wrist had been snapped clean. He had broken ribs, thrown out his hip, dislocated his shoulder and hit his head hard enough to cause a massive concussion.
All the success of the previous weeks faded to make way for the struggle of recovery.
"For the next several months, as I'm trying to heal all those things, I'm fatigued. I'm not feeling the energy and the fulfillment from having this huge ride [in our business]," he says.
"Our seminars are full. I mean we're crushing it. We're the talk of the industry, but I wasn't enjoying anything. I'm being snippy with my wife, and I'm normally the most patient, relaxed guy…. I'm having trouble writing. I'm having trouble thinking of the future. But I thought it was just healing from these injuries."
At the time, he had started writing his fourth book, The Charge: Activating the 10 Human Drives That Make You Feel Alive. One night, he stayed up late to complete a chapter. The next morning, he reviewed his work. There were words and phrases missing. He said it looked like a 6-year-old wrote it and kept getting distracted.
"Luckily, most of The Charge is based on neuroscience," he says. He recognized the signs of a brain injury.
After consulting his friend Daniel Amen, M.D., who is also one of his students, he discovered the beach accident had resulted in a traumatic brain injury that affected his cerebellum, hippocampus and prefrontal left cortex. All of this meant he had trouble with coordination, memory, motor control, emotional control, vision and language.
Not only were the physical and emotional implications frightening, but Burchard had a $2 million book deal for The Charge, for which he had already received part of his advance. "I was terrified," he says.
Amen gave him a treatment plan, and then called Denise. "He called my wife and he said, 'Here's what your husband's going to be like over the next six months. Just remember, it's not him. He's sick, he's hurt. So just be patient. Don't take it personally. He's just recovering. He's a little broken.' "
But at least they knew where the lighthearted guy had gone. And 18 months later after a lot of hard work, he came back.
Burchard says that when we're in the struggle, like he was, the people who've already made it out seem so different from us. "But I realized that was just a way of thinking that wasn't serving me," he says. "I'm the same guy. I wish people knew that I was exactly like them."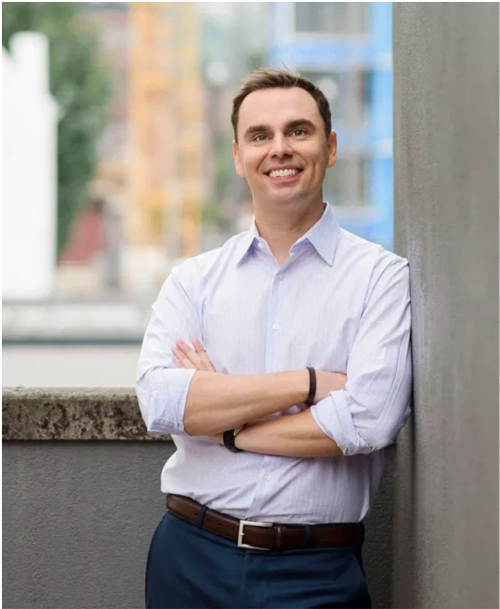 "Your next level of confidence is going to be willed. You're just going to choose it."
Then what's the difference maker?
"Ultimately what we found underlying all six of the high-performance habits was confidence," he says. "It was the one personal attribute that if you increased it, it increased your scores on all the other habits. So have confidence that you can figure things out. You don't only get the next level of confidence in yourself after you gain more competence or connection. Your next level of confidence is going to be willed. You're just going to choose it. You're just going to go for it. And that's going to be the difference maker."
_
This article originally appeared in the October 2017 issue of SUCCESS magazine.