SUMMARY
"Spirit can also be that sense of a deeper connection to the world and the things around us."

Have you been feeling disengaged from the world around you? In this episode, learn how you can replenish and reconnect with your spirit and purpose so that your days can be filled with more meaning and happiness again. 

"So many people don't feel a sense of spirit about life and thus a higher connection because they allowed themselves to get wiped out or something happened in life that has wiped them out. They're tired."

The hustle and grind of our lives and events around the world can oftentimes impact our good intentions of building and maintaining a vibrant spirit. In this episode, Brendon walks you through a few tips and perspectives in order to build and maintain high spirits even in the hardest times.

Watch the video to get the full training.
Already have the High Performance Planner and CRUSHING each and every day? Let's celebrate you! Take a photo with your planner and use #GrowthDay so we can find you on social media!
HOT NEWS & DEALS!
Stop letting limiting beliefs and lack of confidence hold you back! Learn the SKILLS of confidence from 9 of the world's best personal development experts in the most comprehensive Confidence training ever created! $400 worth of training – just $7.99 today! Get the Confidence Masterclass!

Make self-improvement a way of life and get the GrowthDay app! GrowthDay features all your personal development tools, coaching and community in one place. Write your journal, track your habits, take wellness challenges, watch live influencers teaching new life strategies, and join a global community of positive and supportive high achievers excited to improve their lives! Get the app on Apple app store here. Get on Android here. Get desktop here.
DID YOU KNOW?
I give weekly prizes, gratitude and shout-outs to our students, so post a screenshot or video on Instagram and use #TheBrendonShow! I can't wait to hear your thoughts about this episode!
RELATED POSTS

Wow Your Relationships
How to Rekindle Your Relationships
Tips for Developing Close Relationships
How To Take Accountability For Your Life
Develop Your Self Awareness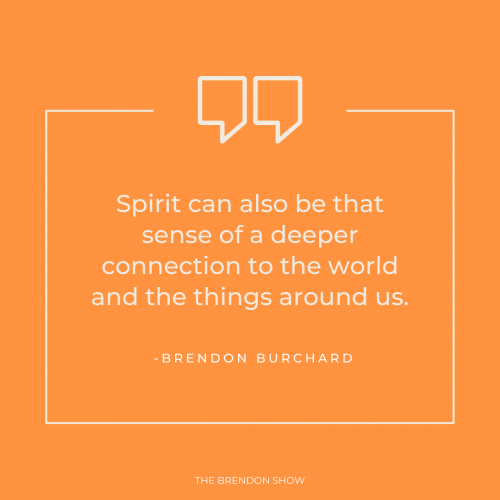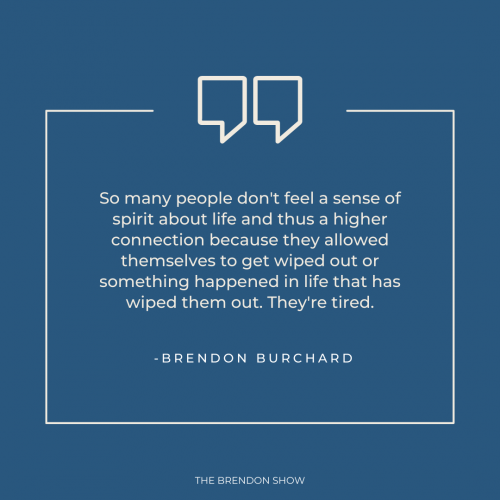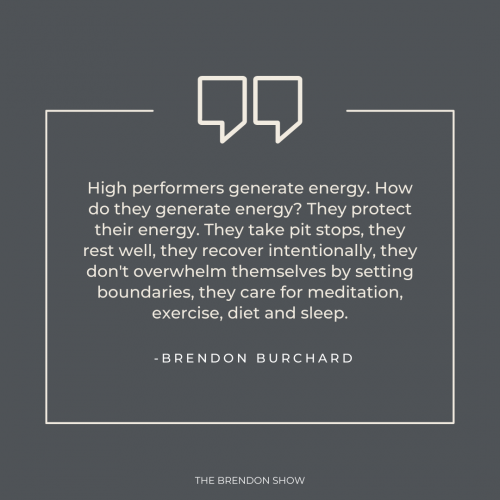 FULL TRANSCRIPT
[The following is the full transcript of this episode of The Brendon Show. Please note that this episode, like all TBS episodes, features Brendon speaking extemporaneously–he is unscripted and unedited. Filmed in one take, The Brendon Show has become one of the most viewed unscripted, direct-to-camera self-help series in the history of YouTube. It has also been the #1 Podcast in all of iTunes and is regularly in the top podcasts in the Self-Help and Health categories around the globe. Subscribe to the free motivational podcast on iTunes or Stitcher.)
1. Get More Rest
Spirit. Now, when I say spirit, it means something specific to me. And when research says it, it means something different and it might mean something different to you. To me, because I'm a person of faith, I believe in God, spirit for me is spirituality and is a connection with something beyond me in the highest realms. So for me, that's my belief. That might not be your belief, which is okay, because researchers say
spirit is also that sense of a deeper connection to the world and the things around us.
Some people: it's like an intuitive connection. Other people: it's like a real physical, vibrant feel to the energy of the earth, as an example, like to to the spirit of a team. Right? Esprit de corps. It's a spirit, energy. It's something that we can't exactly put our thumbs on. But you know if your spirit is lacking or thriving and the number one answer here, believe it or not, it's going to sound so basic. You're going to be like what? Really, Brendon? Most people lack a sense of spirit, whether that is a connection with God, in connection with the moment, or a positive buoyancy with the people they're around. If that's like esprit de corps or joie de vive, in either of either of those places, what's usually lacking, is people are effing tired! They're tired.
Sorry to be so obvious, but so many people don't feel a sense of spirit about life and thus a higher connection because they allowed themselves to get wiped out or something happened in life that has wiped them out. They're tired.
Their focus doesn't need to be: I need a higher connection with God. Sometimes it's like, babe, you need 8 hours of sleep for about, you know, a month. Just being honest. Sometimes it means stop poisoning your body. You're exhausted. 
Rest and recovery is so much of what we talk about here in GrowthDay and if you watch any of the courses in GrowthDay or you listen to any of the coaches in GrowthDay, this topic comes up over and over and over again. This is – if you read High Performance Habits or you go through that course in your app, you will see that there's a whole chapter on that. That high performers generate energy. How do they generate energy?
They protect their energy. They take pit stops, they rest well, they recover intentionally, they don't overwhelm themselves by setting boundaries, they care for meditation, exercise, diet and sleep.
2. Take Care of Your Health
See, we know that spirit is beyond body. You all know like, you know, what I'm saying there? Like there's a mind-body connection, but there's also a spirit-something-else connection. But the truth is, if you have a vibrant spirit and it's housed in a 55 gallon drum of toxins, we've got a problem, right? You take the most beautiful imaginable butterfly and you put it over here and drop it in oil. We've got a problem. Who knows what I'm talking about here?
We have such positive, unlimited, expansive, gorgeous, godly souls and spirits, but we drop it in a container that we keep poisoning and then we wonder what's happening? Why don't I feel the spirit? Why don't I feel God? Why don't I feel better? Because you needed a nap, babe. Because you've been eating, ya know, popcorn and wine for 14 nights. Because you haven't walked around.
3. Take Breaks Throughout The Day
And I know I'm preaching to the choir. GrowthDay, remember, you guys are more healthy than the average cats by leaps and bounds. You all understand exactly what I'm talking about. You are striving for wellness. You are striving for energy. But I'm just going to choir and remind you, if you don't feel your spirit alive, could you get some rest? And sometimes this is also related to mental fatigue. Time to take a break. Few more breaks throughout the day. Few more mental breaks throughout the day. Like after I get done with this, I'm going to go for a walk. I have to reset, reset, reset. Mental breaks so that your spirit can be creative and thoughtful and expressive through the containers in which you got, through the form in which we experience. And listen, I know when you're unhealthy, that's a hard ask, and so that's why I also very much am emphasizing meditation or prayer to get our mind and our thoughts beyond our immediate feelings or impulses, needs or bodily sensations, and projecting, experiencing, or connecting beyond the body. And sometimes meditation or prayer are the most expansive and consistent ways to be able to do that.
And so I'll encourage those of you, meditation and prayer OR meditation or prayer, just choose one or the other. I think it can completely change your life, reinvigorate your spirit, and make you feel more connected.