SUMMARY
 "Your ability to surround yourself with people who are in a good place is one of the great gifts of our life."

One of the most human things you can do is be in a community, but it's so important that you choose the right people to surround yourself with. In this episode, learn about the different types of people you want in your life to be your best self!

"Having vulnerable, honest, open, truthful, transparent humans around us who enable us and allow us to be vulnerable, to share our hurts, our pains, our shames, our sadness; increases our mental health."

We all know that having other healthy people around us really does shape our lives. In this episode, discover how to surround yourself with people who empower you to do well in life.
Watch the video to get the full training.
Already have the High Performance Planner and CRUSHING each and every day? Let's celebrate you! Take a photo with your planner and use #GrowthDay so we can find you on social media!
HOT NEWS & DEALS!
Stop letting limiting beliefs and lack of confidence hold you back! Learn the SKILLS of confidence from 9 of the world's best personal development experts in the most comprehensive Confidence training ever created! $400 worth of training – just $7.99 today! Get the Confidence Masterclass!

Make self-improvement a way of life and get the GrowthDay app! GrowthDay features all your personal development tools, coaching and community in one place. Write your journal, track your habits, take wellness challenges, watch live influencers teaching new life strategies, and join a global community of positive and supportive high achievers excited to improve their lives! Get the app on Apple app store here. Get on Android here. Get desktop here.
DID YOU KNOW?
I give weekly prizes, gratitude and shout-outs to our students, so post a screenshot or video on Instagram and use #TheBrendonShow! I can't wait to hear your thoughts about this episode!
RELATED POSTS

How to Take Accountability For Your Life
How to Fill Your Life With Aliveness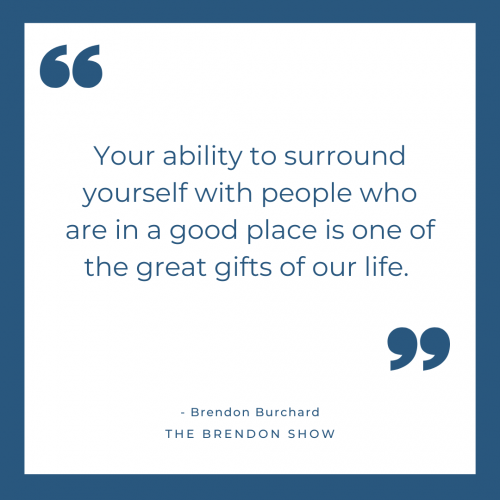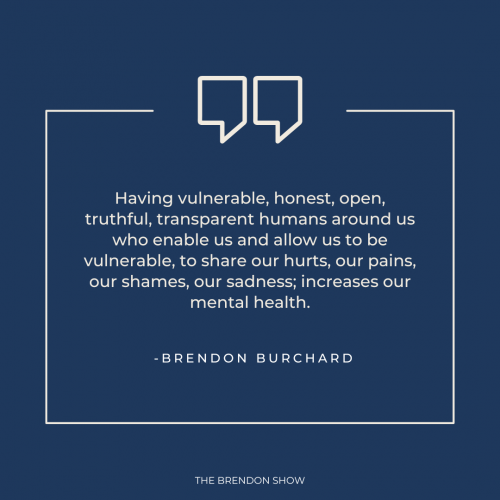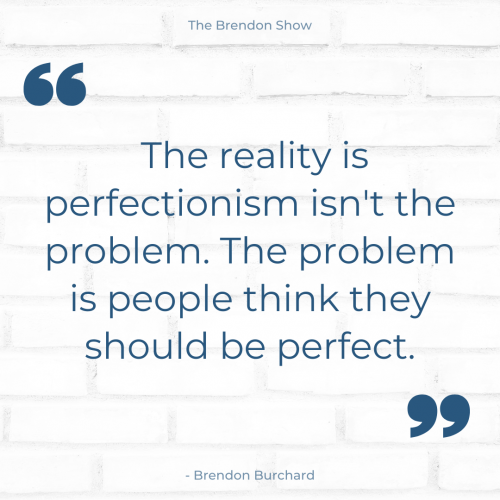 FULL TRANSCRIPT
[The following is the full transcript of this episode of The Brendon Show. Please note that this episode, like all TBS episodes, features Brendon speaking extemporaneously–he is unscripted and unedited. Filmed in one take, The Brendon Show has become one of the most viewed unscripted, direct-to-camera self-help series in the history of YouTube. It has also been the #1 Podcast in all of iTunes and is regularly in the top podcasts in the Self-Help and Health categories around the globe. Subscribe to the free motivational podcast on iTunes or Stitcher.)
1. Surround Yourself with Healthy People
Social accountability. Social accountability. Having other people around you who are healthy is as important as, quote-unquote, biological luck. It's true. The people around you really do shape your expectations and how you show up in the world. And in this category, more than anything else, if the people around you tend to be healthy, whether that is emotionally healthy, mentally healthy, or physically healthy, your odds go way up, especially the odds of conscientious discipline in design.
Your ability to surround yourself with people who are in a good place is one of the great gifts of our life.
We are social animals. A lot of what we do in life is mimetic, meaning we kind of copy what we see of others. We set expectations on ourselves of what we see of others. A lot of our behaviors, our habits, and our mental models are really a fact of sociology. And when you understand that the people you surround yourself with, you talk with, you look at, you work out with, you're around you're healthier. I am a greatly healthier person in my life because of my wife. And for most men out there or those who are partners in couples where one other partner's healthier than the other, that's one of the greatest gifts of all time. You know, I'm a way healthier person. I don't think I knew what Kale was until I met Denise. What's kale? What's it about? Like I had, I had no idea. No idea? Broccoli. What? What? Why? Well, that's… how come it's dark like that? I mean, there is no cheese on it? I had no idea. So that was important for me to learn a lot about all of my friends in the health and wellness category. I like being around them all the time and seeing their posts and their Instagrams or being at conferences and studying their work or going to conferences that are about health.
2. Create Social Circles that Empower You
Surrounding myself in an ecosystem has made me healthier. It really has. If you look at where I grew up to where I am now, I mean, it's totally different peer set. And that was by design. You might not get to choose your biology or all your family, but you get to choose your peers and your friends, and the inspirations who you follow or learn from. Especially in this category of health. Once you have that energetic vision, I promise you'll surround yourself with better people. Social accountability, work out with friends. Get a trainer. They expect you to show up, so you show up. Social accountability. Surround yourself with people who expect you to do well, who expect you to take care of yourself, who are empathetic when you're struggling because they themselves are empathetic people who struggle too. Right?
3. Don't Repress Your Struggles
Having vulnerable, honest, open, truthful, transparent humans around us who enable us and allow us to be vulnerable, to share our hurts, our pains, our shames, our sadness; increases our mental health.
When you're around people who push down emotion or who push down thinking, who push down your ability to be vulnerable, we tend to be in less health. Mentally, emotionally, spiritually, all of it. When you are pushed down all the time. "Don't talk about that. Don't admit that. Oh, don't let anyone know that."  When you're around that that is poisonous to your health and we as a society still do it. It's tragic how often we try to silence people who are struggling and how often we silence ourselves when we're struggling. When the very healing was gifted to us by sociology, by other people. Just like you heard earlier in a conversation of of Mel Robbins reaching out to talk to her mom or to a therapist or to peer group when she's struggling, that impulse to reach out and talk to somebody needs to be honored. And it is really often the jet fuel of personal development. Right? We can do so much personal development, but I always say self-development is often social development. As we develop ourselves, we are better to others. As we work with others, we become better ourselves. So that social accountability in our health is important.
4. Challenge Yourself
Another big idea, and I'll end with this one today. Just challenge yourself. Just challenge yourself. Challenge yourself at the gym next time. Challenge yourself when you're on the road next time to go a little bit further. Challenge yourself to get a little faster. Challenge yourself to be a little more mobile or flexible. Challenge yourself to stay a little longer in that yoga pose. Challenge yourself to reset your mindset after you get angry or hurt or down. If you're not challenging yourself, who is? I know people say, but Brendon isn't perfectionism such a problematic thing in mental health? I'm like, totally, totally. That is the super thin slice.
The reality is perfectionism isn't the problem. The problem is people think they should be perfect.
But perfecting ourselves, growing into our full potential, expecting a lot of ourselves, that can be done in healthy ways, especially when you consider all the things we've talked about today. It's okay to challenge yourself again. Last time you might have challenged yourself maybe you got down on yourself. This time, as you challenge yourself, allow the grace, do it with social accountability. Have an energetic vision, recalibrate, find what feels good for you, and stick to that. You can figure out a way to feel better. You can figure out a way to get healthier. It's going to be on your own path, in your own way. No one can tell you all the right ways to do that. You'll probably need support. You'll probably take months and months and months and years and years and years to figure it out. And often you'll fall off the wagon. You'll do the terrible thing, you'll make a bad choice, but you'll recalibrate and you'll keep getting better because you and I both know that every day is a great day to grow.
I want to thank you all for this incredible session today on health. I hope you enjoyed it. I hope you'll share it with family and friends if they've supported you. Just go tell people what we're doing here at Growthday. Like holy, they're having an entire month of conversations about health, about mental health, emotional, physical health, right here in Growthday. They will be live every single week with you guys, as always, on our Wednesday Wisdoms. So tune back in. Watch the replays. Make a commitment to journal today about your energy vision. Please do that. Please stay on path. Please take care of yourself. Please be kind to yourself. Please practice self-respect and self-love. You deserve a vibrant and energetic life. Do your work to move towards that, to align with that, to honor that impulse and know that you don't have to do it alone. We're all doing it together. We're all figuring it out together. We're all on this journey together. That's why we always say every day is a great day to grow together. Thanks, everybody. Talk to you next time.