SUMMARY
"On your march to success, don't forget that no matter what, however far you get, you're going to want to know: Is this the lifestyle you truly want to live?"
If you've achieved everything you wanted but still feel unhappy and unfulfilled, learn these 3 tips to feel satisfied with life again!
"Personal freedom is the ability to be who we truly are unencumbered by our own fears or external obligations to meet for other people."
Watch the video to get the full training.
You've reached the level of success you wanted and now you're wondering what comes after. This episode is a MUST WATCH to create more depth and vibrancy in your life.
Already have the High Performance Planner and CRUSHING each and every day? Let's celebrate you! Take a photo with your planner and use #HPXlife or #TeamHPX.
HOT NEWS & DEALS!
My blog readers get a complimentary copy of my new book High Performance Habits, while supplies last! I bought 1000 for you – so no charge for the book itself – but I do ask you pay your shipping. While supplies last. Get yours here.

My blog readers also get an exclusive $10 trial to access ALL my personal development courses! Click here for the $10 trial. Students call it "the Netflix of Personal Development." You'll call it the curriculum that changed your life forever!

This is the 2-in-1 planner and journal achievers use to win the day and accelerate long-term success. Get yours here (while supplies last)!
DID YOU KNOW?
I give weekly prizes, gratitude and shout-outs to our students, so post a screenshot or video on Instagram and use #TheBrendonShow! I can't wait to hear your thoughts about this episode!
RELATED POSTS

How to Visualize and Manifest Bigger Dreams
Beating Boredom
How to Find Inspiration
How to Reignite Your Life
Four Secrets to Success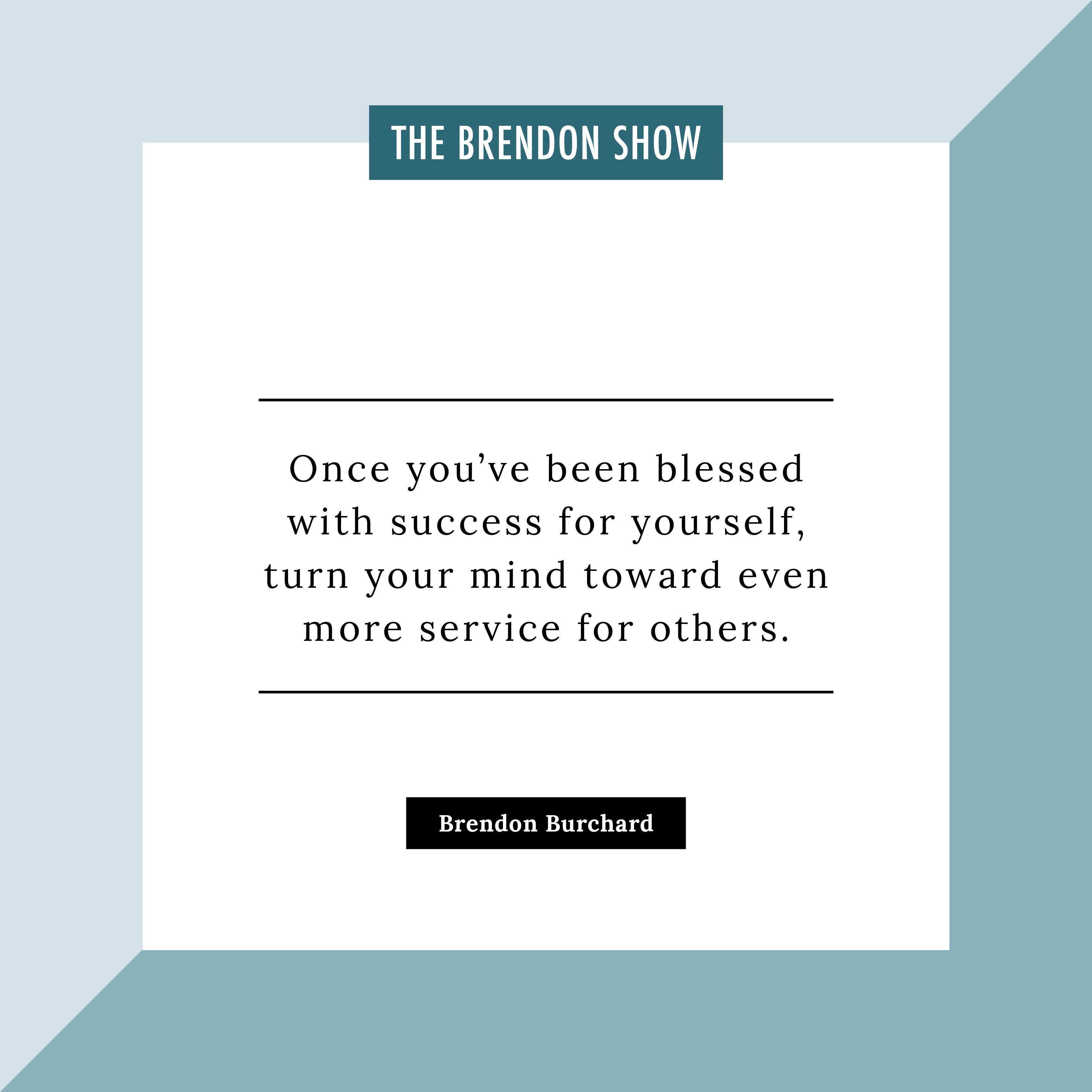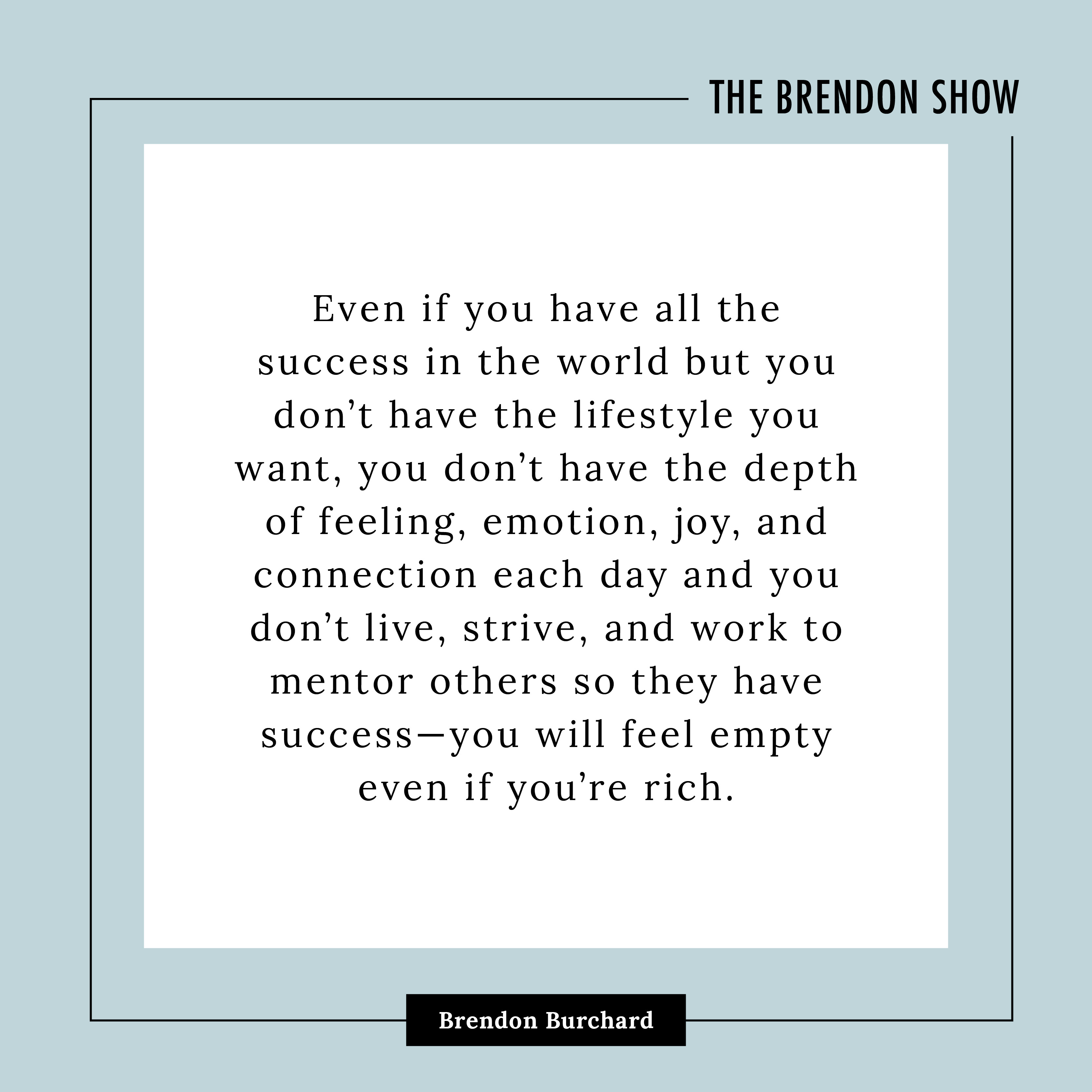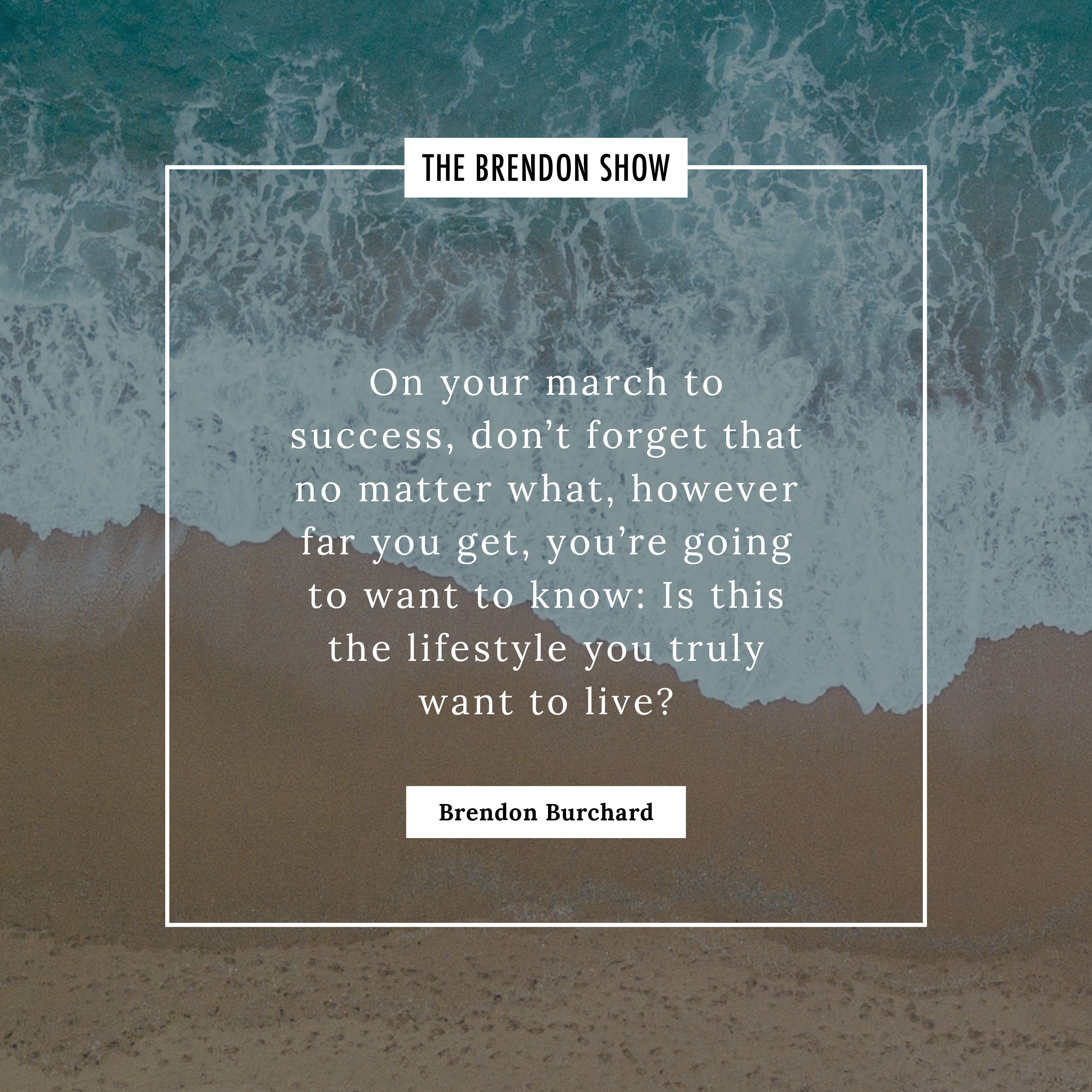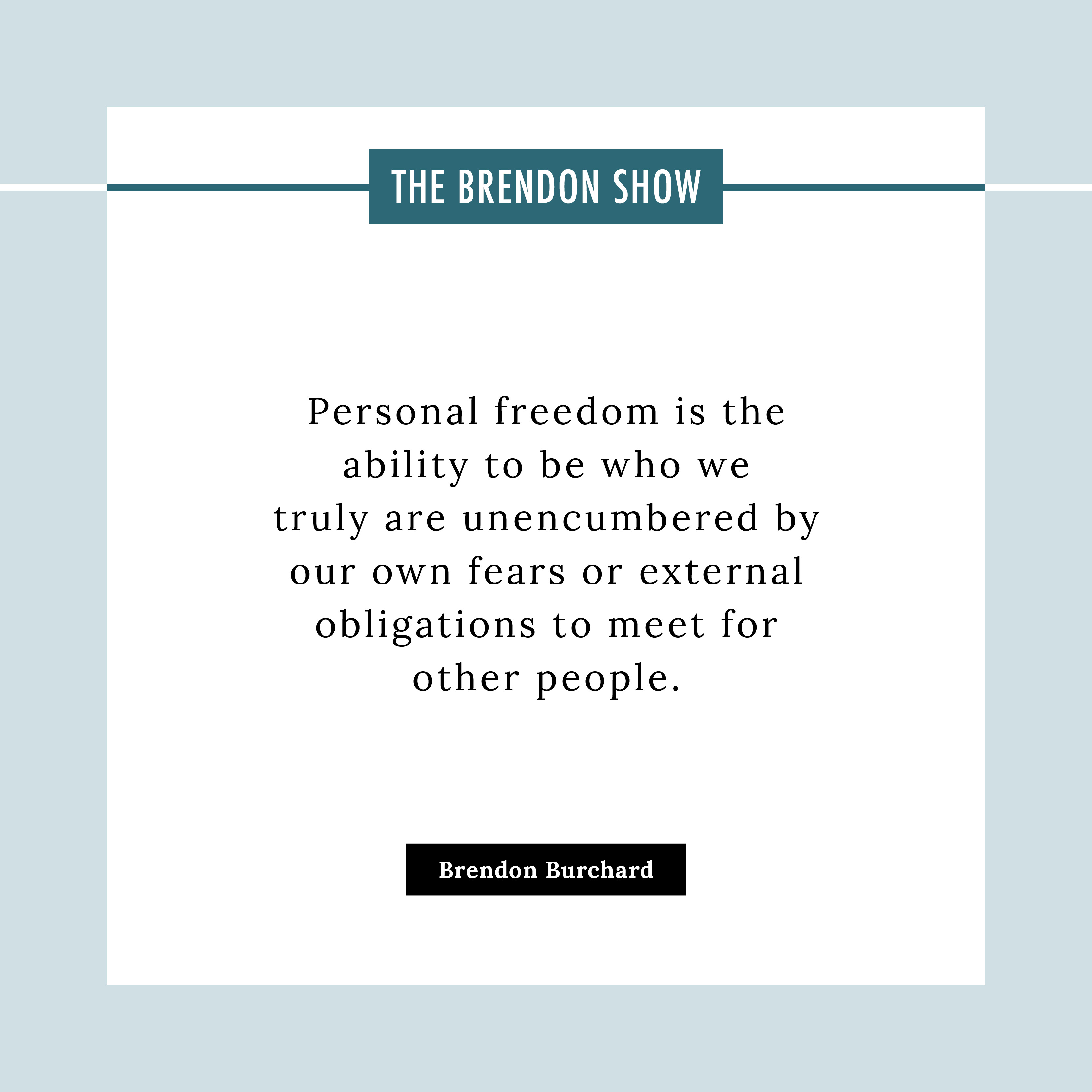 FULL TRANSCRIPT
[The following is the full transcript of this episode of The Brendon Show. Please note that this episode, like all TBS episodes, features Brendon speaking extemporaneously–he is unscripted and unedited. Filmed in one take, The Brendon Show has become one of the most viewed unscripted, direct-to-camera self-help series in the history of YouTube. It has also been the #1 Podcast in all of iTunes and is regularly in the top podcasts in Self-Help and Health categories around the globe. Subscribe to the free motivational podcast on iTunes or Stitcher.)
Hey y'all, it's Brendon. I finished earlier today a Zoom call with a client of mine who is extraordinarily successful, way high achieving, and they were miserable. They were trying to figure out why. They said, "Brendon, I have all the external successes in the world, but I still haven't figured out something." I said, "What do you mean?", and she was explaining how she had accomplished everything that you could earthly want, you know in terms of being on magazines, lots of money, a happy family. She had the cars, the houses, and everything else but her question was really powerful and I wanted to share that with you in this episode which is, "What is it that people want after they have everything they thought they wanted?"
So much of my work as a high performance coach is literally working one-on-one with people and they're always trying to figure that out. When we're first chasing success, a lot of us want those external measures of success. We want abundance and financial well-being. We want the ability to do what we want. For some people, it's status, fame, money, power, impact, respect in their community, or a professional career. It depends on what people want.
But the truth is, a lot of people are able to achieve that and succeed and have that. We call them High Performers.
So a High Performer has success over the long term, and much more than their peers or others around them and yet I meet a lot of High Performers who achieved it all. They have good health, they have good well-being, they've got plenty of money, and something is still bothering them.
So what is it that people want after they've gotten what they thought they wanted?
As a coach, I can tell you I think it's really three things that I have learned over 20 years of working with some of the world's most successful people. It's so obvious to me and I'll usually work with them on this.
Three simple things:
1. Improved Lifestyle
The first thing that you want after you've already had your primary successes in your life is improved lifestyle. I don't mean "improved lifestyle" like another car in the garage. I don't mean improved lifestyle like just another house.
By the way, those things are fine. Those external rewards—I'm not bemoaning those.
What I'm saying is more people want more control over their time lifestyle. They want to have more free mornings. They want to be able to travel more. They want to be able to do what they want each day. In my book, The Motivation Manifesto, we call that personal freedom. The ability to be who we truly are unencumbered by our own fears or external obligations to meet up to other people. The ability to pursue things that really we find meaningful and deeply impactful.
That's the lifestyle they want more of because guess what? Sometimes to get successful they hustle and ground themselves in Earth. They worked for 10 years without taking a breath. They fried their health or whatever and now they're like, "Ok, I've kind of made it. What I'd like more now is more personal control and freedom about my lifestyle. I really want to enjoy the day more." That's a big piece of it—that's the 'no-duh' one.
I can always meet everyone on that conversation because that's easy for them to find that, "Yeah! I want more time freedom. I want more flexibility. I want to do more of what I want to do"; cool.
2. More Depth in Life
The second thing though, where we really get into coaching, is people want more depth.
They want more depth in their relationships. They want to deepen their relationship with their kids. They want to deepen their relationships with their co-workers, the people they lead. They want to deepen their relationship with their spouse, their partners. They even want more depth in their sensation of the day. They're like, "I want to feel the day again, Brendon. I've been going as fast as possible", and they're like," I want to feel life again!" They want depth in the moment.
So that's the stuff of mindfulness. That's the stuff of self-awareness. That's the stuff of presence. That's the stuff of spirituality. Right? I want more depth and feeling in this life.
That's often a mental, emotional, and spiritual level of the conversation that we have to go into. I really want to have depth in the hour, in the moment, and in the feeling of the sensation. They want more depth of gratitude, more depth of intimacy, more depth of joy, more depth in the sensations and the feelings of life. They've been skimming the surface, now they want to go deep on their skillsets, their hobbies, and their passions. Depth is something I can always connect with them on.
3. Success for Others
Because once you've been blessed with success for yourself, now you turn your mind toward even more service for others.
To me, I personally believe that you can't get your primary levels of success without having service to others, without connecting with others, and contributing to other people's lives. But I met a lot of people who sell their company for hundreds of millions of dollars. As many of you guys know, I've worked with billionaires, I've worked with presidents. I've had the opportunity to work with Olympians and some of the most inspiring influencers of the world. But what I see about them is that there's a point in which they've gotten just enough for themselves where they really go all-in. That's where you see the Bill Gates of the world leaving Microsoft so he can focus on the Gates Foundation to pour billions of dollars into giving, into philanthropy, into service because he wants other people to survive and thrive and flourish. It's where you see so many people starting nonprofits after they've had success. It's where you see so many people now caring about how good of a leader they are after they climb the ladder. They really want to reach down and help other people up.
It's true, I always am able to connect with the Highest Performers on this question of, how are you helping other people have more success? Are you mentoring other people? Are you providing for other people? Are you doing philanthropic work? Are you providing service in some new way? Are you making sure you're helping the next generation come up?
Many of you all know in my own career, I bring people out and I mentor them in the influencer space. I help them launch a book, or I help them launch their courses, or I teach them the business model of live events or coaching. And I've been a mentor to some of the biggest influencers in the world. Because I got that blessing. I just wanted to write a book and I'm on my sixth best-selling book. I want to do a course one time—I've done 28 of them. I've had so much abundance in my own life. I want to give that back to other influencers and many of you know I started the Influencer program or the Influencer event to mentor all these other influencers you always see giving me shoutouts because I started asking that question even more diligently once I had a primary level of success for myself.
So here's what I want you to think about.
I know many of you watching this, even if you're just climbing up, I want you to know the end targets here.
No matter what you are doing, as you are doing it, know that even if you have all the success in the world but you don't have the lifestyle you want, you don't have the depth of feeling, emotion, joy, connection each day and you don't live and strive and work to mentor others so they have success—you will feel empty even if you're rich.
You will feel hollow even if you did meaningful work in the world and other people were admiring it. You will feel fake even if you were on the covers of magazines being celebrated for being a good person. It will never be enough.
You will never accumulate enough, so please listen to me.
On your march to success, don't forget that no matter what, however far you get, you're going to want to know—is this the lifestyle I truly want to live? If so, build that now.
Do I feel the depth of emotions and joy in connection with this day and in my relationships? Build that now. Are you helping other people succeed themselves, not just trying to succeed? Are you serving others, helping other people achieve higher levels of success?
If you do those three things on your success journey, I promise not only will you arrive in a more magical place, you'll be happy when you do arrive there.
Hey all, I hope you enjoyed this episode. If you did, would you please smash that subscribe button and also post any questions you have down below. Because it's these questions that you're all asking that inspires these episodes. I'd love to hear what you think about it. Also, if you would love to join us on our next upcoming live training—we call it our High Performance experience coaching program—if you would like some coaching, to have some perspective, and get two hours of live with me every single month, then click the link in the post down below so you can join us in HPX Coaching. I'd love to give you some more strategies, more insight, and more action to help you reach your next level of success.
Until next time, again, please subscribe. Share this video with anybody who could be inspired by it today and thanks one more time for being part of my community.